Abstract
Relatively less is known about the interactions that tightly regulate the mesenchymal stem cells (MSCs) to maintain their pluripotency. Recent studies reports that Wnt proteins might play an important role in governing the MSC cell fate. In this study, we tested the hypothesis that Wnt proteins differentially regulate in vitro differentiation of human umbilical cord derived MSCs. Stromal cells from human umbilical cord (hUCMSCs) were isolated and treated with Wnt inhibitor/activator. FACS analysis of hUCMSCs for CD29, CD90, CD73, CD44, CD45 marker expression and gene expression of Wnt target genes and lineage specific genes were performed after Lithium Chloride (LiCl) and Quercetin treatment for 6 days. The cultured primary hUCMSCs demonstrated elevated MSC surface marker expression with clonogenic properties and differentiation potentials towards osteogenic, adipogenic and chondrogenic lineages. Downregulation in the expression of Wnt with Quercetin treatment was noted. LiCl treatment increased cellular proliferation but did not influence differentiation suggesting that the cells retain pluripotency whereas Quercetin treatment downregulated stemness markers, Wnt target gene expression and promoted osteogenesis as demonstrated by FACS analysis, calcium estimation and gene expression studies. Shift of differentiation potential after the inhibition of Wnt signaling by Quercetin was evident from the gene expression data and elevated calcium production, driving MSCs towards probable osteogenic lineage. The findings in particular are likely to open an interesting avenue of biomedical research, summarizing the impact of Wnt signaling on lineage commitment of MSCs.
This is a preview of subscription content, log in to check access.
Access options
Buy single article
Instant unlimited access to the full article PDF.
US$ 39.95
Price includes VAT for USA
Subscribe to journal
Immediate online access to all issues from 2019. Subscription will auto renew annually.
US$ 99
This is the net price. Taxes to be calculated in checkout.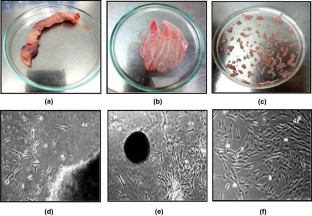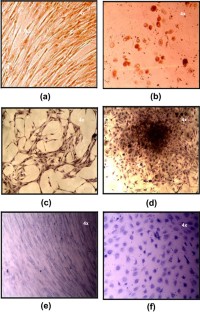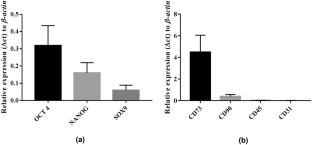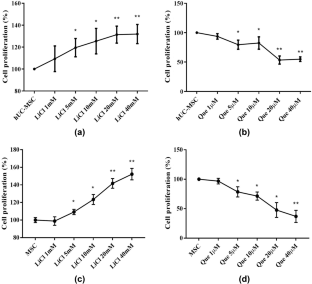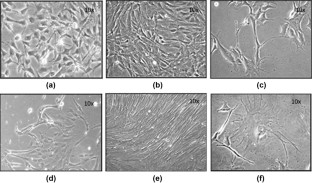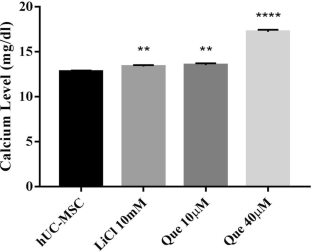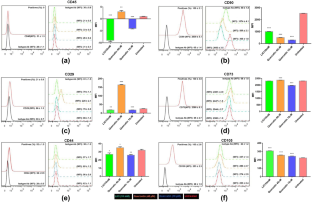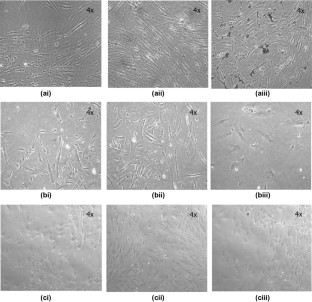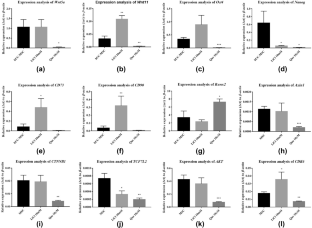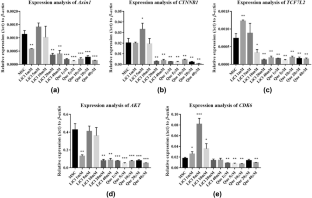 References
1.

Reya T, Duncanv AL, Domen J, Scherer DC, Willert K, Hintz L, Nusse R, Weissman IL (2003) A role for Wnt signalling in self-renewal of haematopoietic stem cells. Nature 423:409–414

2.

Akiyama T (2000) Wnt/beta-catenin signaling. Cytokine Growth Factor Rev 11:273–282

3.

Dale TC (1998) Signal transduction by the Wnt family of ligands. Biochem J 329:209–223

4.

Burra P, Arcidiacono D, Bizzaro D, Chioato T, Di Liddo R, Banerjee A, Cappon A, Bo P, Conconi MT, Parnigotto PP, Mirandola S, Gringeri E, Carraro A, Cillo U, Russo FP (2012) Systemic administration of a novel human umbilical cord mesenchymal stem cells population accelerates the resolution of acute liver injury. BMC Gastroenterol 12:88–103

5.

Conconi MT, Burra P, Di Liddo R, Calore C, Turetta M, Bellini S, Bo P, Nussdorfer GG, Parnigotto PP (2006) CD105(+) cells from Wharton's jelly show in vitro and in vivo myogenic differentiative potential. Int J Mol Med 18:1089–1096

6.

Banerjee A, Bizzaro D, Burra P, Di Liddo R, Pathak S, Arcidiacono D, Cappon A, Bo P, Conconi MT, Crescenzi M, Pinna CM, Parnigotto PP, Alison MR, Sturniolo GC, D'Incà R, Russo FP (2015) Umbilical cord mesenchymal stem cells modulate dextran sulfate sodium induced acute colitis in immunodeficient mice. Stem Cell Res Ther 6:79–92

7.

Harada S, Rodan GA (2003) Control of osteoblast function and regulation of bone mass. Nature 423:349–355

8.

Liu G, Vijayakumar S, Grumolato L, Arroyave R, Qiao H, Akiri G, Aaronson SA (2009) Canonical Wnts function as potent regulators of osteogenesis by human mesenchymal stem cells. J Cell Biol 185:67–75

9.

Etheridge SL, Spencer GJ, Heath DJ, Genever PG (2004) Expression profiling and functional analysis of Wnt signaling mechanisms in mesenchymal stem cells. Stem Cells 22:849–860

10.

Saeed H, Ahsan M, Saleem Z, Iqtedar M, Islam M, Danish Z, Khan AM (2016) Mesenchymal stem cells (MSCs) as skeletal therapeutics - an update. J Biomed Sci 23:41–55

11.

Kinnaird T, Stabile E, Burnett MS, Shou M, Lee CW, Barr S, Fuchs S, Epstein SE (2004) Local delivery of marrow-derived stromal cells augments collateral perfusion through paracrine mechanisms. Circulation 109:1543–1549

12.

Tang YL, Zhao Q, Qin X, Shen L, Cheng L, Ge J, Phillips MI (2005) Paracrine action enhances the effects of autologous mesenchymal stem cell transplantation on vascular regeneration in rat model of myocardial infarction. Ann Thorac Surg 80:227–229

13.

Gnecchi M, He H, Noiseux N, Liang OD, Zhang L, Morello F, Mu H, Melo LG, Pratt RE, Ingwall JS, Dzau VJ (2006) Evidence supporting paracrine hypothesis for Akt-modified mesenchymal stem cell-mediated cardiac protection and functional improvement. FASEB J 20:661–669

14.

Zhang DY, Wang HJ, Tan YZ (2011) Wnt/β-catenin signaling induces the aging of mesenchymal stem cells through the DNA damage response and the P53/P21 pathway. PLoS ONE 6:e21397

15.

Davidson KC, Adams AM, Goodson JM, McDonald CE, Potter JC, Berndt JD, Biechele TL, Taylor RJ, Moon RT (2012) Wnt/β-catenin signaling promotes differentiation, not self-renewal, of human embryonic stem cells and is repressed by Oct4. Proc Natl Acad Sci USA 109:4485–4490

16.

Martin BL, Kimelman D (2012) Canonical Wnt signaling dynamically controls multiple stem cell fate decisions during vertebrate body formation. Dev Cell 22:223–232

17.

Anton R, Kestler HA, Kühl M (2007) Beta-catenin signaling contributes to stemness and regulates early differentiation in murine embryonic stem cells. FEBS Lett 581:5247–5254

18.

Sokol SY (2011) Maintaining embryonic stem cell pluripotency with Wnt signaling. Development 138:4341–4350

19.

Chen B, Chen X, Liu C, Li J, Liu F, Huang Y (2018) Co-expression of Akt1 and Wnt11 promotes the proliferation and cardiac differentiation of mesenchymal stem cells and attenuates hypoxia/reoxygenation-induced cardiomyocyte apoptosis. Biomed Pharmacother 108:508–514

20.

Ortiz LA, Gambelli F, McBride C, Gaupp D, Baddoo M, Kaminski N, Phinney DG (2003) Mesenchymal stem cell engraftment in lung is enhanced in response to bleomycin exposure and ameliorates its fibrotic effects. Proc Natl Acad Sci USA 100:8407–8411

21.

Gong Y, Slee RB, Fukai N, Rawadi G, Roman-Roman S, Reginato AM, Wang H, Cundy T, Glorieux FH, Lev D, Zacharin M, Oexle K, Marcelino J, Suwairi W, Heeger S, Sabatakos G, Apte S, Adkins WN, Allgrove J, Arslan-Kirchner M, Batch JA, Beighton P, Black GC, Boles RG, Boon LM, Borrone C, Brunner HG, Carle GF, Dallapiccola B, De Paepe A, Floege B, Halfhide ML, Hall B, Hennekam RC, Hirose T, Jans A, Jüppner H, Kim CA, Keppler-Noreuil K, Kohlschuetter A, LaCombe D, Lambert M, Lemyre E, Letteboer T, Peltonen L, Ramesar RS, Romanengo M, Somer H, Steichen-Gersdorf E, Steinmann B, Sullivan B, Superti-Furga A, Swoboda W, van den Boogaard MJ, Van Hul W, Vikkula M, Votruba M, Zabel B, Garcia T, Baron R, Olsen BR, Warman ML, Osteoporosis-Pseudoglioma Syndrome Collaborative Group (2001) LDL receptor-related protein 5 (LRP5) affects bone accrual and eye development. Cell 107:513–523

22.

Boland GM, Perkins G, Hall DJ, Tuan RS (2004) Wnt 3a promotes proliferation and suppresses osteogenic differentiation of adult human mesenchymal stem cells. J Cell Biochem 93:1210–1230

23.

Gregory CA, Gunn WG, Reyes E, Smolarz AJ, Munoz J, Spees JL, Prockop DJ (2005) How Wnt signaling affects bone repair by mesenchymal stem cells from the bone marrow. Ann N Y Acad Sci 1049:97–106

24.

Figeac N, Zammit PS (2015) Coordinated action of Axin1 and Axin2 suppresses β-catenin to regulate muscle stem cell function. Cell Signal 27(8):1652–1665
Acknowledgements
The authors are thankful to Chettinad Academy of Research and Education (CARE) for providing the infrastructural support and to SERB, DST, Govt. of India and CARE for providing the financial support to complete this piece of work.
Funding
This work was supported by the Grants sanctioned to Dr. Antara Banerjee (PI) from the SERB-DST Govt. of India with the sanction File No ECR/2017/001066 and departmental Grants at Chettinad Academy of Research and Education.
Ethics declarations
Conflict of interest
The authors report no conflict of interest.
Ethical approval
All procedures performed in studies involving human participants were in accordance with the ethical standards of the Institutional Human Ethics Committee (CARE – IHEC, ethical clearance reference number: 113/IHEC/12-16, dated 06-01-2017).
Additional information
Publisher's Note
Springer Nature remains neutral with regard to jurisdictional claims in published maps and institutional affiliations.
About this article
Cite this article
Jothimani, G., Di Liddo, R., Pathak, S. et al. Wnt signaling regulates the proliferation potential and lineage commitment of human umbilical cord derived mesenchymal stem cells. Mol Biol Rep 47, 1293–1308 (2020) doi:10.1007/s11033-019-05232-5
Received:

Accepted:

Published:

Issue Date:
Keywords
hUCMSC

Wnt signaling

Osteogenesis

Pluripotency

Proliferation

Differentiation