Abstract
Leucine aminopeptidase 3 (LAP3) is an important proteolytic enzyme that catalyzes the hydrolysis of leucine residues from the amino termini of protein or peptide substrates and plays a critical role in protein metabolism and growth. In the present study, we investigated the full-length cDNA sequence of the LAP3 gene in Sinonovacula constricta (ScLAP3) using expressed sequence tags and rapid amplification of cDNA ends. The full-length ScLAP3 cDNA was 2885 bp, with a 1560 bp open reading frame encoding 519 amino acids. Sequence analysis revealed that ScLAP3 shared 70.9% identity with LAP3 from the blood clam Tegillarca granosa and 62.0–68.0% with other species. ScLAP3 was expressed in all six tested tissues, with significantly higher expression levels in the foot compared with mantle, adductor muscle, liver, gills, and siphon tissues in adults (P < 0.01). In the eight developmental stages, ScLAP3 expression gradually increased, with significantly higher levels in D-shaped larvae compared with other developmental stages (P < 0.01), suggesting that it may be involved in the formation of certain organs during early development. Association analysis identified three shared single nucleotide polymorphisms (SNPs), c.1073A > G, c.1139C > T and c.1154A > G in exons of ScLAP3 gene from 177 individuals of two groups, one selective strain and one wild population, which had significant effects on growth traits of S. constricta. The results provided candidate genetic markers to assist selective breeding of razor clams toward improved growth.
This is a preview of subscription content, log in to check access.
Access options
Buy single article
Instant unlimited access to the full article PDF.
US$ 39.95
Price includes VAT for USA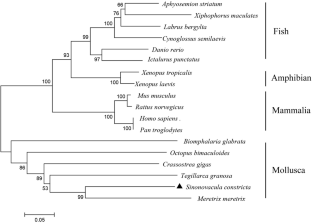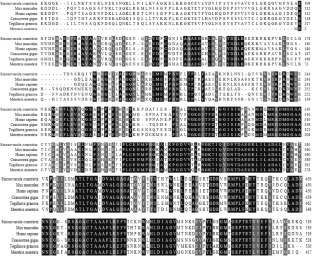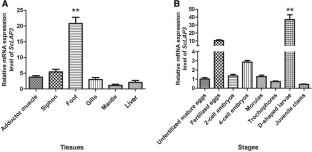 References
1.

Sakai T (1995) Leucine aminopeptidase (LAP). Nihon Rinsho Jpn J Clin Med 53(supp 11):303–306

2.

Gonzales T, Robertbaudouy J (1996) Bacterial aminopeptidases: properties and functions. Fems Microbiol Rev 18(4):319–344

3.

Matsui M, Fowler JH, Walling LL (2006) Leucine aminopeptidases: diversity in structure and function. Biol Chem 387(12):1535–1544

4.

Anthony JC, Yoshizawa F, Anthony TG, Vary TC, Jefferson LS, Kimball SR (2000) Leucine stimulates translation initiation in skeletal muscle of postabsorptive rats via a rapamycin-sensitive pathway. J Nutr 130(10):2413–2419

5.

Mordier S, Deval C, Bechet D, Tassa A, Ferrara M (2000) Leucine limitation induces autophagy and activation of lysosome-dependent proteolysis in c2c12 myotubes through an mtor-independent signaling pathway. J Biol Chem 275(38):29900

6.

Soller M, Beckmann JS (1983) Genetic polymorphism in varietal identification and genetic improvement. Theor Appl Genet 67(1):25–33

7.

Wharam SD, Wardill TJ, Goddard V, Donald KM, Parry H, Pascoe P, Pickerill P, Smerdon G, Hawkins AJS (2008) A leucine aminopeptidase gene of the pacific oyster Crassostrea gigas exhibits an unusually high level of sequence variation, predicted to affect structure, and hence activity, of the enzyme. J Shellfish Res 27:1143–1154

8.

Donald KM, Day AJ, Smerdon GR, Cross LJ, Hawkins AJ (2003) Quantification of gene transcription and enzyme activity for functionally important proteolytic enzymes during early development in the Pacific oyster Crassostrea gigas. Comp Biochem Phys B 136(3):383–392

9.

Dong YH (2012) Transcriptome analysis using 454 pyrosequencing and cloning and expression of growth-related genes for the blood clam Tegillarca granosa. Ocean Univ China

10.

Ruan WB, Dong YH, Gao XY, Liu CS, Lin DH, Lin ZH (2017) Gene cloning and expression analysis of leucine aminopeptidaselap3 genes in different development stages of larvae and different tissues of adult of Meretrix meretrix. J Oceanogr 2:96–104

11.

Soller M (1994) Marker assisted selection-an overview. Anim. Biotechnol 5(2):193–207

12.

Pflieger S, Lefebvre V, Causse M (2001) The candidate gene approach in plant genetics: a review. Mol Breed 7(4):275–291

13.

Xie SM, Niu DH, Ruan HD, Wang Z, Wang F, Chen SE, Li JL (2015) Molecular characterization of IGFBP and association analysis with growth traits in the razor clam Sinonovacula constricta. J Fish China 39(6):799–809

14.

Niu D, Wang F, Zhao H, Wang Z, Xie S, Li J (2016) Identification, expression, and innate immune responses of two insulin-like peptide genes in the razor clam Sinonovacula constricta. Fish Shellfish Immunol 51:401–404

15.

Feng BB, Zhong YM, Niu DH, Chen H, Lin GW, Li JL (2011) Molecular characteristics and expression analysis of β-ACTIN 1 gene from Sinonovacula constricta. J Fish China 35(5):650–659

16.

Hoover DR (2015) Basic statistics and pharmaceutical statistical applications. J Biopharm Stat 25(1):226–229

17.

Albiston AL, Ye S, Chai SY (2004) Membrane bound members of the M1 family: more than aminopeptidases. Protein Peptide Lett 11(5):491–500

18.

Guenet C, Lepage P, Harris BA (1992) Isolation of the leucine aminopeptidase gene from Aeromonas proteolytica. Evidence for an enzyme precursor J Biol Chem 267(12):8390–8395

19.

Kloetzel PM, Ossendorp F (2004) Proteasome and peptidase function in MHC-class-I-mediated antigen presentation. Curr Opin Immunol 16(1):76–81

20.

Gao YD, Wang SK (2010) Leucine aminopeptidase types and clinical application. Int J Lab Med 31(12):1408–1410

21.

Chaerkady R, Sharma KK (2004) Characterization of a bradykinin-hydrolyzing protease from the bovine lens. Invest Ophth Vis Sci 45(4):1214–1223

22.

Zhu YL, Song QJ, Hyten DL, Van Tassell CP, Matukumalli LK, Grimm DR, Hyatt SM, Fickus EW, Young ND, Cregan PB (2003) Single-nucleotide polymorphisms in soybean. Genetics 163:1123–1134

23.

Zheng X, Ju Z, Wang J, Li Q, Huang J, Zhang A, Zhong J, Wang C (2011) Single nucleotide polymorphisms, haplotypes and combined genotypes of LAP3 gene in bovine and their association with milk production traits. Mol Biol Rep 38(6):4053–4061

24.

Cohen-Zinder M, Seroussi E, Larkin DM, Loor JJ, Everts-van der Wind A, Lee JH, Drackley JK, Band MR, Hernandez AG, Shani M, Lewin HA, Weller JI, Ron M (2005) Identification of a missense mutation in the bovine ABCG2 gene with a major effect on the QTL on chromosome 6 affecting milk yield and composition in Holstein cattle. Genome Res 15(7):936–944

25.

Kimchi-Sarfaty C, Oh JM, Kim IW, Sauna ZE, Calcagno AM, Ambudkar SV, Gottesman MM (2007) A "silent" polymorphism in the MDR1 gene changes substrate specificity. Science 315:525–528

26.

Saunas ZE, Kimchi-Sarfaty C, Ambudkar SV, Gottesman MM (2007) Silent polymorphisms speak: how they affect pharmacogenomics and the treatment of cancer. Cancer Res 67:9609–9612
Acknowledgements
This work was financially supported by the National Key Research and Development Program of China (2018YFD0901405), Zhejiang Major Program of Science and Technology (2016C02055-9), Modern Agro-industry Technology Research System (CARS-49), Ningbo Natural Science Foundation (2016A610230) and Zhejiang Provincial Top Key Discipline of Biological Engineering (1740004014).
Ethics declarations
Conflict of interest
The authors declare no conflict of interest.
Additional information
Publisher's Note
Springer Nature remains neutral with regard to jurisdictional claims in published maps and institutional affiliations.
About this article
Cite this article
Yao, H., Liu, C., Lin, D. et al. Polymorphisms of LAP3 gene and their association with the growth traits in the razor clam Sinonovacula constricta. Mol Biol Rep 47, 1257–1264 (2020). https://doi.org/10.1007/s11033-019-05231-6
Received:

Accepted:

Published:

Issue Date:
Keywords
Leucine aminopeptidase 3

SNP

Sinonovacula constricta

Growth traits