Abstract
Ten microsatellite loci were developed and validated for the endangered cactus species Coleocephalocereus purpureus. The markers were obtained from sequences generated by whole genome shotgun sequencing approaches. A testing group of 36 specimens of the main population were genotyped and all described markers presented suitable outcomes to population genetic studies, showing polymorphic status for C. purpureus testing group with clean and reproducible amplification. No evidence for scoring errors, null alleles or linkage disequilibrium was detected. Number of alleles per locus ranged from 3 to 6 and expected heterozygosity ranged from 0.78 to 0.99. These new microsatellite loci are suitable to be used in future diversity and structure population studies of C. purpureus.
This is a preview of subscription content, log in to check access.
Access options
Buy single article
Instant unlimited access to the full article PDF.
US$ 39.95
Price includes VAT for USA
Subscribe to journal
Immediate online access to all issues from 2019. Subscription will auto renew annually.
US$ 99
This is the net price. Taxes to be calculated in checkout.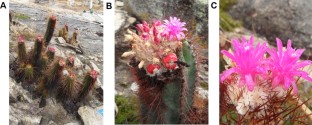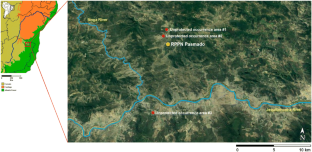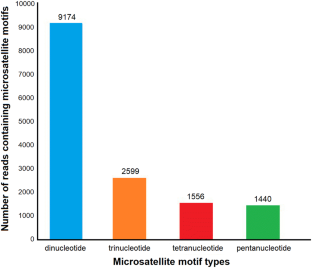 References
1.

Taylor NP, Zappi DC (2004) Cacti of eastern Brazil. Royal Botanic Gardens, Kew

2.

Felger RS, Moser MB (1985) People of the desert and sea: ethnobotany of the Seri Indians. University of Arizona Press, Tucson, p xv+ 438

3.

Taylor NP, Machado M, Braun P (2013) Coleocephalocereus purpureus. IUCN Red List Threat Species 2013:e.T40913A2943088. https://doi.org/10.2305/IUCN.UK.2013-1.RLTS.T40913A2943088.en

4.

IEF-MG (2010) Portaria IEF n° 149, de 02 de agosto de 2010. http://www.siam.mg.gov.br/sla/action/consultaPublicacoes.do. Accessed 29 October 2019

5.

Frankham R (2005) Genetics and extinction. Biol Cons 126:131–140. https://doi.org/10.1016/j.biocon.2005.05.002

6.

Solórzano S, Dávila P (2015) Identification of conservation units of Mammillaria crucigera (Cactaceae): perspectives for the conservation of rare species. Plant Ecol Divers 8:559–569. https://doi.org/10.1111/j.1755-0998.2008.02422.x

7.

Maya-García R, Arizaga S, Cuevas-Reyes P, Peñaloza-Ramírez JM, Ramírez VR, Oyama K (2017) Landscape genetics reveals inbreeding and genetic bottlenecks in the extremely rare short-globose cacti Mammillaria pectinifera (Cactaceae) as a result of habitat fragmentation. Plant Divers 39:13–19. https://doi.org/10.1016/j.pld.2016.09.005

8.

Khan G, Ribeiro PM, Bonatelli IA, Perez MF, Franco FF, Moraes EM (2018) Weak population structure and no genetic erosion in Pilosocereus aureispinus: a microendemic and threatened cactus species from eastern Brazil. PLoS ONE 13:e0195475. https://doi.org/10.1371/journal.pone.0195475

9.

Vieira MLC, Santini L, Diniz AL, Munhoz CDF (2016) Microsatellite markers: what they mean and why they are so useful. Genet Mol Biol 39:312–328. https://doi.org/10.1590/1678-4685-GMB-2016-0027

10.

Zalapa JE, Cuevas H, Zhu H, Steffan S, Senalik D, Zeldin E, McCown B, Harbut R, Simon P (2012) Using next-generation sequencing approaches to isolate simple sequence repeat (SSR) loci in the plant sciences. Am J Bot 99:193–208. https://doi.org/10.3732/ajb.1100394

11.

Faircloth BC (2008) MSATCOMMANDER: detection of microsatellite repeat arrays and automated, locus-specific primer design. Mol Ecol Resour 8:92–94. https://doi.org/10.1111/j.1471-8286.2007.01884.x

12.

Untergasser A, Cutcutache I, Koressaar T, Ye J, Faircloth BC, Remm M, Rozen SG (2012) Primer3—new capabilities and interfaces. Nucleic Acids Res 40:e115–e115. https://doi.org/10.1093/nar/gks596

13.

Excoffier L, Lischer H (2010) Arlequin suite V.3.5: a new series of programs to perform population genetics analyses under Linux and Windows. Mol Ecol Resour 10(3):564–567. https://doi.org/10.1111/j.1755-0998.2010.02847.x

14.

Chapuis MP, Estoup A (2007) Microsatellite null alleles and estimation of population differentiation. Mol Biol Evol 24:621–631. https://doi.org/10.1093/molbev/msl191

15.

Morillo E, Buitron J, Limongi R, Vignes H, Argout X (2016) Characterization of microsatellites identified by next-generation sequencing in the Neotropical tree Handroanthus billbergii (Bignoniaceae). Appl Plant Sci 4(5):1500135. https://doi.org/10.3732/apps.1500135

16.

Aranguren-Díaz YC, Varani AM, Michael TP, Miranda VF (2018) Development of microsatellite markers for the carnivorous plant Genlisea aurea (Lentibulariaceae) using genomics data of NGS. Mol Biol Rep 45(1):57–61. https://doi.org/10.1007/s11033-017-4140-1

17.

Bastías A, Correa F, Rojas P, Almada R, Munoz C, Sagredo B (2016) Identification and characterization of microsatellite loci in maqui (Aristotelia chilensis [Molina] Stunz) using next-generation sequencing (NGS). PLoS ONE 11(7):e0159825. https://doi.org/10.1371/journal.pone.0159825

18.

Zhang X, Zhou Y, Li YL, Liu JX (2019) Development of microsatellite markers for the seagrass Zostera japonica using next-generation sequencing. Mol Biol Rep 46(1):1335–1341. https://doi.org/10.1007/s11033-018-4491-2

19.

Young A, Boyle T, Brown T (1996) The population genetic consequences of habitat fragmentation for plants. Trends Ecol Evol 11:413–418. https://doi.org/10.1016/0169-5347(96)10045-8
Acknowledgements
The authors thank the Program for Technological Development in Tools for Health-PDTIS FIOCRUZ for use of its facilities and Nativa Serviços Ambientais Ltda for logistic support during collections of biological material.
Funding
Funding was provided by Instituto Federal de Minas Gerais [Grant No. Edital de Pesquisa Aplicada (Edital 104-2016)] and FAPEMIG [Grant No. Processo: MPR-01008-16]
Additional information
Publisher's Note
Springer Nature remains neutral with regard to jurisdictional claims in published maps and institutional affiliations.
About this article
Cite this article
Fraga, D.A., de Carvalho, A.F., Santana, R.S. et al. Development of microsatellite markers for the threatened species Coleocephalocereus purpureus (Cactaceae) using next-generation sequencing. Mol Biol Rep 47, 1485–1489 (2020) doi:10.1007/s11033-019-05213-8
Received:

Accepted:

Published:

Issue Date:
Keywords
Microsatellites

Population genetics

Cactus

Endangered species