Abstract
Expression of genes involved in diterpene biosynthesis, especially momilactone and gibberellins (GAs), in rice plants (Oryza sativa L.) in response to barnyard grass (Echinochloa crus-galli) stress was examined. The three analyzed class II diterpene synthases had the highest fold change expression. Transcription patterns of genes for two homologs of momilactone synthases, OsMAS and OsMAS2, suggests their distinct roles in response to the presence of barnyard grass.
This is a preview of subscription content, log in to check access.
Access options
Buy single article
Instant unlimited access to the full article PDF.
US$ 39.95
Price includes VAT for USA
Subscribe to journal
Immediate online access to all issues from 2019. Subscription will auto renew annually.
US$ 99
This is the net price. Taxes to be calculated in checkout.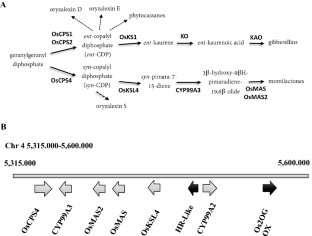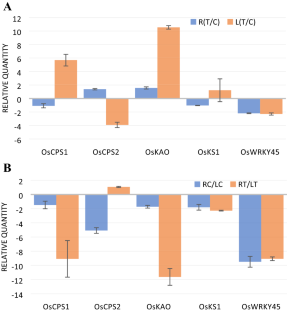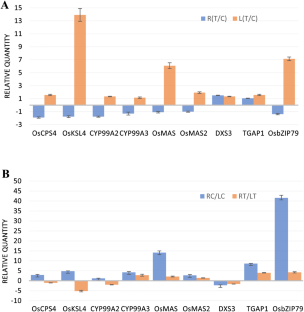 References
1.

Xu M, Galhano R, Wiemann P, Bueno E, Tiernan M, Wu W, Chung IM, Gershenzon J, Tudzynski B, Sesma A, Peters RJ (2012) Genetic evidence for natural product-mediated plant-plant allelopathy in rice (Oryza sativa). New Phytol 193:570–575

2.

Kato-Noguchi H (2004) Allelopathic substance in rice root exudates: rediscovery of momilactone B as an allelochemical. J Plant Physiol 161:271–276

3.

Inoue Y, Sakai M, Yao Q, Tanimoto Y, Toshima H, Hasegawa M (2013) Identification of a novel casbane-type diterpene phytoalexin, ent-10-oxodepressin, from rice leaves. Biosci Biotechnol Biochem 77:760–765

4.

Horie K, Inoue Y, Sakai M, Yao Q, Tanimoto Y, Koga J, Toshima H, Hasegawa M (2015) Identification of UV-induced diterpenes including a new diterpene phytoalexin, phytocassane F, from rice leaves by complementary GC/MS and LC/MS approaches. J Agric Food Chem 63:4050–4059

5.

Bertin C, Yang X, Weston LA (2003) The role of root exudates and allelochemicals in the rhizosphere. Plant Soil 256:67–83

6.

Kong C, Liang W, Xu X, Hu F, Wang P, Jiang Y (2004) Release and activity of allelochemicals from allelopathic rice seedlings. J Agric Food Chem 52:2861–2865

7.

Wu Y, Zhou K, Toyomasu T, Sugawara C, Oku M, Abe S, Usui M, Mitsuhashi W, Chono M, Chandler PM, Peters RJ (2012) Functional characterization of wheat copalyl diphosphate synthases sheds light on the early evolution of labdane-related diterpenoid metabolism in the cereals. Phytochemistry 84:40–46

8.

Hedden P, Thomas SG (2012) Gibberellin biosynthesis and its regulation. Biochem J 444:11–25

9.

Prisic S, Xu M, Wilderman PR, Peters RJ (2004) Rice contains two disparate ent-copalyl diphosphate synthases with distinct metabolic functions. Plant Physiol 136:4228–4236

10.

Lu X, Zhang J, Brown B, Li R, Rodríguez-Romero J, Berasategui A, Liu B, Xu M, Luo D, Pan Z, Baerson SR, Gershenzon J, Li Z, Sesma A, Yang B, Peters RJ (2018) Inferring roles in defense from metabolic allocation of rice diterpenoids. Plant Cell 30:1119–1131

11.

Otomo K, Kenmoku H, Oikawa H, Konig WA, Toshima H, Mitsuhashi W, Yamane H, Sassa T, Toyomasu T (2004) Biological functions of ent- and syn-copalyl diphosphate synthases in rice: key enzymes for the branch point of gibberellin and phytoalexin biosynthesis. Plant J 39:886–893

12.

Shimura K, Okada A, Okada K, Jikumaru Y, Ko KW, Toyomasu T, Sassa T, Hasegawa M, Kodama O, Shibuya N, Koga J, Nojiri H, Yamane H (2007) Identification of a biosynthetic gene cluster in rice for momilactones. J Biol Chem 282:34013–34018

13.

Wang Q, Hillwig ML, Wu Y, Peters RJ (2012) CYP701A8: a rice ent-kaurene oxidase paralog diverted to more specialized diterpenoid metabolism. Plant Physiol 158:1418–1425

14.

Kato-Noguchi H, Peters RJ (2013) The role of momilactones in rice allelopathy. J Chem Ecol 39:175–185

15.

Zhao H, Li HB, Kong C, Xu X, Liang W (2005) Chemical response of allelopathic rice seedlings under varying environmental conditions. Allelopathy J 15:105–110

16.

Kato-Noguchi H (2011) The chemical cross talk between rice and barnyardgrass. Plant Signal Behav 6:1207–1209

17.

Narsai R, Ivanova A, Ng S, Whelan J (2010) Defining reference genes in Oryza sativa using organ, development, biotic and abiotic transcriptome datasets. BMC Plant Biol 10:56

18.

Tanimoto E (2012) Tall or short? Slender or thick? A plant strategy for regulating elongation growth of roots by low concentrations of gibberellin. Ann Bot 110:373–381

19.

Xu M, Hillwig ML, Prisic S, Coates RM, Peters RJ (2004) Functional identification of rice syn-copalyl diphosphate synthase and its role in initiating biosynthesis of diterpenoid phytoalexin/allelopathic natural products. Plant J 39:309–318

20.

Kodama O, Suzuki T, Miyakawa J, Akatsuka T (1988) Ultraviolet-induced accumulation of phytoalexins in rice leaves. Agric Biol Chem 52:2469–2473

21.

Atawong A, Hasegawa M, Kodama O (2002) Biosynthesis of rice phytoalexin: enzymatic conversion of 3beta-hydroxy-9beta-pimara-7,15-dien-19,6beta-olide to momilactone A. Biosci Biotechnol Biochem 66:566–570

22.

Kitaoka N, Wu Y, Zi J, Peters RJ (2016) Investigating inducible short-chain alcohol dehydrogenases/reductases clarifies rice oryzalexin biosynthesis. Plant J 88(2):271–279

23.

Okada A, Okada K, Miyamoto K, Koga J, Shibuya N, Nojiri H, Yamane H (2009) OsTGAP1, a bZIP transcription factor, coordinately regulates the inductive production of diterpenoid phytoalexins in rice. J Biol Chem 284:26510–26518

24.

Miyamoto K, Nishizawa Y, Minami E, Nojiri H, Yamane H, Okada K (2015) Overexpression of the bZIP transcription factor OsbZIP79 suppresses the production of diterpenoid phytoalexin in rice cells. J Plant Physiol 173:19–27
Ethics declarations
Conflict of interest
The authors declare that they have no conflict of interest.
Additional information
Publisher's Note
Springer Nature remains neutral with regard to jurisdictional claims in published maps and institutional affiliations.
About this article
Cite this article
Bajsa-Hirschel, J., Pan, Z. & Duke, S.O. Rice momilactone gene cluster: transcriptional response to barnyard grass (Echinochloa crus-galli). Mol Biol Rep 47, 1507–1512 (2020) doi:10.1007/s11033-019-05205-8
Received:

Accepted:

Published:

Issue Date:
Keywords
Diterpene phytoalexins

Momilactone

GA

Rice

Barnyard grass