Abstract
Metabolic syndrome (MetS) is associated with a pro-inflammatory state and endothelial dysfunction that places subjects with MetS at a higher risk of atherosclerosis. Inflammatory biomarkers are raised in patients at risk of developing cardiovascular diseases. In the current study, we aimed to examine the possible association between MetS and serum soluble adhesion molecules, hs-CRP, uric acid, and the genetic variations related to vascular endothelial growth factor (VEGF) gene. In this cross-sectional study, participants were enrolled from the Mashhad stroke and heart atherosclerotic disorders (MASHAD) study. The International Diabetes Federation criteria were used to define the MetS. Cell adhesion molecules (CAM) and serum hs-CRP were measured by ELISA and PEG-enhanced immunoturbidimetry method, respectively. We used a logistic regression analysis to determine independent associations of CAMs with the VEGF polymorphisms and MetS. Two hundred and 59 participants with and without MetS were enrolled. Participants with MetS and DM had a significantly higher serum E-selectin level (p < 0.05). Participants with a high serum E-selectin level had higher levels of hs-CRP, FBG, TG, uric acid, BMI and lower levels of serum HDL-C (p < 0.05). Interestingly, individuals with MetS with a genetic variant of the VEGF gene (rs6921438) had higher level of serum ICAM-1 (p = 0.04). There were significant associations between serum E-selectin concentrations and the presence of MetS, and its risk factors. Moreover, we demonstrated that MetS subjects with the rs6921438 genetic variant had a higher serum level of ICAM-1 (p < 0.05).
This is a preview of subscription content, log in to check access.
Access options
Buy single article
Instant unlimited access to the full article PDF.
US$ 39.95
Price includes VAT for USA
Subscribe to journal
Immediate online access to all issues from 2019. Subscription will auto renew annually.
US$ 99
This is the net price. Taxes to be calculated in checkout.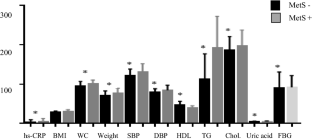 Data availability
Data sharing not applicable to this article as no datasets were generated or analyzed during the current study.
Abbreviations
IDF:

International diabetes federation

Hs-CRP:

High sensitivity C reactive protein

HDL:

High-density lipoprotein

LDL:

Low-density lipoprotein

TG:

Triglycerides

SNP:

Single nucleotide polymorphism

WC:

Waist circumference

DBP/SBP:

Diastolic/systolic blood pressure

FBG:

Fasting blood glucose

MUMS:

Mashhad University of Medical Science

BMI:

Body mass index

PCR:

Polymerase chain reaction

SD:

Standard deviation

IQR:

Interquartile range

CAD:

Coronary artery disease

HC:

Hip circumference

ICAM-1:

Intercellular adhesion molecule-1

VCAM-1:

Vascular adhesion molecule-1

CAM:

Cell adhesion molecule

VEGF:

Vascular endothelial growth factor

RFLP-PCR:

Polymerase chain reaction-restriction fragment length polymorphism

ARMS-PCR:

Polymerase chain reaction-amplification refractory mutation system

ELISA:

Enzyme-linked immunosorbent assay

IL:

Interleukin

TNF-α:

Tumor necrosis factor-alpha

G-CSF:

Granulocyte-colony stimulating factor

CVD:

Cardiovascular disease

CD62E:

CD62 antigen-like family member E

NF-KB:

Nuclear factor-kB

CKD:

Chronic kidney diseases

PI:

Phosphatidylinositol

MASHAD:

Mashhad stroke and heart atherosclerotic disorders
References
1.

Eckel RH, Grundy SM, Zimmet PZ (2005) The metabolic syndrome. Lancet 365:1415–1428

2.

Ford ES, Li C, Zhao G (2010) Prevalence and correlates of metabolic syndrome based on a harmonious definition among adults in the US. J Diabetes 2(3):180–193

3.

Maki KC, Bays HE, Dicklin MR (2012) Treatment options for the management of hypertriglyceridemia: strategies based on the best-available evidence. J Clin Lipidol 6(5):413–426

4.

Grundy SM, Cleeman JI, Daniels SR, Donato KA, Eckel RH, Franklin BA et al (2005) Diagnosis and management of the metabolic syndrome: an American Heart Association/National heart, lung, and blood institute scientific statement. Circulation 112(17):2735–2752

5.

Isomaa B, Almgren P, Tuomi T, Forsén B, Lahti K, Nissen M et al (2001) Cardiovascular morbidity and mortality associated with the metabolic syndrome. Diabetes Care 24(4):683–689

6.

Zimmet P, Boyko E, Collier G, de Courten M (1999) Etiology of the metabolic syndrome: potential role of insulin resistance, leptin resistance, and other players. Ann N Y Acad Sci 892(1):25–44

7.

Koh KK, Han SH, Quon MJ (2005) Inflammatory markers and the metabolic syndrome: insights from therapeutic interventions. J Am Coll Cardiol 46(11):1978–1985

8.

Hsu L-A, Ko Y-L, Wu S, Teng M-S, Chou H-H, Chang C-J et al (2009) Association of soluble intercellular adhesion molecule-1 with insulin resistance and metabolic syndrome in Taiwanese. Metabolism 58(7):983–988

9.

Yaykasli KO, Hatipoglu OF, Yaykasli E, Yildirim K, Kaya E, Ozsahin M et al (2015) Leptin induces ADAMTS-4, ADAMTS-5, and ADAMTS-9 genes expression by mitogen-activated protein kinases and NF-ĸB signaling pathways in human chondrocytes. Cell Biol Int 39(1):104–112

10.

Barthel SR, Gavino JD, Descheny L, Dimitroff CJ (2007) Targeting selectins and selectin ligands in inflammation and cancer. Expert Opin Ther Targets 11(11):1473–1491

11.

Kelly M, Hwang JM, Kubes P (2007) Modulating leukocyte recruitment in inflammation. J Allergy Clin Immunol 120(1):3–10

12.

Simon SI, Green CE (2005) Molecular mechanics and dynamics of leukocyte recruitment during inflammation. Annu Rev Biomed Eng 7:151–185

13.

Sackstein R (2005) The lymphocyte homing receptors: gatekeepers of the multistep paradigm. Curr Opin Hematol 12(6):444–450

14.

Weber C, Fraemohs L, Dejana E (2007) The role of junctional adhesion molecules in vascular inflammation. Nat Rev Immunol 7(6):467

15.

Fusté B, Mazzara R, Escolar G, Merino A, Ordinas A, Díaz-Ricart M (2004) Granulocyte colony-stimulating factor increases expression of adhesion receptors on endothelial cells through activation of p38 MAPK. Haematologica 89(5):578–585

16.

Leeuwenberg J, Smeets E, Neefjes J, Shaffer M, Cinek T, Jeunhomme T et al (1992) E-selectin and intercellular adhesion molecule-1 are released by activated human endothelial cells in vitro. Immunology 77(4):543

17.

Ehrhardt C, Kneuer C, Bakowsky U (2004) Selectins—an emerging target for drug delivery. Adv Drug Deliv Rev 56(4):527–549

18.

Krieglstein CF, Granger DN (2001) Adhesion molecules and their role in vascular disease. Am J Hypertens 14(S3):44S–54S

19.

Miller MA, Cappuccio FP (2006) Cellular adhesion molecules and their relationship with measures of obesity and metabolic syndrome in a multiethnic population. Int J Obes 30(8):1176

20.

Ley K (2003) The role of selectins in inflammation and disease. Trends Mol Med 9(6):263–268

21.

Navarro JF, Mora C (2006) Diabetes, inflammation, proinflammatory cytokines, and diabetic nephropathy. Sci World J 6:908–917

22.

Miller MA, Sagnella GA, Kerry SM, Strazzullo P, Cappuccio FP (2003) Ethnic differences in circulating soluble adhesion molecules: the Wandsworth Heart and Stroke Study. Clin Sci 104(6):591–598

23.

Miller MA, Kerry SM, Cook DG, Cappuccio FP (2004) Cellular adhesion molecules and blood pressure: interaction with sex in a multi-ethnic population. J Hypertens 22(4):705–711

24.

Yörük Ü, Yaykaşli K, Özhan H, Memişoğullari R, Karabacak A, Bulur S et al (2014) Association of omentin Val109Asp polymorphism with coronary artery disease. Anadolu Kardiyol Derg 14(6):511–514

25.

Hwang S-J, Ballantyne CM, Sharrett AR, Smith LC, Davis CE, Gotto AM Jr et al (1997) Circulating adhesion molecules VCAM-1, ICAM-1, and E-selectin in carotid atherosclerosis and incident coronary heart disease cases: the atherosclerosis risk in communities (ARIC) study. Circulation 96(12):4219–4225

26.

Ponthieux A, Herbeth B, Droesch S, Haddy N, Lambert D, Visvikis S (2004) Biological determinants of serum ICAM-1, E-selectin, P-selectin and L-selectin levels in healthy subjects: the Stanislas study. Atherosclerosis 172(2):299–308

27.

Ghazizadeh H, Fazilati M, Pasdar A, Avan A, Tayefi M, Ghasemi F et al (2017) Association of a vascular endothelial growth factor genetic variant with serum VEGF level in subjects with metabolic syndrome. Gene 598:27–31

28.

Uslu M, Kaya E, Yaykaşlı KO, Oktay M, Inanmaz ME, Işık C et al (2015) Erythropoietin stimulates patellar tendon healing in rats. Knee 22(6):461–468

29.

Kim I, Moon S-O, Kim SH, Kim HJ, Koh YS, Koh GY (2001) Vascular endothelial growth factor expression of intercellular adhesion molecule 1 (ICAM-1), vascular cell adhesion molecule 1 (VCAM-1), and E-selectin through nuclear factor-κB activation in endothelial cells. J Biol Chem 276(10):7614–7620

30.

Dąbek J, Kułach A, Gąsior Z (2010) Nuclear factor kappa-light-chain-enhancer of activated B cells (NF-κB): a new potential therapeutic target in atherosclerosis? Pharmacol Rep 62(5):778–783

31.

Hatipoglu OF, Yaykasli KO, Dogan M, Yaykasli E, Bender O, Yasar T et al (2015) NF-[kappa] B and MAPKs are involved in resistin-caused ADAMTS-5 induction in human chondrocytes. Clin Investig Med 38(4):E248

32.

Kanellis J, Watanabe S, Li JH, Kang DH, Li P, Nakagawa T et al (2003) Uric acid stimulates monocyte chemoattractant protein-1 production in vascular smooth muscle cells via mitogen-activated protein kinase and cyclooxygenase-2. Hypertension 41(6):1287–1293

33.

Kang D-H, Park S-K, Lee I-K, Johnson RJ (2005) Uric acid-induced C-reactive protein expression: implication on cell proliferation and nitric oxide production of human vascular cells. J Am Soc Nephrol 16(12):3553–3562

34.

Ahmadnezhad M, Arefhosseini SR, Parizadeh MR, Tavallaie S, Tayefi M, Darroudi S et al (2018) Association between serum uric acid, high sensitive C-reactive protein and pro-oxidant-antioxidant balance in patients with metabolic syndrome. BioFactors 44(3):263–271

35.

Mirhafez SR, Zarifian A, Ebrahimi M, Ali RFA, Avan A, Tajfard M et al (2015) Relationship between serum cytokine and growth factor concentrations and coronary artery disease. Clin Biochem 48(9):575–580

36.

Yaykasli KO, Yaykasli E, Ataoglu S, Ozsahin M, Memisogullari R, Celebi E et al (2013) The frequency of omentin Val109Asp polymorphism and the serum level of omentin in patients with Rheumatoid Arthritis. Acta Med Mediterr 29(3):521–526

37.

Yamak N, Yaykasli KO, Yilmaz U, Eroz R, Uzunlar AK, Ankarali H et al (2014) Association between survivin gene polymorphisms and the susceptibility to colon cancer development in the Turkish population. Asian Pac J Cancer Prev 15(20):8963–8967

38.

Ghazizadeh H, Avan A, Fazilati M, Azimi-Nezhad M, Tayefi M, Ghasemi F et al (2018) Association of rs6921438 A<G with serum vascular endothelial growth factor concentrations in patients with metabolic syndrome. Gene 667:70–75

39.

Mirhafez SR, Avan A, Pasdar A, Kazemi E, Ghasemi F, Tajbakhsh A et al (2015) Association of tumor necrosis factor-α promoter G-308A gene polymorphism with increased triglyceride level of subjects with metabolic syndrome. Gene 568(1):81–84

40.

Agarwal S, Shlipak MG, Kramer H, Jain A, Herrington DM (2012) The association of chronic kidney disease and metabolic syndrome with incident cardiovascular events: multiethnic study of atherosclerosis. Cardiol Res Pract 2012:806102

41.

Gu D, Reynolds K, Wu X, Chen J, Duan X, Reynolds RF et al (2005) Prevalence of the metabolic syndrome and overweight among adults in China. The Lancet 365(9468):1398–1405

42.

Tanaka H, Shiohira Y, Uezu Y, Higa A, Iseki K (2006) Metabolic syndrome and chronic kidney disease in Okinawa, Japan. Kidney Int 69(2):369–374

43.

Chen J, Gu D, Chen C-S, Wu X, Hamm LL, Muntner P et al (2007) Association between the metabolic syndrome and chronic kidney disease in Chinese adults. Nephrol Dial Transplant 22(4):1100–1106

44.

Zomorrodian D, Khajavi-Rad A, Avan A, Ebrahimi M, Nematy M, Azarpazhooh MR et al (2015) Metabolic syndrome components as markers to prognosticate the risk of developing chronic kidney disease: evidence-based study with 6492 individuals. J Epidemiol Community Health 69(6):594–598

45.

Khan QA, Sola S, Khan BV (2006) The metabolic syndrome: inflammation and endothelial dysfunction. Hosp Phys 26:37

46.

Mirhafez SR, Pasdar A, Avan A, Esmaily H, Moezzi A, Mohebati M et al (2015) Cytokine and growth factor profiling in patients with the metabolic syndrome. Br J Nutr 113(12):1911–1919

47.

Debette S, Visvikis-Siest S, Chen M-H, Ndiaye N-C, Song C, Destefano A et al (2011) Identification of cis-and trans-acting genetic variants explaining up to half the variation in circulating vascular endothelial growth factor levels. Circ Res 109(5):554–563

48.

Girman CJ, Rhodes T, Mercuri M, Pyörälä K, Kjekshus J, Pedersen TR et al (2004) The metabolic syndrome and risk of major coronary events in the Scandinavian Simvastatin survival study (4S) and the air force/texas coronary atherosclerosis prevention study (AFCAPS/TexCAPS). Am J Cardiol 93(2):136–141

49.

Sutherland JP, McKinley B, Eckel RH (2004) The metabolic syndrome and inflammation. Metab Syndr Relat Disord 2(2):82–104

50.

Zavaroni I, Mazza S, Fantuzzi M, Dall'Aglio E, Bonora E, Delsignore R et al (1993) Changes in insulin and lipid metabolism in males with asymptomatic hyperuricaemia. J Intern Med 234(1):25–30

51.

Miller M, Cappuccio F (2006) Cellular adhesion molecules and their relationship with measures of obesity and metabolic syndrome in a multiethnic population. Int J Obes 30(8):1176

52.

Wildman RP, Kaplan R, Manson JE, Rajkovic A, Connelly SA, Mackey RH et al (2011) Body size phenotypes and inflammation in the women's health initiative observational study. Obesity 19(7):1482–1491

53.

Kent JW, Comuzzie AG, Mahaney MC, Almasy L, Rainwater DL, VandeBerg JL et al (2004) Intercellular adhesion molecule-1 concentration is genetically correlated with insulin resistance, obesity, and HDL concentration in Mexican Americans. Diabetes 53(10):2691–2695

54.

Szmitko PE, Wang C-H, Weisel RD, de Almeida JR, Anderson TJ, Verma S (2003) New markers of inflammation and endothelial cell activation: part I. Circulation 108(16):1917–1923

55.

Corella D, Ortega-Azorín C, Sorlí JV, Covas MI, Carrasco P, Salas-Salvadó J et al (2012) Statistical and biological gene-lifestyle interactions of MC4R and FTO with diet and physical activity on obesity: new effects on alcohol consumption. PLoS ONE 7(12):e52344
Acknowledgements
We would like to thank the Mashhad University of Medical Sciences Research Council for their financial support.
Funding
This study was supported by a grant from the Research Council of the Mashhad University of Medical Sciences (Grant Nos. 921941 and 901033). It granted parts of the design, running or reporting of our study and the approval number from the constituted review board, the Ethics Committee of Mashhad University of Medical Sciences (Mums) is IR.MUMS.MEDICAL.REC.1386.250.
Ethics declarations
Conflict of interest
The authors have no conflict of interest to disclose.
Ethics approval and consent to participate
Informed consent was obtained from all subjects using protocols approved by the Ethics Committee of the Mashhad University of Medical Sciences.
Additional information
Publisher's Note
Springer Nature remains neutral with regard to jurisdictional claims in published maps and institutional affiliations.
Electronic supplementary material
Below is the link to the electronic supplementary material.
About this article
Cite this article
Ghazizadeh, H., Rezaei, M., Avan, A. et al. Association between serum cell adhesion molecules with hs-CRP, uric acid and VEGF genetic polymorphisms in subjects with metabolic syndrome. Mol Biol Rep 47, 867–875 (2020) doi:10.1007/s11033-019-05081-2
Received:

Accepted:

Published:

Issue Date:
Keywords
Metabolic syndrome

Vascular endothelial growth factor

Cell adhesion molecules

Polymorphism