Abstract
Cactaceae species are an important component of the Brazilian Chaco landscape. Sixteen species are reported to this region, including 13 genera representing three Cactaceae subfamilies. All these species are native and have been locally threatened by the advance of the deforestation, which can negatively impact their genetic diversity. In order to test genetic markers that can potentially be used to screen the population diversity of these species, we checked the cross-amplification performance of 27 nuclear and 23 plastid microsatellite loci in all 16 cacti species from Brazilian Chaco. We tested the cross-amplification of the 50 microsatellite (SSR) loci in one specimen of each cacti species and considered it successful when at least one band of the expected size was generated. Thirteen species (81%) had at least 18 nuclear microsatellite loci amplified, while seven species (43%) had at least 11 chloroplast microsatellite loci amplified. We also reviewed current knowledge of SSR studies with Cactaceae in 50 studies available in the Web of Science®, and found that only five cacti species that occur in the Brazilian Chaco have representatives of the same genus with described SSR loci. The high cross-amplification rates indicated that these microsatellites markers can be helpful for future population genetic studies with cacti species from the Brazilian Chaco. Since their diversity levels and gene flow patterns are still poorly known, analyses with universal and transferable markers provide important tools to guide conservation efforts on this highly neglected region.
This is a preview of subscription content, log in to check access.
Access options
Buy single article
Instant unlimited access to the full article PDF.
US$ 39.95
Price includes VAT for USA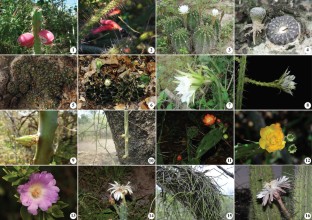 References
1.

Pennington RT, Prado DE, Pendry CA (2000) Neotropical seasonally dry forests and quaternary vegetation changes. J Biogeogr 27:261–273. https://doi.org/10.1046/j.1365-2699.2000.00397.x

2.

Sartori ÂLB, Pott VJ, Pott A, Carvalho FS (2018) Check-list das Angiospermas do Chaco de Mato Grosso do Sul. Iheringia Série Botânica 73:22–33. https://doi.org/10.21826/2446-8231201873s22

3.

Gomes VGN, Fava WS, Souza PR, Zappi DC, Araujo AC (2018) An illustrated field guide for conservation of cacti species in the Brazilian Chaco. Cact Succ J 90:201–202. https://doi.org/10.2985/015.090.0308

4.

Goettsch B, Hilton-Taylor C, Cruz-Piñón G, Duffy JP, Frances A, Hernández HM, Inger R, Pollock C, Schipper J, Superina M, Taylor NP (2015) High proportion of cactus species threatened with extinction. Nat Plants 1:1–7. https://doi.org/10.1038/nplants.2015.142

5.

Bucher EH, Huszar PC (1999) Sustainable management of the Grand Chaco of South America: ecological promise and economic constraints. J Environ Manag 57:99–108. https://doi.org/10.1006/jema.1999.0290

6.

Alves FM, Sartori ÂL, Zucchi MI, Azevedo-Tozzi AM, Tambarussi EV, Alves-Pereira A, de Souza AP (2018) Genetic structure of two Prosopis species in Chaco areas: a lack of allelic diversity diagnosis and insights into the allelic conservation of the affected species. Ecol Evol 8:6558–6574. https://doi.org/10.1002/ece3.4137

7.

Alves FM, Sartori ÂL, Zucchi MI, Azevedo-Tozzi AM, Tambarussi EV, de Souza AP (2018) A high level of outcrossing in the vulnerable species Prosopis rubriflora in a Chaco remnant. Aust J Bot 66:360–368. https://doi.org/10.1071/BT17195

8.

Godoy FMR, Lenzi M, Ferreira BHS, Silva LV, Zanella CM, Paggi GM (2018) High genetic diversity and moderate genetic structure in the self-incompatible, clonal Bromelia hieronymi (Bromeliaceae). Bot J Linn Soc 187:672–688. https://doi.org/10.1093/botlinnean/boy037

9.

Fava WS, Paggi GM, Zanella CM, Lorenz-Lemke AP (2016) Development and characterization of microsatellite markers for Echinopsis rhodotricha and cross-amplification in other species of Cactaceae. Biochem Syst Ecol 66:19–23. https://doi.org/10.1016/j.bse.2016.02.008

10.

Selkoe KA, Toonen RJ (2006) Microsatellites for ecologists: a practical guide to using and evaluating microsatellite markers. Ecol Lett 9:615–629. https://doi.org/10.1111/j.1461-0248.2006.00889.x

11.

Vieira MLC, Santini L, Diniz AL, Munhoz CDF (2016) Microsatellite markers: what they mean and why they are so useful. Genet Mol Biol 39:312–328.

12.

Provan J, Powell W, Hollingsworth PM (2001) Chloroplast microsatellites: new tools for studies in plant ecology and evolution. Trends Ecol Evol 16:142–147. https://doi.org/10.1016/S0169-5347(00)02097-8

13.

Weising K, Gardner RC (1999) A set of conserved PCR primers for the analysis of simple sequence repeat polymorphisms in chloroplast genomes of dicotyledonous angiosperms. Genome 42:9–19. https://doi.org/10.1139/g98-104

14.

López-Villalobos A, Eckert CG (2018) Consequences of multiple mating-system shifts for population and range-wide genetic structure in a coastal dune plant. Mol Ecol 27:675–693. https://doi.org/10.1111/mec.14484

15.

Ennos RA, Langdon AG, Hu X-S, Sinclair W (1999) Using organelle markers to elucidate the history, ecology and evolution of plant populations. In: Hollingsworth PM et al (eds) Molecular systematics and plant evolution. Taylor and Francis, London, pp 1–19

16.

Bombonato JR, Bonatelli IAS, Silva GAR, Moraes EM, Zappi DC, Taylor NP, Franco FF (2019) Cross-genera SSR transferability in cacti revealed by a case study using Cereus (Cereeae, Cactaceae). Genet Mol Biol 42:87–94. https://doi.org/10.1590/1678-4685-gmb-2017-0293

17.

Ossa CG, Larridon I, Peralta G, Asselman P, Pérez F (2016) Development of microsatellite markers using next-generation sequencing for the columnar cactus Echinopsis chiloensis (Cactaceae). Mol Biol Rep 43:1315–1320. https://doi.org/10.1007/s11033-016-4069-9

18.

Vendramin GG, Lelli L, Rossi P, Morgante M (1996) A set of primers for the amplification of 20 chloroplast microsatellites in Pinaceae. Mol Ecol 5:595–598. https://doi.org/10.1111/j.1365-294X.1996.tb00353.x

19.

Frankham R, Ballou JD, Briscoe DA (2004) A primer of conservation genetics. University Press, Cambridge

20.

Barbará T, Palma-Silva C, Paggi GM, Bered F, Fay MF, Lexer C (2007) Cross-species transfer of nuclear microsatellite markers: potential and limitations. Mol Ecol 16:3759–3767. https://doi.org/10.1111/j.1365-294X.2007.03439.x

21.

Moraes EM, Perez MF, Téo MF, Zappi DC, Taylor NP, Machado MC (2012) Cross-species amplification of microsatellites reveals incongruence in the molecular variation and taxonomic limits of the Pilosocereus aurisetus group (Cactaceae). Genetica 140:277–285. https://doi.org/10.1007/s10709-012-9678-1

22.

Kalia RK, Rai MK, Kalia S, Singh R, Dhawan AK (2011) Microsatellite markers: an overview of the recent progress in plants. Euphytica 177:309–334. https://doi.org/10.1007/s10681-010-0286-9

23.

Arakaki M, Christin PA, Nyffeler R, Lendel A, Eggli U, Ogburn RM, Spriggs E, Moore MJ, Edwards EJ (2011) Contemporaneous and recent radiations of the world's major succulent plant lineages. Proc Natl Acad Sci USA 108:8379–8384. https://doi.org/10.1073/pnas.1100628108

24.

Ebert D, Peakall R (2009) A new set of universal de novo sequencing primers for extensive coverage of noncoding chloroplast DNA: new opportunities for phylogenetic studies and cpSSR discovery. Mol Ecol Resour 9:777–783. https://doi.org/10.1111/j.1755-0998.2008.02320.x

25.

Sahu SK, Thangaraj M, Kathiresan K (2012) DNA extraction protocol for plants with high levels of secondary metabolites and polysaccharides without using liquid nitrogen and phenol. ISRN Mol Biol 2012:205049. https://doi.org/10.5402/2012/205049

26.

Tálamo A, Caziani SM (2003) Variation in wood vegetation among sites with different disturbance histories in the Argentine Chaco. For Ecol Manag 184:79–91. https://doi.org/10.1016/S0378-1127(03)00150-6

27.

Silva JSV, Pott A, Abdon MM, Pott VJ, Santos EKR (2011) Projeto GeoMS: cobertura vegetal e uso da terra do Estado de Mato Grosso do Sul, 1ª edn. Embrapa Informação, Brasilia

28.

Schuelke M (2000) An economic method for the fluorescent labeling of PCR fragments. Nat Biotechnol 18:233–234. https://doi.org/10.1038/72708
Acknowledgements
We thank Fernando Pavesi and Afonso Rodrigues for granting access to collection sites. This study received financial support from FUNDECT (Foundation for Support to the Development of Education, Science and Technology of the State of Mato Grosso do Sul—Processo Fundect DCR-C: 59/300.248/2016: Termo de Outorga: 159/2016; SIAFEM: 026045; WSF) and CNPq (National Council for Scientific and Technological Development—Edital: 19/2015). This study was also financed in part by CAPES (Coordination for the Improvement of Higher Education Personnel, Finance Code 001; VGNG) and Rufford Foundation (RSGF 18851-1; VGNG). We thank Giuliano Godoy for reviewing the text.
Ethics declarations
Conflict of interest
The authors declare that they have no conflicts of interest.
Additional information
Publisher's Note
Springer Nature remains neutral with regard to jurisdictional claims in published maps and institutional affiliations.
Electronic supplementary material
Below is the link to the electronic supplementary material.
About this article
Cite this article
Fava, W.S., Gomes, V.G.N., Lorenz, A.P. et al. Cross-amplification of microsatellite loci in the cacti species from Brazilian Chaco. Mol Biol Rep 47, 1535–1542 (2020). https://doi.org/10.1007/s11033-019-05064-3
Received:

Accepted:

Published:

Issue Date:
Keywords
Cactaceae

Conservation genetics

Echinopsis

Plastidial markers

SSR markers