Abstract
Cell transplantation offers a promising approach in many neurological disorders. Neural stem (NS) cells are potential candidates for cell therapy. The ability to track the grafted cells in the host tissue will refine this therapy. Superparamagnetic iron oxide nanoparticles (SPION) have been suggested as a feasible method, but there is no consensus about its safety. Here we investigated the feasibility of label NS cells with SPION and track by MRI after transplantation into mouse striatum with SPION cells and its therapeutic effects by grafting the cells into mouse striatum. We demonstrated that SPION-labeled NS cells display normal patterns of cellular processes including proliferation, migration, differentiation and neurosphere formation. Transmission electron microscopy reveals SPION in the cytoplasm of the cells, which was confirmed by microanalysis. Neurons and astrocytes generated from SPION-labeled NS cells were able to carry nanoparticles after 7 days under differentiation. SPION-labeled NS cells transplanted into striatum of mice were detected by magnetic resonance imaging (MRI) and microscopy 51 days later. In agreement with others reports, we demonstrated that NS cells are able to incorporate SPION in vitro without altering the stemness, and can survive and be tracked by MRI after they have been grafted into mice striatum.
This is a preview of subscription content, log in to check access.
Access options
Buy single article
Instant access to the full article PDF.
US$ 39.95
Price includes VAT for USA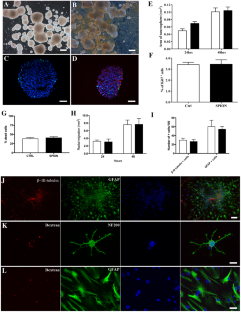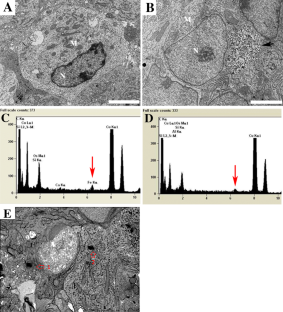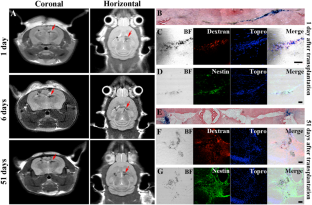 References
1.

Weiss S, Reynolds BA, Vescovi AL, Morshead C, Craig CG, van der Kooy D (1996) Is there a neural stem cell in the mammalian forebrain? Trends Neurosci 19(9):387–393

2.

Kircher MF, Gambhir SS, Grimm J (2011) Noninvasive cell-tracking methods. Nat Rev Clin Oncol 8(11):677–688

3.

Jasmin, de Souza GT, Louzada RA, Rosado-de-Castro PH, Mendez-Otero R, Campos de Carvalho AC (2017) Tracking stem cells with superparamagnetic iron oxide nanoparticles: perspectives and considerations. Int J Nanomed 12:779–793

4.

Eamegdool SS, Weible MW 2nd, Pham BT, Hawkett BS, Grieve SM, Chan-Ling T (2014) Ultrasmall superparamagnetic iron oxide nanoparticle prelabelling of human neural precursor cells. Biomaterials 35(21):5549–5564

5.

Shen WB, Plachez C, Chan A, Yarnell D, Puche AC, Fishman PS, Yarowsky P (2013) Human neural progenitor cells retain viability, phenotype, proliferation, and lineage differentiation when labeled with a novel iron oxide nanoparticle, Molday ION Rhodamine B. Int J Nanomed 8:4593–4600

6.

Gutova M, Frank JA, D'Apuzzo M, Khankaldyyan V, Gilchrist MM, Annala AJ, Metz MZ, Abramyants Y, Herrmann KA, Ghoda LY et al (2013) Magnetic resonance imaging tracking of ferumoxytol-labeled human neural stem cells: studies leading to clinical use. Stem Cells Transl Med 2(10):766–775

7.

Umashankar A, Corenblum MJ, Ray S, Valdez M, Yoshimaru ES, Trouard TP, Madhavan L (2016) Effects of the iron oxide nanoparticle Molday ION Rhodamine B on the viability and regenerative function of neural stem cells: relevance to clinical translation. Int J Nanomed 11:1731–1748

8.

Azevedo-Pereira RL, Daadi MM (2013) Isolation and purification of self-renewable human neural stem cells for cell therapy in experimental model of ischemic stroke. Methods Mol Biol 1059:157–167

9.

Shen WB, Plachez C, Tsymbalyuk O, Tsymbalyuk N, Xu S, Smith AM, Michel SL, Yarnell D, Mullins R, Gullapalli RP et al (2016) Cell-based therapy in TBI: magnetic retention of neural stem cells in vivo. Cell Transplant 25(6):1085–1099

10.

Bull E, Madani SY, Sheth R, Seifalian A, Green M, Seifalian AM (2014) Stem cell tracking using iron oxide nanoparticles. Int J Nanomed 9:1641–1653

11.

Daadi MM, Li Z, Arac A, Grueter BA, Sofilos M, Malenka RC, Wu JC, Steinberg GK (2009) Molecular and magnetic resonance imaging of human embryonic stem cell-derived neural stem cell grafts in ischemic rat brain. Mol Ther 17(7):1282–1291

12.

Song M, Kim Y, Ryu S, Song I, Kim SU, Yoon BW (2009) MRI tracking of intravenously transplanted human neural stem cells in rat focal ischemia model. Neurosci Res 64(2):235–239

13.

Guzman R, Uchida N, Bliss TM, He D, Christopherson KK, Stellwagen D, Capela A, Greve J, Malenka RC, Moseley ME et al (2007) Long-term monitoring of transplanted human neural stem cells in developmental and pathological contexts with MRI. Proc Natl Acad Sci USA 104(24):10211–10216

14.

Amemori T, Romanyuk N, Jendelova P, Herynek V, Turnovcova K, Prochazka P, Kapcalova M, Cocks G, Price J, Sykova E (2013) Human conditionally immortalized neural stem cells improve locomotor function after spinal cord injury in the rat. Stem Cell Res Ther 4(3):68

15.

Pongrac IM, Pavicic I, Milic M, Brkic Ahmed L, Babic M, Horak D, Vinkovic Vrcek I, Gajovic S (2016) Oxidative stress response in neural stem cells exposed to different superparamagnetic iron oxide nanoparticles. Int J Nanomed 11:1701–1715

16.

Cromer Berman SM, Wang CJ, Orukari I, Levchenko A, Bulte JW, Walczak P (2013) Cell motility of neural stem cells is reduced after SPIO-labeling, which is mitigated after exocytosis. Magn Reson Med 69(1):255–262

17.

Breunig JJ, Haydar TF, Rakic P (2011) Neural stem cells: historical perspective and future prospects. Neuron 70(4):614–625

18.

Lundberg J, Le Blanc K, Soderman M, Andersson T, Holmin S (2009) Endovascular transplantation of stem cells to the injured rat CNS. Neuroradiology 51(10):661–667

19.

Silvestrini MT, Yin D, Coppes VG, Mann P, Martin AJ, Larson PS, Starr PA, Gupta N, Panter SS, Desai TA et al (2013) Radially branched deployment for more efficient cell transplantation at the scale of the human brain. Stereotact Funct Neurosurg 91(2):92–103

20.

Oses C, Olivares B, Ezquer M, Acosta C, Bosch P, Donoso M, Leniz P, Ezquer F (2017) Preconditioning of adipose tissue-derived mesenchymal stem cells with deferoxamine increases the production of pro-angiogenic, neuroprotective and anti-inflammatory factors: potential application in the treatment of diabetic neuropathy. PLoS ONE 12(5):e0178011

21.

Guzman R, Uchida N, Bliss TM, He D, Christopherson KK, Stellwagen D, Capela A, Greve J, Malenka RC, Moseley ME et al (2007) Long-term monitoring of transplanted human neural stem cells in developmental and pathological contexts with MRI. Proc Natl Acad Sci USA 104(24):10211–10216

22.

Moraes L, Vasconcelos-dos-Santos A, Santana FC, Godoy MA, Rosado-de-Castro PH, Jasmin, Azevedo-Pereira RL, Cintra WM, Gasparetto EL, Santiago MF et al (2012) Neuroprotective effects and magnetic resonance imaging of mesenchymal stem cells labeled with SPION in a rat model of Huntington's disease. Stem Cell Res 9(2):143–155

23.

Hoehn M, Kustermann E, Blunk J, Wiedermann D, Trapp T, Wecker S, Focking M, Arnold H, Hescheler J, Fleischmann BK et al (2002) Monitoring of implanted stem cell migration in vivo: a highly resolved in vivo magnetic resonance imaging investigation of experimental stroke in rat. Proc Natl Acad Sci USA 99(25):16267–16272

24.

Morizawa YM, Hirayama Y, Ohno N, Shibata S, Shigetomi E, Sui Y, Nabekura J, Sato K, Okajima F, Takebayashi H et al (2017) Reactive astrocytes function as phagocytes after brain ischemia via ABCA1-mediated pathway. Nat Commun 8(1):28

25.

Doyle KP, Quach LN, Arceuil HE, Buckwalter MS (2015) Ferumoxytol administration does not alter infarct volume or the inflammatory response to stroke in mice. Neurosci Lett 584:236–240

26.

Pickard MR, Chari DM (2010) Robust uptake of magnetic nanoparticles (MNPs) by central nervous system (CNS) microglia: implications for particle uptake in mixed neural cell populations. Int J Mol Sci 11(3):967–981
Acknowledgements
This work was supported by CNPq, CAPES, FAPERJ, and the Ministry of Health (DECIT). We are grateful to Jennifer Vu (Stanford University) for helpful comments on the manuscript. The authors also thank Felipe Marins and Suelen Serio for technical assistance.
Ethics declarations
Conflict of interest
The authors have no conflict of interest to disclose.
About this article
Cite this article
Azevedo-Pereira, R.L., Rangel, B., Tovar-Moll, F. et al. Superparamagnetic iron oxide nanoparticles as a tool to track mouse neural stem cells in vivo. Mol Biol Rep 46, 191–198 (2019). https://doi.org/10.1007/s11033-018-4460-9
Received:

Accepted:

Published:

Issue Date:
Keywords
Neural stem cells

Superparamagnetic iron oxide nanoparticle

Magnetic resonance imaging

Cellular therapy

Cell tracking