Flood risk assessments at different spatial scales
Open Access
Original Article
Abstract
Managing flood risk, i.e. both the hazard and the potential consequences, is an important aspect of adapting to global change and has gained much traction in recent decades. As a result, a priori flood risk assessments have become an important part of flood management practices. Many methodologies have been set up, ranging from global risk assessments for the world as a whole, to local assessments for a particular stretch of a river/coast or small town. Most assessment frameworks generally follow a similar approach, but there are also notable differences between assessments at different spatial scales. This review article examines these differences, for instance those related to the methodology, use of assessments and uncertainties. From this review, future research needs are identified in order to improve flood risk assessments at different scales. At global/continental scale, there is a clear need for harmonised information on flood defences to improve assessments. Furthermore, inclusions of indirect economic effects at the macro-/meso-scale would give a better indication of the total effects of catastrophic flooding. At the meso-/micro-scale, there is an urgent need to improve our understanding of the effects of flooding on critical infrastructures, given their importance to society, the economy, emergency management and reconstruction. An overarching theme at all scales is the validation of flood risk assessments, which is often limited. More detailed post-disaster information would allow for improved calibration, validation and thus performance of flood risk models. Lastly, the link between spatial scales also deserves attention, for instance up- or downscaling methodologies.
Keywords
Flood risk 
Adaptation 
Risk assessment 
Spatial scales 
1

Introduction

Time and again, floods around the world illustrate the devastating impact they can have on societies. In October 2012 super storm Sandy wreaked havoc in New York and New Jersey, United States of America (USA) causing roughly US$60 billion damage (Aerts et al. 2013a, b), and in June 2013 central Europe saw floods in the Elbe and Danube basins, causing a loss of approximately €12 billion and dozens of fatalities (Schröter et al. 2015; Munich 2013). Managing this risk is important from both a societal and economic perspective in order to reduce damages and losses and to minimise or avoid human suffering. With risk being a combination of the hazard and its potential consequences, flood risk can thus be managed by reducing the probability or magnitude of a flood (the hazard) or by reducing the consequences it may cause. In the last couple of decades, the concept of managing flood risk has gained much traction (Hooijer et al. 2004; Petrow et al. 2006; Van Alphen and Van Beek 2006; IPCC 2012; UNISDR 2013), which is exemplified by the European Floods Directive, which was adopted in 2007 (2007/60/EC). This approach of managing risk takes a more holistic view, by explicitly covering all aspects (e.g. prevention, mitigation, preparation, response, recovery) of the disaster management cycle (Lumbruso 2007; De Moel and Aerts 2008; Kreibich et al. 2014), instead of focussing mainly on flood prevention. As such, flood risk management is becoming an important process for adapting to a constantly changing environment due to, for instance, climate change, population growth and economic change.

Adequate management of floods is reliant on a priori assessments of flood events and their consequences. Such assessments give insights into what can be expected, and thereby open up the discussion on how to tackle such situations. Moreover, such assessment frameworks can be used to evaluate measures in a standardised way, support decision-making on possible measures that can be taken and prioritise areas where action is required. Over the past couple of decades, a large amount of research has focused on developing such flood assessments at various spatial scales, for a variety of purposes. Whilst the central approach is quite general between different assessments, there are notable differences in terms of methodology and the use of those assessments. Such differences are the result of many factors, including data availability and the applicability of methods at different scales. However, with increasing computational capacity and a wider availability of detailed data, opportunities are arising to enable the scaling up of detailed methods to larger scales or to start using global methods for more local purposes in data scarce regions. For this, it is necessary to understand the different methodologies, limitations and uses of flood risk assessments at different spatial scales.

This review paper aims to provide an overview of the current state and development of quantitative flood risk assessments at different scales and to facilitate learning from assessments at different scales. In the remainder of this review, we will first provide a general framework of flood risk assessments and then address the methods, limitations and uses of assessments at four different scales (supra-national, macro, meso, micro). An overview of assessment characteristics at different scales will then be discussed before providing the main lessons learned and identifying future research needs for different scales and for flood risk assessments generally.
2

Flood risk assessments

Assessing flood risk is an interdisciplinary task, combining various sources and types of information and models. Such assessments attempt to estimate, a priori, what possible flood events may look like (i.e. flood extent and inundation depth), how probable they are and what are the possible consequences of such a flood may be. In engineering and natural sciences, the conceptual framework followed is that risk is a function of hazard, exposure and vulnerability (Kron 2002; UNISDR 2013), though concepts are sometimes differently interpreted by different researchers (Klijn et al. 2015).

Flood risk assessments start with an assessment of the flood hazard, which indicates the probability and intensity of a possible event (hazard assessment; e.g. Pappenberger et al.

2012

; Alfieri et al.

2013

). This hazard information can be overlaid with socio-economic information, such as land use data, building datasets, information on population, regional gross domestic product (GDP), etc. Doing so will give an indication of what is actually exposed to flooding (i.e. exposure assessment; e.g. Jongman et al.

2012a

). Information on the exposure can be combined with information on the vulnerability of such assets (for instance through damage curves) and the hazard characteristics to estimate the potential damage (damage assessment; e.g. Kreibich and Thieken

2008

; De Moel and Aerts

2011

). A generalised procedure to estimate direct monetary damage consists of the following: (1) Classification of elements at risk by pooling them into homogeneous classes. (2) Exposure analysis and asset assessment by describing the number and type of elements at risk and by estimating their asset value. (3) Susceptibility (or vulnerability) analysis by relating the relative damage of the elements at risk to the flood impact (Merz et al.

2010a

,

b

). When total damages are calculated for several events with different probabilities, an expected annual damage can be calculated, usually referred to as risk (risk assessment; e.g. Aerts et al.

2013a

,

b

; Falter et al.

2015a

) (Fig. 

1

). Note that there are various other factors that influence flood risk, which may or may not be included in flood risk assessment as they are sometimes difficult to include in a quantitative analysis. Such factors include warning time, preparedness, social and economic resistance, health, etc.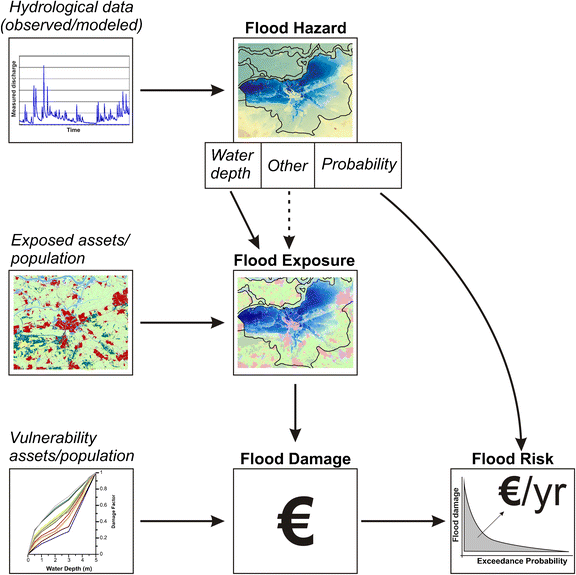 3

Assessments at different scales

Different scales call for different methods when it comes to assessing flood risks. In addition, assessments at different scales have different uses. In this section, we will touch upon these different scales. Drawing upon examples from international literature, the characteristics of the flood hazard assessment will be described, as well as the way consequences are assessed, which uncertainties are important and for what the assessments at different scales are used for.

We distinguish the supra-national, macro-, meso- and micro-scale. Obviously, the distinction between these scales is subjective. The supra-national scale concerns assessments of the entire globe or continent, encompassing a plethora of countries and river basins. The macro-scale refers to assessments of entire countries, for which usually consistent (national) data are present, but consists of many watersheds. The meso-scale is generally sub-national, referring to a certain province, watershed or large city. The micro-scale is the smallest scale considered, which relates to a town or specific river stretch.
4

Discussion and comparison across scales

The preceding sections illustrate that there are considerable differences in the methodology and purpose of flood risk assessments at different scales (Table 

1

). Methodology and purpose are very much linked. Large-scale (supra-national, macro-) assessments are less detailed in terms of lower spatial resolution and generate more generalised information on potential consequences. However, this does allow for a methodologically consistent assessment over the entire area of interest, for instance in the case of national insurance or international re-insurance purposes. Table 

1

gives an overview of the findings of the preceding section on several characteristics at different scales.

Table 1

Overview of characteristics of assessments at different scales
 

Supra-national (global/continental)

Macro (national)

Meso (regional, province)

Micro (local, city)

Resolution (DEM)

1–10 km

100 m–1 km

∼25–100 m

∼1–25 m

Hazard estimation

-Global river flood model

-Surge heights (coastal)

-Generic flood model

-Aggregation of hydraulic simulations

-Rainfal-runoff plus 2D hydraulic modelling or simplification

-2D hydraulic modelling

Consequence estimation

-Gridded GDP or population in flood zone

-Land use and stage-damage curves

-Land use and stage-damage curves

-Stage-damage curves for individual buildings

Uncertainty

-Presence of flood defences important unknown (ontological)

-Inundation modelling at course scale (ontological/epistemic)

-Failure of defences (epistemic)

-Probability event (aleatory)

-Damage calculation (epistemic)

-Hydraulic modelling (epistemic)

-Failure of defences (epistemic)

-Probability event (aleatory)

-Damage calculation (epistemic)

Validation

Aggregated datasets (EM-DAT, NatCatSERVICE)

Absolute totals seem overestimated

Limited to aggregate damages

Possible for recent events with well-documented damages

Academic application

-Assessment

-Effect climate change and population growth

-Assessment

-Effect climate change and population growth

-Effect of measures

-Future developments

-Uncertainty analyses

-Effect of measures

-Evaluate different strategies

-Validation of methodologies

Societal use

-Disaster relief funds

-Re-insurance

-Multi-nationals

-National insurance programme

-Communication and awareness

-Controlling local development

-Prioritisation investments

-Support planning

-Communication and awareness

-Evaluating specific measures

-Optimise investments

-Support local management and planning
Any assessment is usually limited to modelling a single flooding process, such as flooding of a river valley by rising water levels (valley flooding) or the flooding of a large polder area by water propagating through it from a single source (such as a dike breach). At the micro- or meso-scale, this is much less often an issue, as the area under investigation is likely more homogeneous. In larger-scale assessments, this can lead to erroneous results for regions where another type of flooding process is dominant. For instance, in pan-European studies on river flooding (e.g. Alfieri et al. 2013), results for the Netherlands usually do not seem very plausible as it is dominated by large polder areas.
4.1

Flood protection works

The above issue is also linked to the presence of flood protection works, which seems to be a concern at all scales. At a large scale, protection works are usually not included at all, though there are some approaches where this is corrected by taking the integral up to a defined protection level in the risk calculation (e.g. Feyen et al. 2012; Ward et al. 2013). A database on actual protection levels is however often lacking, though Hallegatte et al. (2013) made a first attempt for coastal cities and Jongman et al. (2014) developed a model to estimate protection levels in Europe based on potential damage without protection. At a smaller scale, there is often a considerable uncertainty on where or when such a defence may fail. At small scales, this can be approached using the so-called fragility curves, which denote the probability of failure given certain hydraulic conditions (e.g. Vorogushyn et al. 2009). It remains uncertain, however, to estimate failure conditions of objects for situations that they have never faced, especially given the long length of levees and heterogeneity of their composition and subsoil.
5

Conclusions

This review addressed methodologies and uses of flood risk assessments at various spatial scales. It shows that spatial scale, method and use of assessments are closely linked. At large scales (supra-national, macro) geographically consistent assessments of flood risk aid the international (re-) insurance industry or can be used to identify risk hotspots by international financing institutes in order to prioritise investments. At smaller scales (meso, micro), assessments can be tailored to a specific basin, city or site in order to directly support decision-making in that area by evaluating the (cost-) effectiveness of different types of measures.

Whilst there are clear differences between scales, boundaries are slowly fading due to increased computing power and availability of higher detailed harmonised datasets. In this regard, the links between assessments at different scales is also emerging as a promising subject. For instance, a well-developed link between the global and meso-/micro-scale would enable rapid assessments of flood risk for local policy makers in regions where few data are available. The use of global datasets for information on the hazard, exposure and vulnerability would also allow for more consistent comparison of flood risk in cities across the globe.

This review showed that important developments have taken place in recent years in developing global flood risk assessments. However, also at other spatial scales, many developments are taking place, for instance, at the local level which benefits greatly from the increased availability of high-resolution data for the determination of the hazard and consequences (LiDAR data, databases of buildings and uses). Through this review, important topics for further development have been identified. At the supra-national scale (and to a lesser degree macro-scale), there is a clear need for the inclusion of flood defences in assessments, for which the development of a database on flood defence structures and protection levels is necessary, as well as methodologies to incorporate these data. At the macro- and meso-scale there are opportunities to broaden assessment from direct effects to also include indirect economic effects. For this, better differentiation of the impact of flooding on different sectors is necessary in order to be able to directly link results of flood assessments to economic (input-output or general equilibrium) models. At the meso-/micro-scale, the topic of critical infrastructure (i.e. electricity, gas, water, telecoms networks) is emerging as a key caveat, which has a high relevance for policy makers. Insights from other disciplines, for instance, related to terrorism (Patterson and Apostolakis 2007) or volcanic (Wilson et al. 2012) risks, and network models in general (e.g. Dueñas-Osorio et al. 2007; Winkler et al. 2011) could also prove to be very useful for flood risk management.

Lastly, validation of flood risk models is an issue at all scales. Flood risk assessment in absolute numbers are surrounded by considerable uncertainties, and some studies have shown that validation in real-life cases gives mixed results (e.g. Jongman et al. 2012b). At the same time, encouragingly good results have been reported (e.g. Aerts et al. 2014). More event-based work (as opposed to assuming a uniform return period over a large area) would allow for better validation opportunities, but would also require increased efforts in gathering post-disaster information on the consequences of actual floods. This would, at the same time, help to improve the risk models themselves, for instance, because of better differentiation of depth-damage curves and the identification of important contributing categories, such as infrastructure damage, the costs of emergency management and temporal relocation.
Notes
Acknowledgments
This paper results from the Dutch research programme Knowledge for Climate (http://knowledgeforclimate.climateresearchnetherlands.nl/) funded by the Ministry of Infrastructure and the Environment and co-subsidised by the Foundation for Applied Water Research (STOWA), Rijkswaterstaat Zuid-Holland, the province of Zuid-Holland, the province of Zeeland and the city of Rotterdam.
Copyright information
© The Author(s) 2015
Open Access This article is distributed under the terms of the Creative Commons Attribution 4.0 International License (http://creativecommons.org/licenses/by/4.0/), which permits unrestricted use, distribution, and reproduction in any medium, provided you give appropriate credit to the original author(s) and the source, provide a link to the Creative Commons license, and indicate if changes were made.