Outcome-adaptive randomization in clinical trials: issues of participant welfare and autonomy
Abstract
Outcome-adaptive randomization (OAR) has been proposed as a corrective to certain ethical difficulties inherent in the traditional randomized clinical trial (RCT) using fixed-ratio randomization. In particular, it has been suggested that OAR redresses the balance between individual and collective ethics in favour of the former. In this paper, I examine issues of welfare and autonomy arising in relation to OAR. A central issue in discussions of welfare in OAR is equipoise, and the moral status of OAR is crucially influenced by the way in which this concept is construed. If OAR is based on a model of equipoise that demands strict indifference between competing interventions throughout the trial, such equipoise is disturbed by accruing data favouring one treatment over another; OAR seeks to redress this by weighting randomization to the seemingly superior treatment. However, this is a partial response, as patients continue to be allocated to the inferior therapy. Moreover, it rests upon considerations of aggregate harms and benefits, and does not therefore uphold individual ethics. Issues of fairness also arise, as early and late enrollees are randomized on a different basis. Fixed-ratio randomization represents a fuller and more consistent response to a loss of equipoise, as so construed. With regard to consent, the complexity of OAR poses challenges to adequate disclosure and comprehension. Additionally, OAR does not offer a remedy to the therapeutic misconception—participants' tendency to attribute treatment allocation in an RCT to individual clinical judgments, rather than to scientific considerations—and, if anything, accentuates rather than alleviates this misconception. In relation to these issues, OAR fails to offer ethical advantages over fixed-ratio randomization. More broadly, the ethical basis of OAR can be seen to lie more in collective than in individual ethics, and overall it fares worse in this territory than fixed-ratio randomization.
Keywords
Outcome-adaptive randomization 
Clinical trials 
Ethics 
Equipoise 
Consent 
Introduction
Recent advances in randomized clinical trials (RCTs) include the use of adaptive designs. Such studies incorporate changes to trial design as the study proceeds, including changes to randomization [1]. Covariate-adaptive randomization, for example, modifies allocation to achieve optimum balance between groups on baseline characteristics. Outcome-adaptive randomization (OAR) also adjusts the allocation of participants, but on the basis of accruing outcome data—provided that such data are available in a suitably timely manner—such that participants are allocated with greater probability to the treatment that hitherto appears to be superior. In a traditional RCT, however, randomization is in a fixed ratio (usually 1:1). This allocation persists throughout the duration of the trial, unless a planned interim analysis leads to its early termination or to an arm being dropped prior to the end of the study. Allocation of participants in traditional RCTs is therefore independent of any accruing data, in contrast to the dynamic method of randomization used within OAR.
There is a broad literature on the methodological and statistical aspects of OAR. More recently, a number of articles have addressed some of its ethical implications [2, 3, 4, 5, 6, 7, 8, 9, 10, 11, 12, 13]. This paper seeks to contribute to this discussion in the context of a simple two-arm RCT,1 with a particular focus on two central ethical issues: welfare and autonomy. I argue that OAR faces challenges in relation to each of these issues.
Conclusions
OAR gives rise to several ethical issues related to welfare and autonomy, and these issues are largely connected to the way in which OAR responds to changing information during the trial (Fig. 
1
). Of course, if the null hypothesis is ultimately retained, then there is no 'better' or 'worse' treatment, and whichever arm participants were allocated to during the trial may seem inconsequential [
6
]. However, while such an outcome may obviate the problem of inappropriately weighted randomization, it also removes the intended benefit of OAR.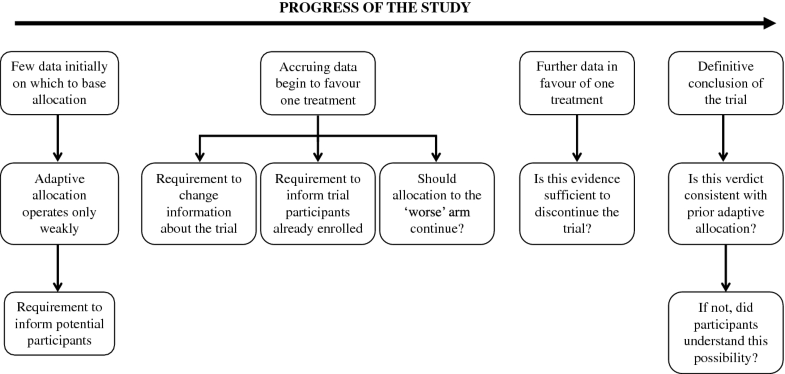 At the root of welfare-related issues in OAR is the notion of equipoise. If the advocate of OAR adopts the first model of equipoise that I have described, E1, then these issues are acute, as he or she is committed to regarding an intervention disfavoured by emerging data as inferior and thus as a threat to participant welfare. For an advocate of OAR who subscribes to E2, however, a disfavoured intervention retains legitimacy provided it is still recommended by some portion of the expert clinical community.
It would appear that OAR does not uphold—and therefore cannot appeal to—the notion of individual ethics, as allocation does not respond to the individual characteristics or needs of each participant. Instead, OAR seems to rely more on collective than on individual ethics, focusing on the idea that, in aggregate, more patients will be allocated to the better treatment. Thus, when Daryl Pullman and Xikui Wang argue that OAR seeks to 'treat as many patients as effectively or successfully as possible' [18, p. 204], they retreat from individual to collective ethics. Unfortunately, OAR may not fare well once viewed in terms of collective ethics: although the proportion of patients allocated to the better treatment under OAR is greater than under FRR, the number of such patients may not be—and when choosing between these two designs, it is surely the number, not the proportion, that should feature in the consequentialist balancing of benefit and harm that lies at the heart of collective ethics. Thus, the claim that OAR protects individual ethics in the context of RCTs appears to be unfounded. Instead, much of the ethical rationale for OAR is centred in collective ethics, and upon entering that territory, it appears to fare worse than FRR. In fact, it can be argued more generally that the pursuit of individual over collective ethics is misplaced in clinical trials. The purpose of such studies is to generate valid conclusions as to aggregate treatment effectiveness, and this requires individual clinical decision-making to be at least partly subordinated to the demands of the research design—as the therapeutic misconception indicates. In the final analysis, clinical trials are concerned with reaching a decision about patients as collectivities rather than as individuals. Consequently, with some exceptions (e.g., monitoring for adverse events in individual participants or ensuring that consent is still in place), ethical concern is with the collective welfare of participants in the study, not with the welfare of each participant taken individually. Pursuing the latter—such as by trying to allocate each participant according to his or her specific clinical presentation rather than by a wholly random mechanism—is likely to run counter to the methodological demands of the study. This is not to deny that patients may benefit by participating in clinical trials [65], but it indicates that such benefits are not individuated.
Trials based on OAR raise questions regarding the different prospects of benefit for early versus late enrollees and regarding the way in which emerging information seems to determine the handling of new recruits but not participants already in the study. In addition, while clear empirical evidence may be lacking, it is reasonable to think that OAR presents considerable challenges for disclosure on the part of the researcher and for comprehension on the part of the participant. Particular problems in this regard centre on the notions of therapeutic misconception and therapeutic misestimation.
Some of the concerns that have been outlined in respect of OAR can be mitigated by design modifications. For example, the likelihood of weighting randomization to the 'wrong' treatment can be reduced by restricting the range of randomization probabilities or by employing an initial burn-in with equal randomization [50, 66]; and using baseline information through a more elaborate process of covariate-adaptive response-adaptive randomization might bring treatment allocation closer to the individual patient [67, 68].16 However, there remain other ethical difficulties with OAR that are less amenable to reparative strategies at the level of design.
Does fixed-ratio randomization fare better?
The advocate of OAR—or, at least, one who subscribes to E1—might argue that FRR fares no better. One criticism might be that by taking no account of accumulating data on treatment effectiveness, other than at specific interim analyses, FRR simply ignores information relevant to participants' welfare [7]. Worse yet, so the objection might run, the FRR trialist is prepared to randomize 50% of participants to the seemingly inferior treatment in the face of such information, whereas OAR strives to randomize fewer. Thus, Palmer contends that 'possible 9:1 randomization in adaptive designs … remains a better deal for participants than 1:1 randomization' [47, p. 393], and Pullman and Wang argue that the last patient enrolled in a trial employing FRR has only a 50% chance of receiving the better treatment, though this chance is much higher for the first patient treated after completion of the trial [18, p. 208]. One response on behalf of FRR could be that no account is taken of accruing, as opposed to interim, evidence because it is insufficiently informative. Stuart Pocock states that the principal role of interim analyses is 'to look for treatment differences which are sufficiently convincing and important to stop or change the trial' [24, p. 143]. On this basis, it might be argued that accruing data, assessed pari passu with participant allocation, do not constitute 'convincing' evidence and therefore do not substantiate any claim that participants have received, or failed to receive, the better treatment during the course of the trial; such evidence may be obtained only through a formal statistical evaluation at a prespecified interim analysis.17 As a second rejoinder, advocates of interim analyses in the context of FRR might claim to respond more fully to a loss of equipoise by halting the trial or perhaps dropping a treatment group, in contrast to the somewhat partial and inconsistent response in the context of OAR.
Donald Berry defends OAR against charges of inefficiency by indicating that in some cases where there are both safety and efficacy objectives, a randomization ratio of 4:1 may be more efficient, in terms of the required number of participants, than a ratio of 1:1 [3]. However, this argument appears to be one favouring unequal over equal randomization in such circumstances rather than one favouring OAR over FRR. Advocates of FRR need not insist on 1:1 randomization; they would simply require that if imbalances in treatment arms brought about by OAR reduce efficiency, this should be justified by countervailing ethical considerations.
With regard to consent, both OAR and FRR face challenges in the way of achieving appropriate disclosure and comprehension, particularly in relation to randomization. However, even if these objectives are imperfectly met in FRR, they are probably achieved to a lesser extent in OAR. A straightforward process of randomization is likely to be easier to explain and understand than one framed in terms of changing probabilities of allocation, and difficulties with the therapeutic misconception or therapeutic misestimation are likely to be more acute in OAR.
Overall, and depending in part on the construal of equipoise that underlies its use, a moral case for OAR in terms of welfare and autonomy has yet to be established.
Notes
Compliance with ethical standards
Conflict of interest
The author declares that he has no conflict of interest.
Copyright information
© The Author(s) 2019
Open AccessThis article is distributed under the terms of the Creative Commons Attribution 4.0 International License (http://creativecommons.org/licenses/by/4.0/), which permits unrestricted use, distribution, and reproduction in any medium, provided you give appropriate credit to the original author(s) and the source, provide a link to the Creative Commons license, and indicate if changes were made.