The Heart of the Meaning: Honoring the Work of Byron J. Good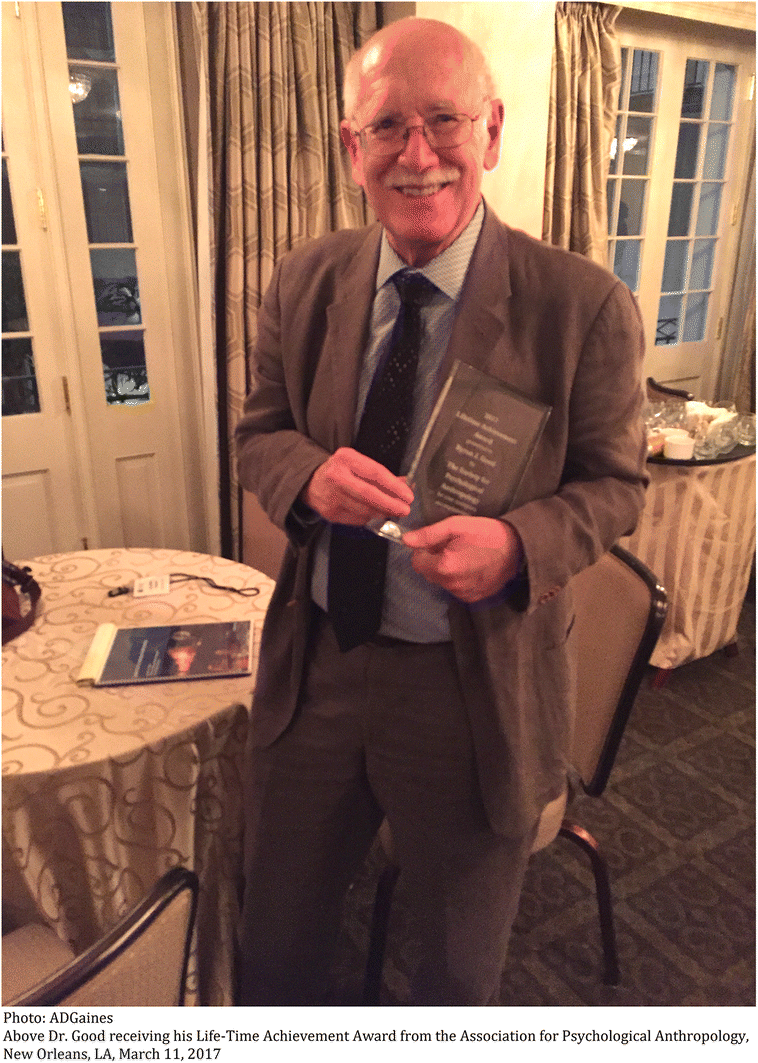 In this, the last Honors Essay, we privilege the career and work of anthropologist Byron J Good of Harvard University and Harvard Medical School. Professor Good is a past, long-time Editor-in-Chief (1986–1992) and Co-Editor-in-Chief with his partner, the well-known Medical Sociologist and honorary anthropologist, Dr. Mary-Jo DelVecchio Good (1992–2004). It is thus fitting to end the tradition of Honors Essays with Dr. Good, whose photo appears above but also to note the work of M-J DelVecchio Good with Byron Good.
In the following, I provide only an overview of the large body of very influential work of our honoree, some of which was done with his partner for what is now 50 years this Fall, Dr. DelVecchio Good. While we touch upon the many highlights of the work, it is far beyond the scope of the present essay to provide an in-depth critical analysis of his work. As with other honorees, it would take the entire year during which he, and the others we honored, to write such an assessment. The present essay, as with the others, points out many highlights and key concepts from the body of work of Byron Good and provides his bibliography as a resource for those interested in familiarizing themselves with the breadth and depth of his work rather than a single aspect of his large academic corpus.
Currently, this year's CMP Honoree is Professor of Medical Anthropology in the Department of Global Health and Social Medicine at Harvard Medical School. He is also an Associate in the Department of Anthropology at Harvard University. And, he serves as the Honorary Visiting Professor in the Faculties of Psychology and Medicine in in the Gadjah Mada University in Yogyakarta, Indonesia.
Professor Good has been concerned to engage in ethnographic research but has also been deeply engaged in practical health training and mentoring. His primary areas of research, training and mentoring are Medical, Psychological, and Psychiatric Anthropology. In Psychiatric Anthropology, he has been concerned to work on cross-cultural studies of forms of mental illness, specifically, forms of psychotic afflictions, PTSD, panic disorder and depression in Iran, Java and the US. He has developed an interest in Anthropological Theory, with special focus on current theories of subjectivity and Hauntology. Dr. Good has worked at home and abroad to develop mental health services in low resource settings such as those in Indonesia, Yogyakarta (Java) and Aceh and Southeast Asia and Islamic societies and training programs for psychiatrists for Aceh, China, Indonesia, and East/Southeast Asia. All of these endeavors are evidenced in his publication record.
His education begins not in the US, but in Nigeria (University of Nigeria). However, he completed his undergraduate work in mathematics at Goshen College in 1966. Dr. Good was raised a Mennonite). Three years later, Dr. Good received Bachelors in Divinity from Harvard University Divinity School where he read in the Comparative Study of Religions. In 1977, he earned his PhD from the University of Chicago in Social Anthropology.
Academic Positions
Professor Good began his academic appointments with an Assistant Professor position in the Departments of Psychiatry and Family Practice in the School of Medicine at the University of California at Davis. He remained there from 1976 to 1983. In the latter year, our honoree was called to the Department of Social Medicine and Health Policy at Harvard Medical School and the Department of Anthropology as an Assistant Professor. In 1986, he was promoted to the position of Associate Professor in the Department of Social Medicine, Harvard Medical School, and in the Department of Anthropology at Harvard Medical School.
The CMP Honoree was promoted to professor of Medical Anthropology in the Department of (now) Global Health and Social Medicine and Anthropology. From 1993 to 1994, he served as Acting Chair of the then Department of Social Medicine, and then Vice Chair, from 1992 to 2000. In 2000, he was named Chair of that Department, a capacity in which he served until 2006. In 2017, he was named Honorary Visiting Professor in the Faculties of Psychology and Medicine of Gadjah Mada University in Yogyakarta, Indonesia, a post he will hold until 2022.
He has also held a plethora of other important appointments that include, from 1984 to 2008, the position of Director, N.I.M.H. Post-Doctoral Training Program in Clinically Relevant Medical Anthropology, Department of Social Medicine, where he trained many post-doctorates from Southeast Asia, Africa and elsewhere. And, with Dr Mary-Jo DelVecchio Good, served as Director of the Training Program in International Mental Health that was supported by Fogarty International Center to provide fellowships to psychiatrists from Shanghai Mental Health Center and the Peking University Institute of Mental Health.
Further, from 2011 to 2014, he and Professor DelVecchio Good directed the International Partnership for Strengthening Health Systems in Indonesia that was a USAID-funded interuniversity program with Gadjah Mada University, Yogyakarta, Indonesia, and Syiah Kuala University, Banda Aceh, Indonesia. The Goods were assisted by local Investigators, Prof Subandi and Dr Carla Marchira.
From 2015 and continuing to 2020, Drs Good and DelVecchio Good have, and will be, directing 'Building a Program of Comprehensive Mental Health: Implementation and Evaluation' of a Program of Integrated Mental Health Care in the Primary Health Care Centers of Yogyakarta. This work is funded by the Harvard-Dubai Center for Global Health Delivery.
Honors; Lectures and Awards
Lectures
Dr Good has received numerous honors. These include a most prestigious honor, the 1990 Lewis Henry Morgan Lectures at University of Rochester. This lecture series was published as his book, Medicine, Rationality and Experience in 1994. 2010 saw Dr Good called upon to deliver the R R Marett Memorial Lecture at Oxford University, UK.
Awards
Professor Good has received two major awards in his two primary fields of research and writing. These are the 2012 Society for Medical Anthropology Lifetime Mentoring Award and the 2017 Society for Psychological Anthropology Lifetime Achievement Award (pictured above). Both attest to his productive scholarly career and his important mentorship to those at home and abroad.
Editorial Boards
Dr. Good has served on the Editorial Board of this Journal, which honors him, since 1977. And, he was the Editor-in-Chief or Co-Editor of this Journal from 1986 to 2002. He served as a member of the Editorial Board for the Cambridge University Press Series in Medical Anthropology from 1990 to 1998, and on the Board of Ethnos from 1998 to 2002. During much of that time (1999–2004), he also served on the board for Anthropology and Humanism. Since 2006, he has been on the board of the Journal, Early Intervention in Psychiatry and since 2010, on the Editorial Board of Shanghai Archives of Psychiatry.
Our honoree's professional memberships include the American Anthropological Association, Society for Medical Anthropology, Society for Psychological Anthropology of which he was a member of the Executive Committee, and was President from 2013 to 2015, the Asian Studies Association, the Pacific Rim College of Psychiatry, and the International Early Psychiatry Association.
Publications
Dr. Good's publications, many with his partner, Dr. DelVecchio Good reflect his interests in mental illness and health as well as attending to the capacities of low resource countries as concerns mental illness. His third published article was a well-known classic in Medical Anthropology, 'The Heart of What's the Matter", that appeared as the first article in the first number of the first volume of Culture, Medicine and Psychiatry (1977: Vol 1, no. 1:25–58). Without doubt, this article is a classic of Medical Anthropology, one that still stimulates readers 41 years after its initial publication. It is one of the most, if not the most, downloaded article in CMP's history and still today is downloaded in excess of once per day, every week of every month of every year. The study clearly shows the cultural complex of emotion and conception that constitute illness, that is, a key interpretive understanding of illness (heart distress) in Iran.
Professor Good's first book is a collection of essays edited with Arthur Kleinman, titled Culture and Depression (1985). It was, and remains, one of a handful of the most important books on the subject of the most common mental affliction. The book considers the topic from ethnographic, historical, linguistic, analytic and symbolic perspectives. The text demonstrates the cross-cultural, local constructions of depressive affect suggesting that the experience and construction are not universal, the same affliction with just another name.
Early on, Dr Good produced another key article, in 1978, with Leon Eisenberg and Arthur Kleinman. The article was, Culture, Illness and Care: Clinical Lessons from Anthropologic and Cross-Cultural Research that appeared in the Annals of Internal Medicine (88:251–258). In the article, the very important point is made that the improvement of care even in industrial countries cannot be made simply with more access to professional medicine, for the vast majority of illness concerns never reach professionals; if they did, the system would be completely overwhelmed. Thus, it is clear that more biomedicine is not the answer to problems of malaise nor should it be.
Good also considered issues of the family and the impact of illness thereupon (e.g., 5, 7, 17, 28; NB: number refer to the list of article publications given below) often with the assistance of DelVecchio Good. With her, he produced several other articles that lay out the semantics of lay and medical discourses showing the key to understanding is exploring meaning imbedded in such discourse and which frames the dynamics of the clinical encounter (e.g., 15, 21, 33).
An important part of Good's work has been the study of anxiety and anxiety disorders as he and colleagues examined their cultural patterning and bases for the consideration of their ubiquity (e.g., 22, 29). A key interest of both Good and DelVecchio Good has been the nature of diagnosis in lay and biomedical contexts (27, 28, 33, 52, etc.) with what concerns largely mental illnesses. However, Good also has considered what some would call material illness, i.e., cancer (e.g., 33, 34,37) which led to considerations of 'pain as a human experience' (37–40).
Emotion, too, has found a place in the work of the Goods. This includes their consideration of the state construction of affect as well as locally derived affect (29, 30). Such affect may derive from violence as well as local constructions of distress as well as that of the state. Relevant here is the Goods' work on postcolonial disorders in the book of the same name (2008) and where negative affect is structurally related (85, 86).
The Good's first area of long-term research was Iran and they have not neglected to consider carefully the ethnographic data from the area in their studies, including Good's the Heart of What's the Matter. They have considered indigenous notions of affliction such as fright illness as well as the patterning of affect in the local cultural world (13, 20, 23, etc.). Related to the Islamic religion of one of the Good's ethnographic homes, they produced an excellent study on Greco-Islamic medicine that is a must read for its approach and findings (41).
In considering the clinical contexts here and abroad, the Goods discerned a key ingredient often overlooked by social science researchers; that is, how do physicians come to be and think as they do? Several of their studies explored this and noted the pervasiveness and singular persuasiveness of the biological model of illness for medical students and practitioners (e.g., 46, 68). The Goods have also done considerable work on the dispossessed, those with little or no access to health care, in the US and elsewhere whose plight is often ignored in lieu of seeing only the biological dysfunctions (55, 59, 67, 74, etc.).
An important aspect of Good's (and the Goods') published corpus is a focus on narrative, but also on subjectivity (78, 82, 83, 85, 86, 99) of the afflicted and the laity as well as a refinement of the concept of subjectivity itself (82). Part of a consideration of subjectivity in illness is a consideration of the context of affliction, such as violence and trauma (83, 84, 89, 111, 113). Dr Good's book, edited with psychiatrist Devon Hinton, Panic Disorders (2009) is a landmark in the study of that (or those) condition (88). As well, we note that rather than prejudging a condition, thus westernizing it, he, and DelVecchio Good have studied undefined "psychoses" or "madness" rather than 'schizophrenia' (e.g., 83, 90, 92, 94, 116, 120). A recent work, Culture and PTSD, also edited with Devon Hinton, considers issues taken up earlier, the facts of violence and trauma and their influence on daily life and on forms of affliction in specific contexts (113, 114, 118).
In addition to the issues considered above, Good (and DelVecchio Good) have deeply engaged theory in anthropology, public mental health and psychiatry. Some of the most enduring aspects of his (and their) body of work are these telling forays into theory. One thinks of Good's book, Culture, Medicine and Rationality (the Morgan Lectures) where in Good provides for us the telling distinction in discourse and narrative of both biomedical practitioners and social scientists; the distinction between belief and knowledge. Westerners presume they have 'knowledge' of affliction but that those in other cultures are said to have mere 'beliefs'. These terms simultaneously overstate one position and disvalue the other instantly biasing discussions of cross-cultural data.
Summary
We have but briefly touched upon the important ideas of Good's career in print. There is, however, more that I was unable to cover in the limited space afforded this essay. I urge readers to go into this body of work and more fully engage with the many ideas he has presented, often in tandem with his partner, Dr DelVecchio Good, that have influenced much of Medical and Psychological/Psychiatric Anthropology.
It is a record that has kept front and center meaning in and of subjectivity, affect and narrative in order to get to the human understandings and experiences that are at the heart of the matter.
Below, the reader will find the references for the published works of Dr. Byron Good, with many co-written with Dr. Mary-Jo DelVecchio Good.
Edited Books
Books
10.

Good, Byron J. 1994 Medicine, Rationality and Experience: An Anthropological Perspective (The 1990 Lewis Henry Morgan Lectures). Cambridge: Cambridge U. Press. (Translated and published in French, Italian, Spanish, Japanese, and Chinese.)

Google Scholar

11.

Desjarlais, Robert, Leon Eisenberg, Byron J. Good, and Arthur Kleinman 1995 World Mental Health: Problems and Priorities in Low Income Countries. New York: Oxford University Press.

Google Scholar
Special Journal Issues
1.

Good, Mary-Jo DelVecchio, Byron J. Good, and Michael M.J. Fischer, Editors 1988 Emotion, Illness and Healing in Middle Eastern Societies. Special Issue of Culture, Medicine and Psychiatry Vol. 12 No. 1.

Google Scholar
Articles and Book Chapters
Copyright information
© Springer Science+Business Media, LLC, part of Springer Nature 2018