Abstract
Structural vibration and noise control of a cavity-backed three-layered smart piezo-coupled rectangular panel system under harmonic or transient loads is achieved by using purely active, passive, and hybrid active/passive piezoelectric shunt networks. Problem formulation is based on the classical lamination plate theory, Maxwell's equation for piezoelectric materials, linear circuit theory, and wave equation for the enclosed acoustic domain. The orthogonal mode expansions along with the modal coupling theory are employed to obtain the coupled differential equations of the electro-mechanical-acoustic system, which are then put into the convenient state-space form, and subsequently solved numerically in both frequency and time domains. A triple-mode hybrid RLC shunt circuit, in series with an external active voltage source and connected to a single electroded piezoelectric segment, is tuned to the dominant resonance frequencies of the composite structure. The linear quadratic optimal control (LQR) theory is adopted for obtaining the active control gains. The frequency and time domain performances of the passive, active and hybrid multi-modal piezoelectric systems are calculated and discussed in terms of sensor output voltage, local sound pressure, and control effort. It is found that the hybrid control methodology with properly tuned circuit parameters can be an excellent candidate for simultaneous vibration and structure-borne noise control of the cavity-coupled smart panel with decreased control effort. Also, the active control strategy integrated in the hybrid control system is demonstrated to enhance the overall system damping characteristics and improve the control authority at frequencies where the passive shunt network performs weakly. Limiting cases are considered and correctness of the mathematical model is verified by using a commercial finite element software as well as by comparisons with the literature.
This is a preview of subscription content, log in to check access.
Access options
Buy single article
Instant unlimited access to the full article PDF.
US$ 39.95
Price includes VAT for USA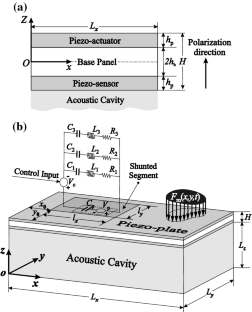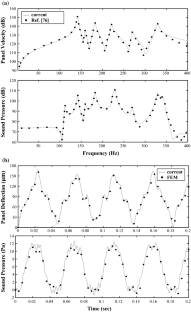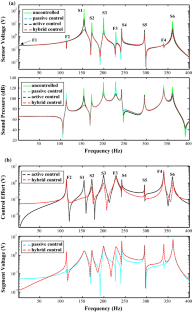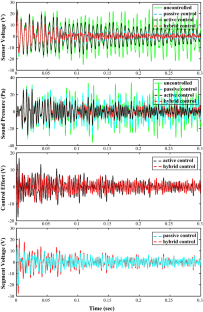 References
1.

Jones DI (2001) Handbook of viscoelastic vibration damping. Wiley, New York

2.

Allard J, Atalla N (2009) Propagation of sound in porous media: modelling sound absorbing materials 2e. Wiley, New York

3.

Hansen C, Snyder S, Qiu X, Brooks L, Moreau D (2012) Active control of noise and vibration. CRC Press, Boca Raton

4.

Moheimani SR, Fleming AJ (2006) Piezoelectric transducers for vibration control and damping. Springer, Berlin

5.

Mao Q, Pietrzko S (2013) Control of noise and structural vibration. Springer, Berlin

6.

Aridogan U, Basdogan I (2015) A review of active vibration and noise suppression of plate-like structures with piezoelectric transducers. J Intell Mater Syst Struct. https://doi.org/10.1177/1045389X15585896

7.

Ro J, Baz A (1999) Control of sound radiation from a plate into an acoustic cavity using active constrained layer damping. Smart Mater Struct 8:292

8.

Azzouz MS, Ro J (2002) Control of sound radiation of an active constrained layer damping plate/cavity system using the structural intensity approach. J Vib Control 8:903–918

9.

Leroy P, Atalla N, Berry A, Herzog P (2009) Three dimensional finite element modeling of smart foam. J Acoust Soc Am 126:2873–2885

10.

Crassidis JL, Baz A, Wereley N (2000) H∞ control of active constrained layer damping. J Vib Control 6:113–136

11.

Trindade MA, Benjeddou A (2002) Hybrid active–passive damping treatments using viscoelastic and piezoelectric materials: review and assessment. J Vib Control 8:699–745

12.

Forward RL (1979) Electronic damping of vibrations in optical structures. Appl Opt 18:690–697

13.

Hagood NW, von Flotow A (1991) Damping of structural vibrations with piezoelectric materials and passive electrical networks. J Sound Vib 146:243–268

14.

Behrens S, Fleming A, Moheimani S (2003) A broadband controller for shunt piezoelectric damping of structural vibration. Smart Mater Struct 12:18–28

15.

Neubauer M, Wallaschek J (2013) Vibration damping with shunted piezoceramics: fundamentals and technical applications. Mech Syst Signal Process 36:36–52

16.

Yu-Yin C, Dejan V, François C, Chih-Kung L, Wen-Jong W (2013) Self-powered semi-passive piezoelectric structural damping based on zero-velocity crossing detection. Smart Mater Struct 22:025029

17.

Hollkamp JJ (1994) Multimodal passive vibration suppression with piezoelectric materials and resonant shunts. J Intell Mater Syst Struct 5:49–57

18.

Niederberger D, Fleming A, Moheimani SR, Morari M (2004) Adaptive multi-mode resonant piezoelectric shunt damping. Smart Mater Struct 13:1025

19.

Agnes GS (1995) Development of a modal model for simultaneous active and passive piezoelectric vibration suppression. J Intell Mater Syst Struct 6:482–487

20.

Tsai M, Wang K (1999) On the structural damping characteristics of active piezoelectric actuators with passive shunt. J Sound Vib 221:1–22

21.

Morgan R, Wang K (2002) An active-passive piezoelectric absorber for structural vibration control under harmonic excitations with time-varying frequency, part 1: algorithm development and analysis. J Vib Acoust 124:77–83

22.

Adachi K, Awakura Y, Iwatsubo T (2004) Hybrid piezoelectric damping for structural vibration suppression. J Intell Mater Syst Struct 15:795–801

23.

De Godoy TC, Trindade MA (2011) Modeling and analysis of laminate composite plates with embedded active–passive piezoelectric networks. J Sound Vib 330:194–216

24.

Tang J, Wang K (2001) Active–passive hybrid piezoelectric networks for vibration control: comparisons and improvement. Smart Mater Struct 10:794

25.

Poh S, Baz A, Balachandran B (1996) Experimental adaptive control of sound radiation from a panel into an acoustic cavity using active constrained layer damping. Smart Mater Struct 5:649

26.

Veeramani S, Wereley NM (1996) Hybrid passive/active damping for robust multivariable acoustic control in composite plates. In: Symposium on smart structures and materials, international society for optics and photonics, pp 374–387

27.

Shields W, Ro J, Baz A (1998) Control of sound radiation from a plate into an acoustic cavity using active piezoelectric-damping composites. Smart Mater Struct 7:1

28.

Gopinathan SV, Varadan VV, Varadan VK (2000) Finite element/boundary element simulation of interior noise control using active–passive control technique. In: SPIE's 7th annual international symposium on smart structures and materials, international society for optics and photonics, pp 22–32

29.

Ahmadian M, Jeric KM (2001) On the application of shunted piezoceramics for increasing acoustic transmission loss in structures. J Sound Vib 243:347–359

30.

Kim J, Lee J-K (2002) Broadband transmission noise reduction of smart panels featuring piezoelectric shunt circuits and sound-absorbing material. J Acoust Soc Am 112:990–998

31.

Mokrý P, Fukada E, Yamamoto K (2003) Sound absorbing system as an application of the active elasticity control technique. J Appl Phys 94:7356–7362

32.

Ray MC, Reddy J (2004) Performance of piezoelectric fiber-reinforced composites for active structural-acoustic control of laminated composite plates. IEEE Trans Ultrason Ferroelectr Freq Control 51:1477–1490

33.

Kim J, Kim J-H (2004) Multimode shunt damping of piezoelectric smart panel for noise reduction. J Acoust Soc Am 116:942–948

34.

Al-Bassyiouni M, Balachandran B (2006) Control of enclosed sound fields using zero spillover schemes. J Sound Vib 292:645–660

35.

Kim J, Jung Y-C (2006) Broadband noise reduction of piezoelectric smart panel featuring negative-capacitive-converter shunt circuit. J Acoust Soc Am 120:2017–2025

36.

Nguyen C, Pietrzko S (2007) Vibroacoustic FE analysis of an adaptive plate with PZT actuator/sensor pairs connected to a multiple-mode, electric shunt system. Finite Elem Anal Des 43:1120–1134

37.

Al-Bassyiouni M (2008) Structural acoustic modelling of three dimensional enclosed sound fields with active/passive piezoelectric networks. Int J Veh Noise Vib 4:1–16

38.

Guyomar D, Richard T, Richard C (2007) Sound wave transmission reduction through a plate using piezoelectric synchronized switch damping technique. J Intell Mater Syst Struct 19:791–803

39.

Jeon J-Y (2009) Passive acoustic radiation control for a vibrating panel with piezoelectric shunt damping circuit using particle swarm optimization algorithm. J Mech Sci Technol 23:1446–1455

40.

Ray M, Faye A, Patra S, Bhattacharyya R (2009) Theoretical and experimental investigations on the active structural–acoustic control of a thin plate using a vertically reinforced 1–3 piezoelectric composite. Smart Mater Struct 18:015012

41.

Dupont J-B, Galland M-A (2009) Active absorption to reduce the noise transmitted out of an enclosure. Appl Acoust 70:142–152

42.

Casadei F, Ruzzene M, Dozio L, Cunefare K (2010) Broadband vibration control through periodic arrays of resonant shunts: experimental investigation on plates. Smart Mater Struct 19:015002

43.

Larbi W, Deü J-F, Ciminello M, Ohayon R (2010) Structural-acoustic vibration reduction using switched shunt piezoelectric patches: a finite element analysis. J Vib Acoust 132:051006

44.

Pietrzko S, Mao Q (2011) Control of structural sound radiation and vibration using shunt piezoelectric materials. J Syst Des Dyn 5:752–764

45.

Larbi W, Deü J-F, Ohayon R (2012) Finite element formulation of smart piezoelectric composite plates coupled with acoustic fluid. Compos Struct 94:501–509

46.

Larbi W, Deü J, Ohayon R (2012) A finite element-boundary element approach for sound and vibration reduction using piezoelectric shunt damping. In: Proceedings of the eleventh international conference on computational structures technology

47.

Nakazawa T, Yamada K, Matsuhisa H, Sawada K, Utsuno H (2012) Low-frequency noise reduction using a piezoelectric sound absorbing panel using LR circuit and applied voltage. In: ASME 2012 5th annual dynamic systems and control conference joint with the JSME 2012 11th motion and vibration conference. American Society of Mechanical Engineers, pp 357–366

48.

Larbi W, Deü J-F, Ohayon R, Sampaio R (2014) Coupled FEM/BEM for control of noise radiation and sound transmission using piezoelectric shunt damping. Appl Acoust 86:146–153

49.

Deü J-F, Larbi W, Ohayon R, Sampaio R (2014) Piezoelectric shunt vibration damping of structural–acoustic systems: finite element formulation and reduced-order model. J Vib Acoust 136:031007

50.

Zhao Y (2010) Vibration suppression of a quadrilateral plate using hybrid piezoelectric circuits. J Vib Control 16:701–720

51.

Silva T, De Marqui C Jr (2013) Vibration suppression of a plate-like wing under atmospheric turbulence using passive, active and hybrid piezoelectric circuits. In: 54th AIAA/ASME/ASCE/AHS/ASC structures, structural dynamics, and materials conference

52.

Testa C, Bernardini G, Gennaretti M (2011) Aircraft cabin tonal noise alleviation through fuselage skin embedded piezoelectric actuators. J Vib Acoust 133:051009

53.

Rocha TL, Dias M (2015) Improved sound transmission loss in an automotive component using piezoceramic patches and dissipative shunt circuits. J Intell Mater Syst Struct 26:476–786

54.

Carrera E, Brischetto S, Nali P (2011) Plates and shells for smart structures: classical and advanced theories for modeling and analysis. Wiley, New York

55.

Pietrzakowski M (2008) Piezoelectric control of composite plate vibration: effect of electric potential distribution. Comput Struct 86:948–954

56.

Quek S, Wang Q (2000) On dispersion relations in piezoelectric coupled-plate structures. Smart Mater Struct 9:859

57.

Farsangi MA, Saidi A, Batra R (2013) Analytical solution for free vibrations of moderately thick hybrid piezoelectric laminated plates. J Sound Vib 332:5981–5998

58.

Cao X, Shi L, Zhang X, Jiang G (2013) Active control of acoustic radiation from laminated cylindrical shells integrated with a piezoelectric layer. Smart Mater Struct 22:065003

59.

Wang Q, Quek S, Sun C, Liu X (2001) Analysis of piezoelectric coupled circular plate. Smart Mater Struct 10:229

60.

Rao SS (2007) Vibration of continuous systems. Wiley, New York

61.

Shahraeeni M, Shakeri R, Hasheminejad SM (2015) An analytical solution for free and forced vibration of a piezoelectric laminated plate coupled with an acoustic enclosure. Comput Math Appl 69:1329–1341

62.

Da Rocha J, Suleman A, Lau F (2009) Prediction of flow-induced noise in transport vehicles: development and validation of a coupled structural-acoustic analytical framework. Can Acoust 37:13–29

63.

Fahy FJ, Gardonio P (2007) Sound and structural vibration: radiation, transmission and response. Academic Press, London

64.

Kuttruff H (2009) Room acoustics. CRC Press, Boca Raton

65.

Aridogan U, Basdogan I, Erturk A (2014) Analytical modeling and experimental validation of a structurally integrated piezoelectric energy harvester on a thin plate. Smart Mater Struct 23:045039

66.

Sirohi J, Chopra I (2000) Fundamental understanding of piezoelectric strain sensors. J Intell Mater Syst Struct 11:246–257

67.

Lee CK (1990) Theory of laminated piezoelectric plates for the design of distributed sensors/actuators. Part I: governing equations and reciprocal relationships. J Acoust Soc Am 87:1144–1158

68.

De Marneffe B, Preumont A (2008) Vibration damping with negative capacitance shunts: theory and experiment. Smart Mater Struct 17:035015

69.

Nováková K (2013) Control of static and dynamic mechanical response of piezoelectric composite shells: applications to acoustics and adaptive optics. Dissertation thesis, Technical University of Liberec, Liberec

70.

Behrens S, Moheimani SR, Fleming A (2003) Multiple mode current flowing passive piezoelectric shunt controller. J Sound Vib 266:929–942

71.

Datta BN (2004) Numerical methods for linear control systems: design and analysis. Academic Press, London

72.

Kim S, Brennan M (1999) A compact matrix formulation using the impedance and mobility approach for the analysis of structural–acoustic systems. J Sound Vib 223:97–113

73.

Koshigoe S, Ellis GK (1994) Time-domain analysis of active control of sound transmission through an elastic plate backed by a rigid rectangular cavity. In: North American conference on smart structures and materials, international society for optics and photonics, pp 321–329

74.

Turner MC, Bates DG (2007) Mathematical methods for robust and nonlinear control. Book series on control systems. Springer, Berlin

75.

Gupta V, Sharma M, Thakur N (2010) Optimization criteria for optimal placement of piezoelectric sensors and actuators on a smart structure: a technical review. J Intell Mater Syst Struct 21:1227–1243

76.

Du JT, Li WL, Xu HA, Liu ZG (2012) Vibro-acoustic analysis of a rectangular cavity bounded by a flexible panel with elastically restrained edges. J Acoust Soc Am 131:2799–2810

77.

Sou KC, de Weck OL (2005) Fast time-domain simulation for large-order linear time-invariant state space systems. Int J Numer Methods Eng 63:681–708

78.

Hasheminejad SM, Keshavarzpour H (2013) Active sound radiation control of a thick piezolaminated smart rectangular plate. J Sound Vib 332:4798–4816

79.

Lin J (2007) An active–passive absorber by using hierarchical fuzzy methodology for vibration control. J Sound Vib 304:752–768

80.

Wang K-W, Tang J (2009) Adaptive structural systems with piezoelectric transducer circuitry. Springer, Berlin
Appendices
Appendix 1
Coefficient matrices of the coupled electromechanical-acoustic system
$$\begin{array}{*{20}l} {{\mathbf{M}}_{qq} = {\text{diag}}\left[ {\begin{array}{*{20}c} {\chi_{1}^{1} } & {\chi_{1}^{2} } & \ldots & {\chi_{1}^{{\bar{m}}} } & \ldots & {\chi_{1}^{{\bar{M}}} } \\ \end{array} } \right],} \hfill & {{\mathbf{M}}_{rr} = {\text{diag}}\left[ {\begin{array}{*{20}c} {\chi_{2} } & {\chi_{2} } & \ldots & {\chi_{2} } & \ldots & {\chi_{2} } \\ \end{array} } \right],} \hfill \\ {{\mathbf{D}}_{qq} = {\text{diag}}\left[ {\begin{array}{*{20}c} {\chi_{3}^{1} } & {\chi_{3}^{2} } & \ldots & {\chi_{3}^{{\bar{m}}} } & \ldots & {\chi_{3}^{{\bar{M}}} } \\ \end{array} } \right],} \hfill & {{\mathbf{D}}_{rr} = {\text{diag}}\left[ {\begin{array}{*{20}c} {\chi_{4}^{1} } & {\chi_{4}^{2} } & \ldots & {\chi_{4}^{{\bar{n}}} } & \ldots & {\chi_{4}^{{\bar{N}}} } \\ \end{array} } \right],} \hfill \\ {{\mathbf{K}}_{qq} = {\text{diag}}\left[ {\begin{array}{*{20}c} {\chi_{5}^{1} } & {\chi_{5}^{2} } & \ldots & {\chi_{5}^{{\bar{m}}} } & \ldots & {\chi_{5}^{{\bar{M}}} } \\ \end{array} } \right],} \hfill & {{\mathbf{K}}_{rr} = {\text{diag}}\left[ {\begin{array}{*{20}c} {\chi_{6}^{1} } & {\chi_{6}^{2} } & \ldots & {\chi_{6}^{{\bar{n}}} } & \ldots & {\chi_{6}^{{\bar{N}}} } \\ \end{array} } \right],} \hfill \\ {{\mathbf{K}}_{qr} = \left[ {\begin{array}{*{20}c} {\chi_{7}^{11} } & {\chi_{7}^{12} } & \ldots & {\chi_{7}^{{1\bar{n}}} } & \ldots & {\chi_{7}^{{1\bar{N}}} } \\ {\chi_{7}^{21} } & \ddots & \ldots & \vdots & \vdots & \vdots \\ \vdots & \vdots & \ddots & \vdots & \vdots & \vdots \\ {\chi_{7}^{{\bar{m}1}} } & \ldots & \ldots & {\chi_{7}^{{\bar{m}\bar{n}}} } & \vdots & \vdots \\ \vdots & \ldots & \ldots & \ldots & \ddots & \vdots \\ {\chi_{7}^{{\bar{M}1}} } & \ldots & \ldots & \ldots & \ldots & {\chi_{7}^{{\bar{M}\bar{N}}} } \\ \end{array} } \right],} \hfill & {{\mathbf{M}}_{rq} = \left[ {\begin{array}{*{20}c} {\chi_{8}^{11} } & {\chi_{8}^{12} } & \ldots & {\chi_{8}^{{1\bar{m}}} } & \ldots & {\chi_{8}^{{1\bar{M}}} } \\ {\chi_{8}^{21} } & \ddots & \ldots & \vdots & \vdots & \vdots \\ \vdots & \vdots & \ddots & \vdots & \vdots & \vdots \\ {\chi_{8}^{{\bar{n}1}} } & \ldots & \ldots & {\chi_{8}^{{\bar{n}\bar{m}}} } & \vdots & \vdots \\ \vdots & \ldots & \ldots & \ldots & \ddots & \vdots \\ {\chi_{8}^{{\bar{N}1}} } & \ldots & \ldots & \ldots & \ldots & {\chi_{8}^{{\bar{N}\bar{M}}} } \\ \end{array} } \right],} \hfill \\ \end{array}$$
where
$$\begin{array}{*{20}l} {\chi_{1}^{{\bar{m}}} = \rho_{\text{e}} \left[ {1 + \frac{{h_{\text{p}}^{2} \bar{\xi }_{11} }}{{\pi^{2} \bar{\xi }_{33} }}\kappa_{{\bar{m}}} } \right],} \hfill & {\chi_{2} = \frac{1}{{c_{0}^{2} }},} \hfill & {\chi_{7}^{{\bar{m}\bar{n}}} = - C_{{\bar{n}\bar{m}}} ,} \hfill \\ {\chi_{3}^{{\bar{m}}} = 2\zeta_{{\bar{m}}} \omega_{{\bar{m}}} \rho_{\text{e}} \left[ {1 + \frac{{h_{\text{p}}^{2} \bar{\xi }_{11} }}{{\pi^{2} \bar{\xi }_{33} }}\kappa_{{\bar{m}}} } \right],} \hfill & {\chi_{4}^{{\bar{n}}} = \frac{2}{{c_{0}^{2} }}\zeta_{{\bar{n}}} \omega_{{\bar{n}}} ,} \hfill & {\chi_{8}^{{\bar{n}\bar{m}}} = \rho_{0} C_{{\bar{n}\bar{m}}} ,} \hfill \\ {\chi_{5}^{{\bar{m}}} = \omega_{{\bar{m}}}^{2} \rho_{\text{e}} \left[ {1 + \frac{{h_{\text{p}}^{2} \bar{\xi }_{11} }}{{\pi^{2} \bar{\xi }_{33} }}\kappa_{{\bar{m}}} } \right],} \hfill & {\chi_{6}^{{\bar{n}}} = \frac{{\omega_{{\bar{n}}}^{2} }}{{c_{0}^{2} }} .} \hfill & {} \hfill \\ \end{array}$$
Appendix 2
State-space representation of the hybrid (and passive) control system
$$\begin{aligned} {\mathbf{A}} & = \left[ {\begin{array}{*{20}c} {\mathbf{0}} & {\mathbf{I}} & {\mathbf{0}} & {\mathbf{0}} & {\mathbf{0}} & {\mathbf{0}} & {\mathbf{0}} & {\mathbf{0}} & {\mathbf{0}} & {\mathbf{0}} \\ {\varvec{a}_{21} } & {\varvec{a}_{22} } & {\varvec{a}_{23} } & {\mathbf{0}} & {\varvec{a}_{25} } & {\mathbf{0}} & {\varvec{a}_{27} } & {\mathbf{0}} & {\varvec{a}_{29} } & {\mathbf{0}} \\ {\mathbf{0}} & {\mathbf{0}} & {\mathbf{0}} & {\mathbf{I}} & {\mathbf{0}} & {\mathbf{0}} & {\mathbf{0}} & {\mathbf{0}} & {\mathbf{0}} & {\mathbf{0}} \\ {\varvec{a}_{41} } & {\varvec{a}_{42} } & {\varvec{a}_{43} } & {\varvec{a}_{44} } & {\varvec{a}_{45} } & {\mathbf{0}} & {\varvec{a}_{47} } & {\mathbf{0}} & {\varvec{a}_{49} } & {\mathbf{0}} \\ {\mathbf{0}} & {\mathbf{0}} & {\mathbf{0}} & {\mathbf{0}} & 0 & 1 & 0 & 0 & 0 & 0 \\ {\varvec{a}_{61} } & {\mathbf{0}} & {\mathbf{0}} & {\mathbf{0}} & {a_{65} } & {a_{66} } & {a_{67} } & 0 & {a_{69} } & 0 \\ {\mathbf{0}} & {\mathbf{0}} & {\mathbf{0}} & {\mathbf{0}} & 0 & 0 & 0 & 1 & 0 & 0 \\ {\varvec{a}_{81} } & {\mathbf{0}} & {\mathbf{0}} & {\mathbf{0}} & {a_{85} } & 0 & {a_{87} } & {a_{88} } & {a_{89} } & 0 \\ {\mathbf{0}} & {\mathbf{0}} & {\mathbf{0}} & {\mathbf{0}} & 0 & 0 & 0 & 0 & 0 & 1 \\ {\varvec{a}_{101} } & {\mathbf{0}} & {\mathbf{0}} & {\mathbf{0}} & {a_{105} } & 0 & {a_{107} } & 0 & {a_{109} } & {a_{1010} } \\ \end{array} } \right] \\ {\mathbf{B}} & = \left[ {\begin{array}{*{20}c} 0 & 0 & 0 & 0 & 0 & {b_{61} } & 0 & {b_{81} } & 0 & {b_{101} } \\ \end{array} } \right]^{\text{T}} \varvec{ }, \\ {\mathbf{E}} & = \left[ {\begin{array}{*{20}c} 0 & {\varvec{e}_{21} } & 0 & {\varvec{e}_{41} } & 0 & 0 & 0 & 0 & 0 & 0 \\ \end{array} } \right]^{\text{T}} \varvec{ }, \\ \end{aligned}$$
where
$$\begin{array}{*{20}l} {\varvec{a}_{21} = - {\mathbf{M}}_{qq}^{ - 1} \left( {{\mathbf{K}}_{qq} + {\varvec{\uptheta}}C_{\text{p}}^{ - 1} {\varvec{\uptheta}}^{\text{T}} } \right),} \hfill & {\varvec{a}_{22} = - {\mathbf{M}}_{qq}^{ - 1} {\mathbf{D}}_{qq} ,} \hfill \\ {\varvec{a}_{23} = - {\mathbf{M}}_{qq}^{ - 1} {\mathbf{K}}_{qr} ,} \hfill & {\varvec{a}_{25} = - {\mathbf{M}}_{qq}^{ - 1} {\varvec{\uptheta}}C_{\text{p}}^{ - 1} ,} \hfill \\ {\varvec{a}_{27} = - {\mathbf{M}}_{qq}^{ - 1} {\varvec{\uptheta}}C_{\text{p}}^{ - 1} ,} \hfill & {\varvec{a}_{29} = - {\mathbf{M}}_{qq}^{ - 1} {\varvec{\uptheta}}C_{\text{p}}^{ - 1} ,} \hfill \\ {\varvec{a}_{41} = {\mathbf{M}}_{rr}^{ - 1} {\mathbf{M}}_{rq} {\mathbf{M}}_{qq}^{ - 1} \left( {{\mathbf{K}}_{qq} + {\varvec{\uptheta}}C_{\text{p}}^{ - 1} {\varvec{\uptheta}}^{\text{T}} } \right),} \hfill & {\varvec{a}_{42} = {\mathbf{M}}_{rr}^{ - 1} {\mathbf{M}}_{rq} {\mathbf{M}}_{qq}^{ - 1} {\mathbf{D}}_{qq} ,} \hfill \\ {\varvec{a}_{43} = {\mathbf{M}}_{rr}^{ - 1} {\mathbf{M}}_{rq} {\mathbf{M}}_{qq}^{ - 1} {\mathbf{K}}_{qr} - {\mathbf{M}}_{rr}^{ - 1} {\mathbf{K}}_{rr} ,} \hfill & {\varvec{a}_{44} = - {\mathbf{M}}_{rr}^{ - 1} {\mathbf{D}}_{rr} ,} \hfill \\ {\varvec{a}_{45} = {\mathbf{M}}_{rr}^{ - 1} {\mathbf{M}}_{rq} {\mathbf{M}}_{qq}^{ - 1} {\varvec{\uptheta}}C_{\text{p}}^{ - 1} ,} \hfill & {\varvec{a}_{47} = {\mathbf{M}}_{rr}^{ - 1} {\mathbf{M}}_{rq} {\mathbf{M}}_{qq}^{ - 1} {\varvec{\uptheta}}C_{\text{p}}^{ - 1} ,} \hfill \\ {\varvec{a}_{49} = {\mathbf{M}}_{rr}^{ - 1} {\mathbf{M}}_{rq} {\mathbf{M}}_{qq}^{ - 1} {\varvec{\uptheta}}C_{\text{p}}^{ - 1} ,} \hfill & {\varvec{a}_{61} = - L_{1}^{ - 1} C_{\text{p}}^{ - 1} {\varvec{\uptheta}}^{T} ,} \hfill \\ {a_{65} = - L_{1}^{ - 1} \left( {C_{1}^{ - 1} + C_{\text{p}}^{ - 1} } \right),} \hfill & {a_{66} = - L_{1}^{ - 1} R_{1} ,} \hfill \\ {a_{67} = - L_{1}^{ - 1} C_{\text{p}}^{ - 1} ,} \hfill & {a_{69} = - L_{1}^{ - 1} C_{\text{p}}^{ - 1} ,} \hfill \\ {\varvec{a}_{81} = - L_{2}^{ - 1} C_{\text{p}}^{ - 1} {\varvec{\uptheta}}^{T} ,} \hfill & {a_{85} = - L_{2}^{ - 1} C_{\text{p}}^{ - 1} ,} \hfill \\ {a_{87} = - L_{2}^{ - 1} \left( {C_{2}^{ - 1} + C_{\text{p}}^{ - 1} } \right), } \hfill & {a_{88} = - L_{2}^{ - 1} R_{2} ,} \hfill \\ {a_{89} = - L_{2}^{ - 1} C_{\text{p}}^{ - 1} ,} \hfill & {\varvec{a}_{101} = - L_{3}^{ - 1} C_{\text{p}}^{ - 1} {\varvec{\uptheta}}^{T} ,} \hfill \\ {a_{105} = - L_{3}^{ - 1} C_{\text{p}}^{ - 1} ,} \hfill & {a_{107} = - L_{3}^{ - 1} C_{\text{p}}^{ - 1} ,} \hfill \\ {a_{109} = - L_{3}^{ - 1} \left( {C_{3}^{ - 1} + C_{\text{p}}^{ - 1} } \right), } \hfill & {a_{1010} = - L_{3}^{ - 1} R_{3} ,} \hfill \\ {b_{61} = L_{1}^{ - 1} ,} \hfill & {b_{81} = L_{2}^{ - 1} ,} \hfill \\ {b_{101} = L_{3}^{ - 1} ,} \hfill & {\varvec{e}_{21} = {\mathbf{M}}_{qq}^{ - 1} {\mathbf{F}}_{0} ,} \hfill \\ {\varvec{e}_{41} = - {\mathbf{M}}_{rr}^{ - 1} {\mathbf{M}}_{rq} {\mathbf{M}}_{qq}^{ - 1} {\mathbf{F}}_{0} .} \hfill & {} \hfill \\ \end{array}$$
Appendix 3
State-space representation of the actively controlled (and uncontrolled) system
$${\mathbf{A}} = \left[ {\begin{array}{*{20}c} 0 & {\mathbf{I}} & 0 & 0 \\ {\varvec{a}_{21} } & {\varvec{a}_{22} } & {\varvec{a}_{23} } & 0 \\ 0 & 0 & 0 & {\mathbf{I}} \\ {\varvec{a}_{41} } & {\varvec{a}_{42} } & {\varvec{a}_{43} } & {\varvec{a}_{44} } \\ \end{array} } \right]\varvec{ },\quad \begin{array}{*{20}l} {{\mathbf{B}} = \left[ {\begin{array}{*{20}c} 0 & {{\mathbf{b}}_{21} } & 0 & {{\mathbf{b}}_{41} } \\ \end{array} } \right]^{\text{T}} \varvec{ },} \hfill \\ {{\mathbf{E}} = \left[ {\begin{array}{*{20}c} 0 & {{\mathbf{e}}_{21} } & 0 & {{\mathbf{e}}_{41} } \\ \end{array} } \right]^{\text{T}} \varvec{ },} \hfill \\ {{\mathbf{X}} = \left[ {\begin{array}{*{20}c} {\mathbf{q}} & {{\dot{\mathbf{q}}}} & {\mathbf{r}} & {{\dot{\mathbf{r}}}} \\ \end{array} } \right]^{\text{T}} \varvec{ },} \hfill \\ \end{array}$$
(39)
where
$$\begin{array}{*{20}l} {\varvec{a}_{21} = - {\mathbf{M}}_{qq}^{ - 1} {\mathbf{K}}_{qq} ,} \hfill & {\varvec{a}_{22} = - {\mathbf{M}}_{qq}^{ - 1} {\mathbf{D}}_{qq} ,} \hfill \\ {\varvec{a}_{23} = - {\mathbf{M}}_{qq}^{ - 1} {\mathbf{K}}_{qr} ,} \hfill & {\varvec{a}_{41} = {\mathbf{M}}_{rr}^{ - 1} {\mathbf{M}}_{rq} {\mathbf{M}}_{qq}^{ - 1} {\mathbf{K}}_{qq} ,} \hfill \\ {\varvec{a}_{42} = {\mathbf{M}}_{rr}^{ - 1} {\mathbf{M}}_{rq} {\mathbf{M}}_{qq}^{ - 1} {\mathbf{D}}_{qq} ,} \hfill & {\varvec{a}_{43} = {\mathbf{M}}_{rr}^{ - 1} {\mathbf{M}}_{rq} {\mathbf{M}}_{qq}^{ - 1} {\mathbf{K}}_{qr} - {\mathbf{M}}_{rr}^{ - 1} {\mathbf{K}}_{rr} ,} \hfill \\ {\varvec{a}_{44} = - {\mathbf{M}}_{rr}^{ - 1} {\mathbf{D}}_{rr} ,} \hfill & {{\mathbf{b}}_{21} = {\mathbf{M}}_{qq}^{ - 1} {\varvec{\uptheta}},} \hfill \\ {{\mathbf{b}}_{41} = - {\mathbf{M}}_{rr}^{ - 1} {\mathbf{M}}_{rq} {\mathbf{M}}_{qq}^{ - 1} {\varvec{\uptheta}},} \hfill & {{\mathbf{e}}_{21} = {\mathbf{M}}_{qq}^{ - 1} {\mathbf{F}}_{0} ,} \hfill \\ {{\mathbf{e}}_{41} = - {\mathbf{M}}_{rr}^{ - 1} {\mathbf{M}}_{rq} {\mathbf{M}}_{qq}^{ - 1} {\mathbf{F}}_{0} .} \hfill & {} \hfill \\ \end{array}$$
About this article
Cite this article
Shahraeeni, M. Assessment of shunted piezoelectric devices for simultaneous noise and vibration reduction: comparison of passive, active and hybrid networks. Meccanica 53, 3209–3231 (2018). https://doi.org/10.1007/s11012-018-0885-4
Received:

Accepted:

Published:

Issue Date:
Keywords
Fluid–structure interaction (FSI)

Acoustic enclosure

Multiple tones

Noise control

Active–passive piezoelectric network (APPN)

Multimode piezoelectric shunt damping

Hybrid piezoelectric transducer