Abstract
Cardiovascular disease has become the leading cause of death in the world. Metastasis-associated lung adenocarcinoma transcript 1 (MALAT1) plays an important role in cardiovascular disease, such as stroke. However, the role of MALAT1 in hypoxia (HYP)-induced vascular endothelial cells (VECs) remains unclear. In the present study, HYP-treated human umbilical vein endothelial cells (HUVECs) were utilized to simulate HYP-induced VEC injury. It was found that after HYP treatment, the levels of MALAT1 and hypoxia-induced factor-1 (HIF-1α) in HUVECs were upregulated, while the level of miR-19b-3p was downregulated. Knockdown of MALAT1 with siRNA significantly reduced the HIF-1α level induced by HYP. In addition, MALAT1 knockdown inhibited HYP-induced HUVECs apoptosis, autophagy and inflammation. The overexpression of HIF-1α overcame the effect of MALAT1 knockdown. Mechanism analysis showed that MALAT1-targeted miR-19b-3p and then regulated downstream HIF-1α. MALAT1 knockdown increased the level of miR-19b-3p in cells, and increased miR-19b-3p further inhibited the expression of HIF-1α, thereby reducing the HYP-induced HUVECs apoptosis, autophagy and inflammation. Taken together, these results suggest that MALAT1 may be a potential target for mitigating HYP-induced endothelial cell injury.
This is a preview of subscription content, log in to check access.
Access options
Buy single article
Instant unlimited access to the full article PDF.
US$ 39.95
Price includes VAT for USA
Subscribe to journal
Immediate online access to all issues from 2019. Subscription will auto renew annually.
US$ 199
This is the net price. Taxes to be calculated in checkout.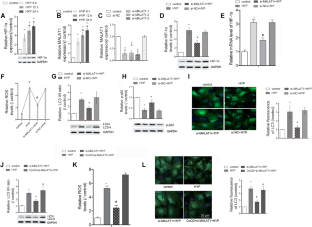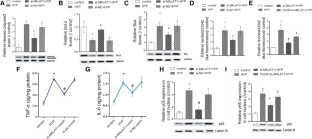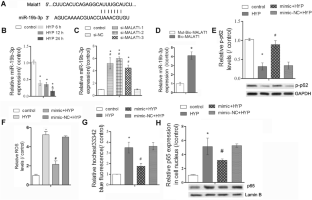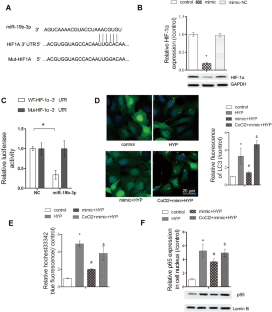 Ethics declarations
Conflict of interest
The authors declare no conflict of interest.
Additional information
Publisher's Note
Springer Nature remains neutral with regard to jurisdictional claims in published maps and institutional affiliations.
About this article
Cite this article
Liu, H., Shi, C. & Deng, Y. MALAT1 affects hypoxia-induced vascular endothelial cell injury and autophagy by regulating miR-19b-3p/HIF-1α axis. Mol Cell Biochem (2020). https://doi.org/10.1007/s11010-020-03684-z
Received:

Accepted:

Published:
Keywords
Metastasis associated lung adenocarcinoma transcript 1

miR-19b-3p

Hypoxia inducible factor-1α

Apoptosis

Autophagy

Inflammation