Abstract
Maximal workload in elite athletes induces increased generation of reactive oxygen/nitrogen species (RONS) and oxidative stress, but the dynamics of RONS production are not fully explored. The aim of our study was to examine the effects of long-term engagement in sports with different energy requirements (aerobic, anaerobic, and aerobic/anaerobic) on oxidative stress parameters during progressive exercise test. Concentrations of lactates, nitric oxide (NO) measured through stabile end product-nitrites (NO2 −), superoxide anion radical (O2 •−), and thiobarbituric reactive substances (TBARS) as index of lipid peroxidation were determined in rest, after maximal workload, and at 4 and 10th min of recovery in blood plasma of top level competitors in rowing, cycling, and taekwondo. Results showed that sportmen had similar concentrations of lactates and O2 •− in rest. Nitrite concentrations in rest were the lowest in taekwondo fighters, while rowers had the highest levels among examined groups. The order of magnitude for TBARS level in the rest was bicycling > taekwondo > rowing. During exercise at maximal intensity, the concentration of lactate significantly elevated to similar levels in all tested sportsmen and they were persistently elevated during recovery period of 4 and 10 min. There were no significant changes in O2 •−, nitrite, and TBARS levels neither at the maximum intensity of exercise nor during the recovery period comparing to the rest period in examined individuals. Our results showed that long term different training strategies establish different basal nitrites and lipid peroxidation levels in sportmen. However, progressive exercise does not influence basal nitrite and oxidative stress parameters level neither at maximal load nor during the first 10 min of recovery in sportmen studied.
This is a preview of subscription content, log in to check access.
Access options
Buy single article
Instant access to the full article PDF.
US$ 39.95
Price includes VAT for USA
Subscribe to journal
Immediate online access to all issues from 2019. Subscription will auto renew annually.
US$ 199
This is the net price. Taxes to be calculated in checkout.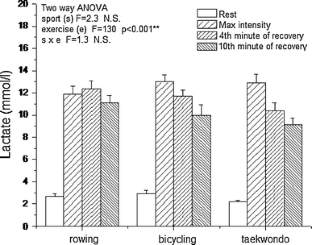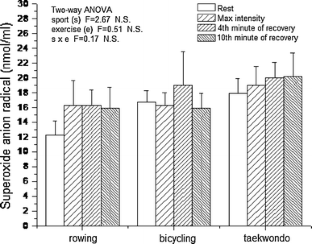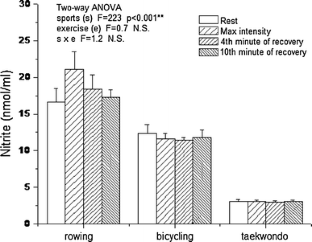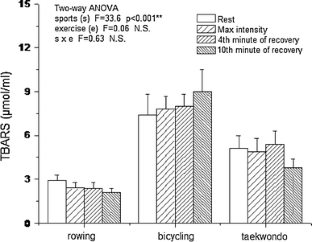 References
1.

Rowland T (2009) Endurance athletes' stroke volume response to progressive exercise: a critical review. Sports Med 39(8):687–695

2.

Pluim BM, Zwinderman AH, van der Laarse A, van der Wall EE (2000) The athlete's heart. A meta-analysis of cardiac structure and function. Circulation 101(3):336–344

3.

Melhim AF (2001) Aerobic and anaerobic power responses to the practice of taekwon-do. Br J Sports Med 35:231–234

4.

Izquierdo-Gabarren M, Expósito RG, de Villarreal ES, Izquierdo M (2010) Physiological factors to predict on traditional rowing performance. Eur J Appl Physiol 108(1):83–92

5.

Lucía A, Hoyos J, Chicharro JL (2001) Physiology of professional road cycling. Sports Med 31(5):325–337

6.

Fisher-Wellman K, Bloomer RJ (2009) Acute exercise and oxidative stress: a 30 year history. Dyn Med 8:1–25

7.

Dalle-Donne I, Rossi R, Colombo R, Giustarini D, Milzani A (2006) Biomarkers of oxidative damage in human disease. Clin Chem 52(4):601–623

8.

Kojdaa G, Harrison D (1999) Interactions between NO and reactive oxygen species: pathophysiological importance in atherosclerosis, hypertension, diabetes and heart failure. Cardiovasc Res 43:562–571

9.

Davies KJ, Quintanilha AT, Brooks GA, Packer L (1982) Free radicals and tissue damage produced by exercise. Biochem Biophys Res Commun 107:1198–1205

10.

Bergholm R, Mäkimattila S, Valkonen M, Liu ML, Lahdenperä S, Taskinen MR, Sovijärvi A, Malmberg P, Yki-Järvinen H (1999) Intense physical training decreases circulating antioxidants and endothelium-dependent vasodilation in vivo. Atherosclerosis 145:341–349

11.

Goto C, Higashi Y, Kimura M, Noma K, Hara K, Nakagawa K, Kawamura M, Chayama K, Yoshizumi M, Nara I (2003) Effect of different intensities of exercise on endothelium-dependent vasodilatation in humans: role of endothelium-dependent nitric oxide and oxidative stress. Circulation 108:530–535

12.

Marzatiko F, Pansarasa O, Bertorelli L et al (1997) Blood free radical antioxidant enzymes and lipid peroxides following long-distance and lactacidemic performances in highly trained aerobic and sprint athletes. J Sports Med Phys Fitness 37:235–239

13.

Radak Z, Chung HY, Koltai E, Taylor AW, Goto S (2008) Exercise, oxidative stress and hormesis. Ageing Res Rev 7(1):34–42

14.

Evelson P, Gambino G, Travacio M et al (2002) Higher antioxidant defences in plasma and low density lipoproteins from rugby players. Eur J Clin Invest 32(11):818–825

15.

Tanskanen M, Atalay M, Uusitalo A (2010) Altered oxidative stress in overtrained athletes. J Sports Sci 28(3):309–317

16.

Lekhi C, Gupta PH, Singh B (2007) Influence of exercise on oxidant stress products in elite Indian cyclists. Br J Sports Med 41(10):691–693

17.

Selamoglu S, Turgay F, Kayatekin BM et al (2000) Aerobic and anaerobic training effects on the antioxidant enzymes in the blood. Acta Physiol Hung 87(3):267–273

18.

Borg GA (1982) Psychophysical bases of perceived exertion. Med Sci Sports Exerc 14:377–381

19.

Howley ET, Bassett DR Jr, Welch HG (1995) Criteria for maximal oxygen uptake: review and commentary. Med Sci Sports Exerc 27(9):1292–1301

20.

Wasserman K, Whipp BJ, Koyal SN, Beaver WL (1973) Anaerobic threshold and respiratory gas exchange during exercise. J Appl Physiol 35:236–243

21.

Caiozzo VJ, Davis JA, Ellis JF, Azus JL, Vandagriff R, Prietto CA, McMaster WCA (1982) Comparison of gas exchange indices used to detect the anaerobic threshold. J Appl Physiol 35:1184–1189

22.

Green LC, Wagner DA, Glogowski J, Skipper PL, Wishnok JS, Tannenbaum SR (1982) Analysis of nitrate, nitrite and [15N] nitrate in biological fluids. Anal Biochem 126:131–138

23.

Auclair C, Voisin E (1985) Nitroblue tetrazolium reduction. In: Greenwald RA (ed) Handbook of methods for oxygen radical research. CRC Press Inc, Boka Raton, pp 123–132

24.

Ohkawa H, Ohishi N, Yagi K (1979) Assay for lipid peroxides in animal tissues by thiobarbituric acid reaction. Anal Biochem 95:351–358

25.

Djordjevic D, Cubrilo D, Macura M, Barudzic N, Djuric D, Jakovljevic V (2011) The influence of training status on oxidative stress in young male handball players. Mol Cell Biochem 351(1–2):251–259. doi:10.1007/s11010-011-0732-6

26.

Djordjevic D, Jakovljevic V, Cubrilo D, Zlatkovic M, Zivković V, Djuric D (2010) Coordination between nitric oxide and superoxide anion radical during progressive exercise in elite soccer players. Open Biochem J 4:100–106

27.

Cooper CE, Vollaard NBJ, Choueiri T, Wilson MT (2002) Exercise, free radicals and oxidative stress. Biochem Soc Trans 30:280–285

28.

Harrison DG (1997) Cellular and molecular mechanisms of endothelial cell dysfunction. J Clin Invest 100:2153–2157

29.

Miyazaki H, Oh-ishi S, Ookawara T, Kizaki T, Toshinai K, Ha S, Haga S, Ji LL, Ohno H (2001) Strenuous endurance training in humans reduces oxidative stress following exhausting exercise. Eur J Appl Physiol 84(1–2):1–6

30.

Vider J, Lehtmaa J, Kullisaar T et al (2001) Acute immune response in respect to exercise-induced oxidative stress. Pathophysiology 7:263–270

31.

Ashton T, Rowlands CC, Jones E et al (1998) Electron spin resonance spectroscopic detection of oxygen-centred radicals in human serum following exhaustive exercise. Eur J Physiol 77(6):498–502

32.

Groussard C, Rannou-Bekono F, Machefer G et al (2003) Changes in blood lipid peroxidation markers and antioxidants after a single sprint anaerobic exercise. Eur J Appl Physiol 89:14–20

33.

Saxton JM, Donnelly AE, Roper HP (1994) Indices of free-radical-mediated damage following maximum voluntary eccentric and concentric muscular work. Eur J Appl Physiol Occup Physiol 68:189–193

34.

Jakovljevic VLj, Zlatkovic M, Cubrilo D, Pantic I, Djuric DM (2011) The effects of progressive exercise on cardiovascular function in top level athlets: focus on oxidative stress. Acta Physiol Hung 98(1):50–57

35.

Vollaard NBJ, Sharman PJ, Cooper CE (2005) Exercise induced oxidative stress: myths, realities and physiological relevance. Sports Med 35(12):1045–1062
Acknowledgments
This study was supported by Grant No. 175043 from the Ministry of Science and Technical Development of the Republic of Serbia.
Conflict of interest
The authors declare that they have no conflict of interests.
About this article
Cite this article
Cubrilo, D., Djordjevic, D., Zivkovic, V. et al. Oxidative stress and nitrite dynamics under maximal load in elite athletes: relation to sport type. Mol Cell Biochem 355, 273–279 (2011). https://doi.org/10.1007/s11010-011-0864-8
Received:

Accepted:

Published:

Issue Date:
Keywords
Oxidative stress

Nitrites

Exercise

Training type

Rowers

Cyclists

Taekwondo