Abstract
Objectives
The rise in opioid use among pregnant women has resulted in an increase in the incidence of neonatal abstinence syndrome (NAS). Despite the focus on opioid use, prenatal polysubstance exposure is often associated with NAS diagnosis and severity. Drug toxicology screens such as urine drug screens and umbilical cord toxicology are dependent upon the substance, timing, frequency, and dose to detect substances present and can underestimate the neonatal exposure. The aim of this study was to identify the predictability of the consequences of prenatal polysubstance exposure versus opioid only exposure based on toxicology and toxicology plus self-report.
Methods
Neonates > 35 weeks gestation with prenatal opioid exposure were included in this retrospective data analysis. NAS was identified using maternal urine drug screen (UDS) toxicology, self-reported exposure during pregnancy, and neonatal toxicology. Analysis was conducted using Stata 15.1 utilizing McNemar's test, chi-square for categorical outcomes, and Wilcoxon test for numerical outcomes.
Results
A statistically significant difference in length of stay and length of treatment with poly-exposed neonates was observed when maternal self-report was considered with toxicology, but not with toxicology alone. This trend was observed for cumulative hospital length of stay as well as length and dose of treatment.
Conclusions for Practice
The findings in this report demonstrate that self-report is important for identifying substance of exposure. Three substances in particular that often require a change in treatment paradigm went undetected by toxicology were Gabapentin (20.9% of the population), Heroin (20.5% of the population), and Benzodiazepines (8.5% of the population). A healthy rapport with patients is often critical to effective clinical practice. Women with substance use disorder anticipate negative reactions from healthcare providers. Empathetic interview techniques to facilitate accurate disclosure may be more important to the treatment of the exposed neonate.
This is a preview of subscription content, log in to check access.
We're sorry, something doesn't seem to be working properly.
Please try refreshing the page. If that doesn't work, please contact support so we can address the problem.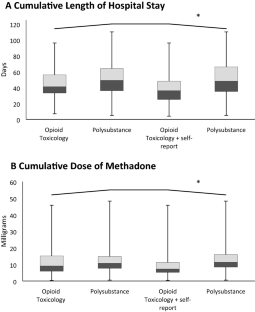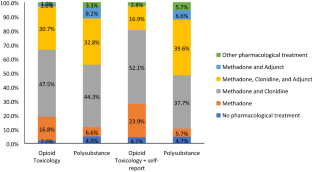 Abbreviations
NICU:

Neonatal Intensive Care Unit

CHH:

Cabell-Huntington Hospital

NAS:

Neonatal Abstinence Syndrome

NTU:

Neonatal Treatment Unit

HCA:

Health Care Authority

IQR:

Interquartile range
References
Chan, D., Klein, J., & Koren, G. (2003). New methods for neonatal drug screening. Neoreviews,4(9), e236–e244.

Cleveland, L. M., & Bonugli, R. (2014). Experiences of mothers of infants with neonatal abstinence syndrome in the neonatal intensive care unit. Journal of Obstetric, Gynecologic, and Neonatal Nursing,43(3), 318–329. https://doi.org/10.1111/1552-6909.12306.

Desai, R. J., Hernandez-Diaz, S., Bateman, B. T., & Huybrechts, K. F. (2014). Increase in prescription opioid use during pregnancy among Medicaid-enrolled women. Obstetrics and Gynecology,123(5), 997–1002. https://doi.org/10.1097/AOG.0000000000000208.

Dryden, C., Young, D., Hepburn, M., & Mactier, H. (2009). Maternal methadone use in pregnancy: Factors associated with the development of neonatal abstinence syndrome and implications for healthcare resources. BJOG,116(5), 665–671. https://doi.org/10.1111/j.1471-0528.2008.02073.x.

Finnegan, L. P., Connaughton, J. F., Jr., Kron, R. E., & Emich, J. P. (1975). Neonatal abstinence syndrome: Assessment and management. Addictive Diseases,2(1–2), 141–158.

Hudak, M. L., Tan, R. C., Committee On, D., Committee On, F., Newborn, & American Academy of, P. (2012). Neonatal drug withdrawal. Pediatrics,129(2), e540–e560. https://doi.org/10.1542/peds.2011-3212.

Huybrechts, K. F., Bateman, B. T., Desai, R. J., Hernandez-Diaz, S., Rough, K., Mogun, H., et al. (2017). Risk of neonatal drug withdrawal after intrauterine co-exposure to opioids and psychotropic medications: Cohort study. BMJ,358, j3326. https://doi.org/10.1136/bmj.j3326.

Irner, T. B., Teasdale, T. W., Nielsen, T., Vedal, S., & Olofsson, M. (2012). Substance use during pregnancy and postnatal outcomes. Journal of Addictive Diseases,31(1), 19–28. https://doi.org/10.1080/10550887.2011.642765.

Jansson, L. M., Di Pietro, J. A., Elko, A., Williams, E. L., Milio, L., & Velez, M. (2012). Pregnancies exposed to methadone, methadone and other illicit substances, and poly-drugs without methadone: A comparison of fetal neurobehaviors and infant outcomes. Drug and Alcohol Dependence,122(3), 213–219. https://doi.org/10.1016/j.drugalcdep.2011.10.003.

Jansson, L. M., Velez, M. L., McConnell, K., Spencer, N., Tuten, M., Jones, H., et al. (2017). Maternal buprenorphine treatment and infant outcome. Drug and Alcohol Dependence,180, 56–61. https://doi.org/10.1016/j.drugalcdep.2017.08.001.

Jarlenski, M., Barry, C. L., Gollust, S., Graves, A. J., Kennedy-Hendricks, A., & Kozhimannil, K. (2017). Polysubstance use among US women of reproductive age who use opioids for nonmedical reasons. American Journal of Public Health,107(8), 1308–1310. https://doi.org/10.2105/AJPH.2017.303825.

Johnson, K., Greenough, A., & Gerada, C. (2003). Maternal drug use and length of neonatal unit stay. Addiction,98(6), 785–789.

Kaltenbach, K., Holbrook, A. M., Coyle, M. G., Heil, S. H., Salisbury, A. L., Stine, S. M., et al. (2012). Predicting treatment for neonatal abstinence syndrome in infants born to women maintained on opioid agonist medication. Addiction,107(Suppl 1), 45–52. https://doi.org/10.1111/j.1360-0443.2012.04038.x.

Ko, J. Y., Patrick, S. W., Tong, V. T., Patel, R., Lind, J. N., & Barfield, W. D. (2016). Incidence of neonatal abstinence syndrome—28 states, 1999–2013. Morbidity and Mortality Weekly Report,65(31), 799–802. https://doi.org/10.15585/mmwr.mm6531a2.

Loudin, S., Murray, S., Prunty, L., Davies, T., Evans, J., & Werthammer, J. (2017a). An atypical withdrawal syndrome in neonates prenatally exposed to gabapentin and opioids. Journal of Perinatology,181, 286–288. https://doi.org/10.1016/j.jpeds.2016.11.004.

Loudin, S., Werthammer, J., Prunty, L., Murray, S., Shapiro, J. I., & Davies, T. H. (2017b). A management strategy that reduces NICU admissions and decreases charges from the front line of the neonatal abstinence syndrome epidemic. Journal of Perinatology. https://doi.org/10.1038/jp.2017.101.

Martin, C. E., Longinaker, N., Mark, K., Chisolm, M. S., & Terplan, M. (2015). Recent trends in treatment admissions for marijuana use during pregnancy. J Addict Med,9(2), 99–104. https://doi.org/10.1097/ADM.0000000000000095.

Patrick, S. W., Davis, M. M., Lehmann, C. U., & Cooper, W. O. (2015). Increasing incidence and geographic distribution of neonatal abstinence syndrome: United States 2009 to 2012. Journal of Perinatology,35(8), 650–655. https://doi.org/10.1038/jp.2015.36.

Roberts, S. C., & Nuru-Jeter, A. (2010). Women's perspectives on screening for alcohol and drug use in prenatal care. Womens Health Issues,20(3), 193–200. https://doi.org/10.1016/j.whi.2010.02.003.

Roberts, S. C., & Pies, C. (2011). Complex calculations: how drug use during pregnancy becomes a barrier to prenatal care. Maternal and Child Health Journal,15(3), 333–341. https://doi.org/10.1007/s10995-010-0594-7.

Thomas, S., Treffers, R., Berglas, N. F., Drabble, L., & Roberts, S. C. M. (2018). Drug use during pregnancy policies in the United States from 1970 to 2016. Contemporary Drug Problems, 0(0), 0091450918790790. https://doi.org/10.1177/0091450918790790.

Wachman, E. M., Schiff, D. M., & Silverstein, M. (2018). Neonatal Abstinence Syndrome: Advances in diagnosis and treatment. JAMA,319(13), 1362–1374. https://doi.org/10.1001/jama.2018.2640.

Wood, K. E., Sinclair, L. L., Rysgaard, C. D., Strathmann, F. G., McMillin, G. A., & Krasowski, M. D. (2014). Retrospective analysis of the diagnostic yield of newborn drug testing. BMC Pregnancy Childbirth,14, 250. https://doi.org/10.1186/1471-2393-14-250.
Ethics declarations
Competing interest
The data in this manuscript appear in no prior publications or submissions with any overlapping information, including study and patients. The manuscript has not and will not be submitted to any other journal while it is under consideration by the "Addiction." The authors have no conflicts of interest to disclose.
Additional information
Publisher's Note
Springer Nature remains neutral with regard to jurisdictional claims in published maps and institutional affiliations.
About this article
Cite this article
Roth, D., Loudin, S., Andrews, L. et al. Inclusion of Positive Self-reporting by Mothers of Substance Exposed Neonates Increases the Predictability of NAS Severity Over Toxicology Alone. Matern Child Health J 24, 340–350 (2020). https://doi.org/10.1007/s10995-019-02871-9
Keywords
NAS

Neonatology

Epidemic

Withdrawal

Opioids