Abstract
Objective
The objective of this study was to determine the validity and the reliability of the Perceived Maternal Parenting Self-Efficacy tool translated into Spanish and adapted to be used among primiparous women of term babies.
Methods
Validation study. A total of 210 women participated in the survey to establish construct validity and reliability. The questionnaire has 20 items and four subscales. The higher the score, the higher the self-efficacy. A process of translation/back-translation and cultural adaptation in accordance with international standards and an expert review were conducted to test face and content validity. The Validity Content Index and an exploratory factor analysis were used to identify the structure of the questionnaire. Reliability was estimated using Cronbach's alpha coefficient.
Results
Linguistic and cultural adaptation, validation and reliability were performed. Face validity for women was as follows: high comprehension (99%); and for experts: medium comprehension (84.1%), medium clarity (83.9%) and medium precision (80%). Concerning pertinence, the content validity index was 0.93 (i.e., highly pertinent). Concerning relevance, the content validity index was 0.96 (i.e., highly relevant). Factor validation identified four factors that accounted for 91% of the variance. Overall Cronbach's alpha value was 0.98 (IC 95 0.97–0.98).
Conclusions for Practice
Given the robust properties of the Spanish version of the Perceived Maternal Parenting Self-efficacy, it may be used to identify women with low self-efficacy and to assess the effectiveness of health-based interventions.
This is a preview of subscription content, log in to check access.
Access options
Buy single article
Instant unlimited access to the full article PDF.
US$ 39.95
Price includes VAT for USA
Subscribe to journal
Immediate online access to all issues from 2019. Subscription will auto renew annually.
US$ 99
This is the net price. Taxes to be calculated in checkout.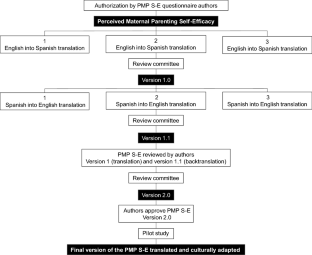 References
Albanese, A. M., Russo, G. R., & Geller, P. A. (2019). The role of parental self-efficacy in parent and child well-being: A systematic review of associated outcomes. Child,45(3), 333–363.

Aliabadi, F., Borimnejad, L., Kamali, M., Rassafiani, M., & Nazi, S. (2013). Perceived maternal parenting self-efficacy (PMP SE) tool: Translation and face validation with Iranian mothers of hospitalized preterm neonates. Iranian Rehabilitation Journal,11, 7–10.

Bandura, A. (1997). Self-efficacy: The exercise of control. New York: W H Freeman/Times Books/Henry Holt & Co.

Bandura, A. (2006). Guide for constructing self-efficacy scales. In F. Pajares & T. Urdan (Eds.), Self-efficacy beliefs of adolescents (Vol. 5, pp. 307–337). Charlotte, NC: Information Age Publishing Inc.

Barnes, C. R., & Adamson-Macedo, E. N. (2007). Perceived maternal parenting self-efficacy (PMP S-E) tool: Development and validation with womens mothers of hospitalized preterm neonates. Journal of Advanced Nursing,60(5), 550–560. https://doi.org/10.1111/j.1365-2648.2007.04445.x.

Casse, J. F. H., Oosterman, M., & Schuengel, C. (2016). Parenting self-efficacy moderates linkage between partner relationship dissatisfaction and avoidant infant-women attachment: A Dutch study. Journal of Family Psychology,30(8), 935–943. https://doi.org/10.1037/fam0000247.

Fehring, R. (1994). The Fehring model. Paper presented at the classification of nursing diagnoses: Proceedings of the tenth conference of North American Nursing Diagnosis Association. Philadelphia: Lippincott.

Garay-Gordovil, M. Z. (2013). Autoeficacia materna percibida y actitud de soporte en la interacción madre-hijo. Concepto, medición y relaciones entre sí. Miscelánea Comillas,71(139), 419–444.

Gharaibeh, M. K., & Hamlan, A. M. (2012). Factors influencing maternal attachment of first-time Jordanian mothers. Journal of Research in Nursing,17(3), 289–303. https://doi.org/10.1177/1744987110395352.

Hernández Sampieri, R., Fernández Collado, C., & Baptista Lucio, M. D. P. (2014). Metodología de la investigación (6th ed.). México: McGraw-Hill.

Holland, M., Yoo, B.-K., Kitzman, H., Chaudron, L., Szilagyi, P., & Temkin-Greener, H. (2011). Self-efficacy as a mediator between maternal depression and child hospitalizations in low-income urban families. Maternal & Child Health Journal,15(7), 1011–1019. https://doi.org/10.1007/s10995-010-0662-z.

Khoja, S., Scott, R. E., Casebeer, A. L., Mohsin, M., Ishaq, A. F., & Gilani, S. (2007). e-Health readiness assessment tools for healthcare institutions in developing countries. Telemedicine Journal and e-Health,13(4), 425–431. https://doi.org/10.1089/tmj.2006.0064.

Law, K. H., Dimmock, J., Guelfi, K. J., Nguyen, T., Gucciardi, D., & Jackson, B. (2019). Stress, depressive symptoms, and maternal self-efficacy in first-time mothers: Modelling and predicting change across the first six months of womenhood. Applied Psychology: Health and Well-Being,11(1), 126–147.

Leahy Warren, P. (2005). First-time mothers: Social support and confidence in infant care. Journal of Advanced Nursing,50(5), 479–488. https://doi.org/10.1111/j.1365-2648.2005.03425.x.

Leahy-Warren, P., & McCarthy, G. (2011). Maternal parental self-efficacy in the postpartum period. Midwifery,27(6), 802–810. https://doi.org/10.1016/j.midw.2010.07.008.

Leahy-Warren, P., McCarthy, G., & Corcoran, P. (2012). First-time mothers: Social support, maternal parental self-efficacy and postnatal depression. Journal of Clinical Nursing,21(3–4), 388–397. https://doi.org/10.1111/j.1365-2702.2011.03701.x.

Mercer, R. T. (2004). Becoming a women versus maternal role attainment. Journal of Nursing Scholarship,36(3), 226–232.

Mickelson, K. D., Biehle, S. N., Chong, A., & Gordon, A. (2017). Perceived stigma of postpartum depression symptoms in low-risk first-time parents: Gender differences in a dual-pathway model. Sex Roles,76(5–6), 306–318. https://doi.org/10.1007/s11199-016-0603-4.

Morales, P. (2012). Tamaño necesario de la muestra: ¿Cuántos sujetos necesitamos. In P. Morales (Ed.), Estadística aplicada a las ciencias sociales (pp. 1–24). Madrid: Universidad Pontificia Comillas, Facultad de Humanidades.

Muñiz, J., Elosua, P., & Hambleton, R. K. (2013). Directrices para la traducción y adaptación de los tests: Segunda edición. Psicothema,25(2), 151–157.

Muñiz, J., Hernández, A., & Ponsoda, V. (2015). Nuevas directrices sobre el uso de los tests: Investigación, control de calidad y seguridad. Papeles del Psicologo,36(3), 161–173.

Paul, P., Pais, M., Kamath, S., Pai, M. V., Lewis, L., & Bhat, R. (2018). Perceived maternal parenting self-efficacy and parent coping among mothers of preterm infants: A cross-sectional survey. Manipal Journal of Medical Sciences,18(23), 40.

Pedrini, L., Ferrari, C., & Ghilardi, A. (2019). Psychometric properties of the Italian perceived maternal parenting self-efficacy (PMP SE). Journal of Clinical Psychology in Medical Settings,26(2), 173–182. https://doi.org/10.1007/s10880-018-9578-3.

Polit, D. F., & Beck, C. T. (2004). Nursing research: Principles and methods (7th ed.). Philadelphia: Lippincott Williams & Wilkins.

Polit, D., Beck, T., & Owen, S. (2007). Focus on research methods is the CVI an acceptable indicator of content validity. Research in Nursing Health,30, 459–467.

Raykov, T., & Marcoulides, G. A. (2008). An introduction to applied multivariate analysis (1st ed.). Routledge: Taylor & Francis Group.

Shorey, S., Chan, S. W.-C., Chong, Y. S., & He, H.-G. (2015). Predictors of maternal parental self-efficacy among primiparas in the early postnatal period. Western Journal of Nursing Research,37(12), 1604–1622.

Teti, D. M., & Gelfand, D. M. (1991). Behavioral competence among mothers of infants in the first year: The mediational role of maternal self-efficacy. Child Development,62(5), 918–929.

Tristão, R. M., Neiva, E. R., Barnes, C. R., & Adamson-Macedo, E. (2015). Validation of the scale of perceived self-efficacy of maternal parenting in brazilian sample. Journal of Human Growth and Development,25(3), 277–286.

Wittkowski, A., Garrett, C., Calam, R., & Weisberg, D. (2017). Self-report measures of parental self-efficacy: A systematic review of the current literature. Journal of Child and Family Studies,26(11), 2960–2978. https://doi.org/10.1007/s10826-017-0830-5.

Zahr, L., & Cole, J. (1991). Assessing maternal competence and sensitivity to premature infants' cues. Issues in Comprehensive Pediatric Nursing,14(4), 231–240.
Acknowledgements
The Authors would like to thank all the mothers and the experts who participated to the study.
Funding
None.
Ethics declarations
Conflict of interest
The authors declare that they have no conflict of interest.
Additional information
Publisher's Note
Springer Nature remains neutral with regard to jurisdictional claims in published maps and institutional affiliations.
Elvidina Nabuco Adamson-Macedo: Retired.
Electronic supplementary material
Below is the link to the electronic supplementary material.
About this article
Cite this article
Vargas-Porras, C., Roa-Díaz, Z.M., Barnes, C. et al. Psychometric Properties of the Spanish Version of the Perceived Maternal Parenting Self-efficacy (PMP S-E) Tool for Primiparous Women. Matern Child Health J (2020) doi:10.1007/s10995-019-02860-y
Keywords
Validation studies

Psychometrics

Self-efficacy

Mothers

Parenting