Abstract
To document changes in birth rates, birth outcomes, and pregnancy risk factors among women giving birth after the 1997 Red River flood in North Dakota. We analyzed detailed county-level birth files pre-disaster (1994–1996) and post-disaster (1997–2000) in North Dakota. Crude birth rates and adjusted fertility rates were calculated. The demographic and pregnancy risk factors were described among women delivering singleton births. Logistic regression was conducted to examine associations between the disaster and low birth weight (<2,500 g), preterm birth (<37 weeks), and small for gestational age infants adjusting for confounders. The crude birth rate and direct-adjusted fertility rate decreased significantly after the disaster in North Dakota. The proportion of women giving birth who were older, non-white, unmarried, and had a higher education increased. Compared to pre-disaster, there were significant increases in the following maternal measures after the disaster: any medical risks (5.1–7.1%), anemia (0.7–1.1%), acute or chronic lung disease (0.4–0.5%), eclampsia (0.3–2.1%), and uterine bleeding (0.3–0.4%). In addition, there was a significant increase in births that were low birth weight (OR 1.11, 95% CI 1.03–1.21) and preterm (OR 1.09, 95% CI 1.03–1.16) after adjusting for maternal characteristics and smoking. Following the flood, there was an increase in medical risks, low birth weight, and preterm delivery among women giving birth in North Dakota. Further research that examines birth outcomes of women following a catastrophic disaster is warranted.
This is a preview of subscription content, log in to check access.
Access options
Buy single article
Instant unlimited access to the full article PDF.
US$ 39.95
Price includes VAT for USA
Subscribe to journal
Immediate online access to all issues from 2019. Subscription will auto renew annually.
US$ 99
This is the net price. Taxes to be calculated in checkout.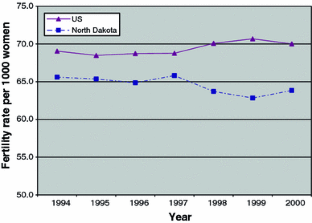 References
1.

McGlown, K. J., & Fottler, M. D. (1996). The impact of flooding on the delivery of hospital services in the southeastern United States. Health Care Management Review, 21(3), 55–71.

2.

Callaghan, W. M., Rasmussen, S. A., Jamieson, D. J., Ventura, S. J., Farr, S. L., Sutton, P. D., et al. (2007). Health concerns of women and infants in times of natural disasters: Lessons learned from Hurricane Katrina. Maternal and Child Health Journal, 11(4), 307–311.

3.

Cordero, J. F. (1993). The epidemiology of disasters and adverse reproductive outcomes: Lessons learned. Environmental Health Perspectives, 101(Suppl 2), 131–136.

4.

Foa, E. B., Stein, D. J., & McFarlane, A. C. (2006). Symptomatology and psychopathology of mental health problems after disaster. Journal of Clinical Psychiatry, 67(Suppl 2), 15–25.

5.

Noji, E. K. (2005). Public health in the aftermath of disasters. BMJ, 330(7504), 1379–1381.

6.

Norris, F. H., Friedman, M. J., & Watson, P. J. (2002). 60,000 disaster victims speak: Part II. Summary and implications of the disaster mental health research. Psychiatry, 65(3), 240–260.

7.

Hobel, C. J., Goldstein, A., & Barrett, E. S. (2008). Psychosocial stress and pregnancy outcome. Clinical Obstetrics and Gynecology, 51(2), 333–348.

8.

Gennaro, S., & Hennessy, M. D. (2003). Psychological and physiological stress: Impact on preterm birth. Journal of Obstetric, Gynecologic, and Neonatal Nursing, 32(5), 668–675.

9.

Buekens, P., Xiong, X., & Harville, E. (2006). Hurricanes and pregnancy. Birth, 33(2), 91–93.

10.

Rodgers, J. L., St John, C. A., & Coleman, R. (2005). Did fertility go up after the Oklahoma City bombing? An analysis of births in metropolitan counties in Oklahoma, 1990–1999. Demography, 42(4), 675–692.

11.

Udry, J. R. (1970). The effect of the great blackout of 1965 on births in New York City. Demography, 7(3), 325–327.

12.

Cohan, C. L., & Cole, S. W. (2002). Life course transitions and natural disaster: Marriage, birth, and divorce following Hurricane Hugo. Journal of Family Psychology, 16(1), 14–25.

13.

Landrigan, P. J., Forman, J., Galvez, M., Newman, B., Engel, S. M., & Chemtob, C. (2008). Impact of September 11 World Trade Center disaster on children and pregnant women. Mount Sinai Journal of Medicine, 75(2), 129–134.

14.

Lederman, S. A., Rauh, V., Weiss, L., Stein, J. L., Hoepner, L. A., Becker, M., et al. (2004). The effects of the World Trade Center event on birth outcomes among term deliveries at three lower Manhattan hospitals. Environmental Health Perspectives, 112(17), 1772–1778.

15.

Neuberg, M., Pawlosek, W., Lopuszanski, M., & Neuberg, J. (1998). The analysis of the course of pregnancy, delivery and postpartum among women touched by flood disaster in Kotlin Klodzki in July 1997. Ginekologia Polska, 69(12), 866–870.

16.

Chang, H. L., Chang, T. C., Lin, T. Y., & Kuo, S. S. (2002). Psychiatric morbidity and pregnancy outcome in a disaster area of Taiwan 921 earthquake. Psychiatry and Clinical Neurosciences, 56(2), 139–144.

17.

Weissman, A., Siegler, E., Neiger, R., Jakobi, P., & Zimmer, E. Z. (1989). The influence of increased seismic activity on pregnancy outcome. European Journal of Obstetrics, Gynecology, and Reproductive Biology, 31(3), 233–236.

18.

Glynn, L. M., Wadhwa, P. D., Dunkel-Schetter, C., Chicz-Demet, A., & Sandman, C. A. (2001). When stress happens matters: Effects of earthquake timing on stress responsivity in pregnancy. American Journal of Obstetrics and Gynecology, 184(4), 637–642.

19.

Duff, E. M., Cooper, E. S., Danbury, C. M., Johnson, B. E., & Serjeant, G. R. (1991). Neural tube defects in hurricane aftermath. Lancet, 337(8733), 120–121.

20.

Duff, E. M., & Cooper, E. S. (1994). Neural tube defects in Jamaica following Hurricane Gilbert. American Journal of Public Health, 84(3), 473–476.

21.

Xiong, X., Harville, E. W., Mattison, D. R., Elkind-Hirsch, K., Pridjian, G., & Buekens, P. (2008). Exposure to Hurricane Katrina, post-traumatic stress disorder and birth outcomes. American Journal of the Medical Sciences, 336(2), 111–115.

22.

Federal Emergency Management Agency. Grand Forks 1997 flood recovery: Facts and statistics. http://www.fema.gov/hazard/archive/grandforks/statistics.shtm.

23.

Federal Emergency Management Agency. Grand Forks 1997 flood recovery, facts and statistics: Chronology. http://www.fema.gov/pdf/hazard/archive/grandforks/chronology.pdf.

24.

Stevenson, M., & McClure, R. (2005). Use of ecological study design for injury prevention. Injury Prevention, 11, 2–4.

25.

Alexander, G. R., Tompkins, M. E., Allen, M. C., & Hulsey, T. C. (1999). Trends and racial differences in birth weight and related survival. Maternal and Child Health Journal, 3(2), 71–79.

26.

Kotelchuck, M. (1994). An evaluation of the Kessner Adequacy of Prenatal Care Index and a proposed Adequacy of Prenatal Care Utilization Index. American Journal of Public Health, 84(9), 1414–1420.

27.

Geller, S. E., Ahmed, S., Brown, M. L., Cox, S. M., Rosenberg, D., & Kilpatrick, S. J. (2004). International Classification of Diseases—9th revision coding for preeclampsia: how accurate is it? American Journal of Obstetrics and Gynecology, 190(6), 1629–1633.

28.

Qiu, C., Sanchez, S. E., Lam, N., Garcia, P., & Williams, M. A. (2007). Associations of depression and depressive symptoms with preeclampsia: results from a Peruvian case-control study. BMC Womens Health, 7, 15.

29.

Kurki, T., Hiilesmaa, V., Raitasalo, R., Mattila, H., & Ylikorkala, O. (2000). Depression and anxiety in early pregnancy and risk for preeclampsia. Obstetrics and Gynecology, 95(4), 487–490.

30.

Paarlberg, K. M., Vingerhoets, A. J., Passchier, J., Dekker, G. A., & Van Geijn, H. P. (1995). Psychosocial factors and pregnancy outcome: A review with emphasis on methodological issues. Journal of Psychosomatic Research, 39(5), 563–595.

31.

Rofe, Y., & Goldberg, J. (1983). Prolonged exposure to a war environment and its effects on the blood pressure of pregnant women. British Journal of Medical Psychology, 56(Pt 4), 305–311.

32.

Anorlu, R. I., Iwuala, N. C., & Odum, C. U. (2005). Risk factors for pre-eclampsia in Lagos, Nigeria. Australian and New Zealand Journal of Obstetrics and Gynaecology, 45(4), 278–282.

33.

Sibai, B., Dekker, G., & Kupferminc, M. (2005). Pre-eclampsia. Lancet, 365(9461), 785–799.

34.

Hamilton, B. E., Sutton, P. D., Mathews, T. J., Martin, J. A., & Ventura, S. J. (2009). The effect of Hurrican Katrina: Births in the U.S. Gulf Coast region, before, and after the storm. National vital statistics reports; vol 58 no 2. Hyattsville, MD: National Center for Health Statistics.

35.

McMurry, M. (1999). Working paper: Demographic aftermath of the 1997 Red River Valley Floods. State Demographic Center. http://www.demography.state.mn.us/DownloadFiles/pdf/Demographicaftermathof1997redrivervalleyfloods1999.pdf.

36.

Parslow, R. A., & Jorm, A. F. (2006). Tobacco use after experiencing a major natural disaster: analysis of a longitudinal study of 2,063 young adults. Addiction, 101(7), 1044–1050.

37.

Substance Abuse and Mental Health Services Administration. The NSDUH Report: Impact of Hurricanes Katrina and Rita on substance use and mental health. http://www.oas.samhsa.gov/2k8/katrina/katrina.htm.

38.

Vetter, S., Rossegger, A., Rossler, W., Bisson, J. I., & Endrass, J. (2008). Exposure to the tsunami disaster, PTSD symptoms and increased substance use—An internet based survey of male and female residents of Switzerland. BMC Public Health, 8, 92.

39.

Neuberg, M., Jakubowska-Szwed, B., & Neuberg, J. (2001). Reproductive behavior after the flood disaster in Klodzko region—July 1997. Ginekologia Polska, 72(12), 1037–1041.

40.

Lydon-Rochelle, M. T., Holt, V. L., Cardenas, V., Nelson, J. C., Easterling, T. R., Gardella, C., et al. (2005). The reporting of pre-existing maternal medical conditions and complications of pregnancy on birth certificates and in hospital discharge data. American Journal of Obstetrics and Gynecology, 193(1), 125–134.

41.

Centers for Disease Control, Prevention. (2002). Infant mortality and low birth weight among black and white infants—United States, 1980–2000. MMWR Morbidity and Mortality Weekly Report, 51(27), 589–592.

42.

Ananth, C. V., Joseph, K. S., Oyelese, Y., Demissie, K., & Vintzileos, A. M. (2005). Trends in preterm birth and perinatal mortality among singletons: United States, 1989 through 2000. Obstetrics and Gynecology, 105(5 Pt 1), 1084–1091.

43.

Needle, S. (2008). Pediatric private practice after Hurricane Katrina: Proposal for recovery. Pediatrics, 122(4), 836–842.

44.

Adams, D. (2005). Katrina displaces 6, 000 doctors. AMNews, 48, 1.

45.

Madamala, K., Campbell, C. R., Hsu, E. B., Hsieh, Y. H., & James, J. (2007). Characteristics of physician relocation following Hurricane Katrina. Disaster Medicine and Public Health Preparedness, 1(1), 21–26.

46.

Federal Emergency Management Agency. North Dakota severe storms and flooding. http://www.fema.gov/news/event.fema?id=11268.
Additional information
The findings and conclusions are those of the authors and do not necessarily represent the official position of the Centers for Disease Control and Prevention.
About this article
Cite this article
Tong, V.T., Zotti, M.E. & Hsia, J. Impact of the Red River Catastrophic Flood on Women Giving Birth in North Dakota, 1994–2000. Matern Child Health J 15, 281–288 (2011) doi:10.1007/s10995-010-0576-9
Keywords
Pregnancy

Natural disaster

Birth outcomes