Abstract
The HIV-1 Nef protein expressed early in viral life cycle has been known as a potent candidate for therapeutic vaccine development. Due to different cell barriers, various cell penetrating peptides (CPPs) such as Pep-1 and CADY-2 have been known to deliver biologically active proteins to cytoplasmic compartments via the plasma membrane. In current study, we firstly evaluated the efficiency of lentiviral vector (pCDH-CMV-MCS-EF1-cGFP-T2A-puro) and eukaryotic expression vector (pEGFP-N1) for expression of HIV-1 Nef protein in HEK-293T cells using TurboFect transfection reagent. Our results showed that both vectors can effectively express the Nef proteins within the target cell. The pEGFP-N1 was more effective than pCDH-GFP for protein expression. Furthermore, Nef protein was expressed in E. coli as GST-Nef fusion and transfected by the amphipathic CPPs including Pep-1 and CADY-2 into HEK-293T cells. The size and morphology of the GST-Nef/CPP complexes were evaluated by scanning electron microscopy, and Zetasizer. Our data indicated that the recombinant GST-Nef protein generated in BL21 strain migrated as a clear band of ~50 kDa in SDS-PAGE. The CPP/GST-Nef nanoparticles were formed with a diameter of below 200 nm and notably delivered into HEK-293T cells. Generally, the Nef protein was expressed in prokaryotic and eukaryotic expression systems using different vectors and efficiently transfected in mammalian cells using various delivery systems. The in vitro efficient delivery of HIV-1 Nef gene and also its protein supports the potential of Nef DNA constructs and CPPs as potent carriers of Nef protein for HIV vaccine design in Future.
This is a preview of subscription content, log in to check access.
Access options
Buy single article
Instant unlimited access to the full article PDF.
US$ 39.95
Price includes VAT for USA
Subscribe to journal
Immediate online access to all issues from 2019. Subscription will auto renew annually.
US$ 99
This is the net price. Taxes to be calculated in checkout.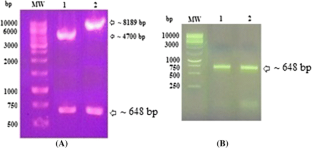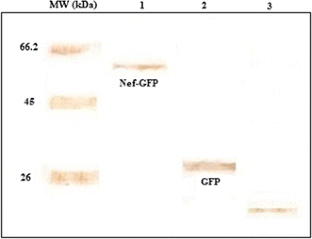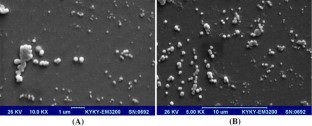 Abbreviations
AIDS:

Acquired immunodeficiency syndrome

CPP:

Cell penetrating peptide

HIV:

Human immunodeficiency virus

SDS-PAGE:

Sodium dodecyl sulfate-polyacrylamide electrophoresis

SEM:

Scanning electron microscopy
References
AbdEllah NH, Taylor L, Ayres N, Elmahdy MM, Fetih GN, Ibrahim ESA, Pauletti GM (2014) Increased transfection efficiency of lipid coated methacrylate-based gene delivery systems. Int J Pharm Sci Res (IJPSR) 5:812–816

Abdul Halim NS, Fakiruddin KS, Ali SA, Yahaya BH (2014) A comparative study of non-viral gene delivery techniques to human adipose-derived mesenchymal stem cell. Int J Mol Sci 15:15044–15060

Addo MM, Yu XG, Rathod A, Cohen D, Eldridge RL, Strick D, Johnston MN, Corcoran C, Wurcel AG, Fitzpatrick CA, Feeney ME, Rodriguez WR, Basgoz N, Draenert R, Stone DR, Brander C, Goulder PJ, Rosenberg ES, Altfeld M, Walker BD (2003) Comprehensive epitope analysis of human immunodeficiency virus type 1 (HIV-1)-specific T-cell responses directed against the entire expressed HIV-1 genome demonstrate broadly directed responses, but no correlation to viral load. J Virol 77:2081–2092

Aoshiba K, Yokohori N, Nagai A (2003) Alveolar wall apoptosis causes lung destruction and amphysematous changes. Am J Respir Cell Mol Biol 28:555–562

Bolesta E, Gzyl J, Wierzbicki A, Kmieciak D, Kowalczyk A, Kaneko Y, Srinivasan A, Kozbor D (2005) Clustered epitopes within the Gag-Pol fusion protein DNA vaccine enhance immune responses and protection against challenge with recombinant vaccinia viruses express ing HIV-1 Gag and Pol antigens. Virology 332:467–479

Burkhart A, Thomsen LB, Thomsen MS, Lichota J, Fazakas C, Krizbai I, Moos T (2015) Transfection of brain capillary endothelial cells in primary culture with defined blood brain barrier properties. Fluid Barrier CNS 12:1–14

Crombez L, Morris MC, Dufort S, Aldrian-Herrada G, Nguyen Q, Mc Master G, Coll JL, Heitz F, Divita G (2009) Targeting cyclin B1 through peptide-based delivery of siRNA prevents tumour growth. Nucl Acid Res 37:4559–4569

Eliyahu H, Barenholz Y, Domb AJ (2005) Polymers for DNA delivery. Molecules 10:34–64

Federico M (2003) Methods in molecular biology, lentivirus gene engineering protocols. Humana, Totawa, p 229

Gallo G, Yee HF, Letourneau PC (2002) Actin turnover is required to prevent axon retraction driven by endogenous actomyosin contractility. J Cell Biol 158:1219–1228

Gros E, Deshayes S, Morris MC, Aldrian-Herrada G, Depollier J, Heitz F, Divita G (2006) A non-covalent peptide-based strategy for protein and peptide nucleic acid transduction. Biochim Biophys Acta 1758:384–393

Hartz PA, McMiller T, Scott-Wright D, Samuel KP (2003) Low level expression of the HIV1 Nef protein in transiently transfected COS-1 cells in culture. Cell Mol Biol 49:1101–1107

Hassane FS, Saleh AF, Abes R, Gait MJ, Lebleu B (2010) Cell penetrating peptides: overview and applications to the delivery of oligonucleotides. Cell Mol Life Sci 67:715–726

Heiser WC (2004) Methods in molecular biology, gene delivery to mammalian cells. Humana, Totawa, p 246

Heitz F, Morris MC, Divita G (2009) Twenty years of cell-penetrating peptides: from molecular mechanisms to therapeutics. Br J Pharm 157:195–206

Huang NC, Ji Q, Ariga K, Hsu S (2015) Nanosheet transfection: effective transfer of naked DNA on silica glass. NPG Asia Mater 7:1–9

Joseph AM, Ladha JS, Mojamdar M, Mitra D (2003) Human immunodefficiency virus-1 Nef protein interacts with Tat andenhances HIV-1 gene expression. FEBS Lett 548:37–42

Kienzle N, Bachmann M, Müller WEG, Müller-Lantzsch N (1992) Expression and cellular localization of the Nef protein from human immunodeficiency virus-1 in stably transfected B-cells. Arch Virol 124:123–132

Kim JH, Lee SH, Sohn HJ, Lee J, Chwae YJ, Park S, Kim K, Shin HJ (2012) The immune response induced by DNA vaccine expressing nfa1 gene against Naegleria fowleri. Parasitol Res 111:2377–2384

Kurzawa L, Pellerano M, Morris MC (2010) PEP and CADY-mediated delivery of fluorescent peptides and proteins into living cells. Biochim Biophys Acta 1798:2274–2285

Ma J, Xu J, Guan L, Hu T, Liu Q, Xiao J, Zhang Y (2014) Cell-penetrating peptides mediated protein cross-membrane delivery and its use in bacterial vector vaccine. Fish Shellfish Immunol 39:8–16

Machida CA (2003) Viral vectors for gene therapy: methods and protocols. Humana, Totowa

Morris MC, Depollier J, Mery J, Heitz F, Divita G (2001) A peptide carrier for the delivery of biologically active proteins into mammalian cells. Nat Biotechnol 19:1173–1178

Morris MC, Deshayes S, Heitz F, Divita G (2008) Cell-penetrating peptides: from molecular mechanisms to therapeutics. Biol Cell 100:201–217

Munoz-Morris MA, Heitz F, Divita G, Morris MC (2007) The peptide carrier Pep-1 forms biologically efficient nanoparticle complexes. Biochem Biophys Res Commun 355:877–882

Pratt RL, Kinch MS (2002) Activation of the EphA2 tyrosine kinase stimulates the MAP/ERK kinase signaling cascade. Oncogene 21:7690–7699

Simpson RJ (2007) Zinc/Imidazole procedure for visualization of proteins in gels by negative staining. CSH protocols 4:pdb-prot4701

Tahtinen M, Strengell M, Collings A, Pitkanen J, Kjerrstrom A, Hakkarainen K, Peterson P, Kohleisen B, Wahren B, Ranki A, Ustav M, Krohn K (2001) DNA vaccination in mice using HIV-1 nef, rev and tat genes inself-replicating pBN-vector. Vaccine 19:2039–2047

Thomas P, Smart TG (2005) HEK293 cell line: a vehicle for the expression of recombinant proteins. J Pharm Toxicol Method 51:187–200

Wu Y, Wood MD, Yi T, Katagiri F (2002) Direct delivery of bacterial a virulence proteins into resistant Arabidopsis protoplasts leads to hypersensitive cell death. Plant J 33:130–137

Wu Y, Xie G, Xu Y, Ma L, Tong C, Fan D, Du F, Yu H (2015) PEP-1-MsrA ameliorates inflammation and reduces atherosclerosis in apolipoprotein E deficient mice. J Transl Med 13:1–13

Zuniga R, Lucchetti A, Galvan P, Sanchez S, Sanchez C, Hernandez A, Sanchez H, Frahm N, Linde CH, Hewitt HS, Hildebrand W, Altfeld M, Allen TM, Walker BD, Korber BT, Leitner T, Sanchez J, Brander C (2006) Relative dominance of Gag p24-specific cyto toxic T lymphocytes is associated with human immunodeficiency virus control. J Virol 80:3122–3125
Ethics declarations
Conflict of interest
The authors confirm that this article content has no conflicts of interest.
About this article
Cite this article
Jafarzade, B.S., Bolhassani, A., Sadat, S.M. et al. Delivery of HIV-1 Nef Protein in Mammalian Cells Using Cell Penetrating Peptides as a Candidate Therapeutic Vaccine. Int J Pept Res Ther 23, 145–153 (2017) doi:10.1007/s10989-016-9547-3
Accepted:

Published:

Issue Date:
Keywords
HIV-1

Nef

Cell penetrating peptide

Transfection

In vitro gene expression

Eukaryotic and prokaryotic expression systems