Abstract
Context
Conservation corridors must facilitate long-distance dispersal movements to promote gene flow, prevent inbreeding, and allow animals to shift ranges with climate change. Least-cost models are used to identify areas that support long-distance movement. These models rely on estimates of landscape resistance, which are typically derived from habitat suitability.
Objectives
We examine two key steps in estimating resistance from habitat suitability: choosing a procedure to estimate habitat suitability, and choosing a transformation function to translate habitat suitability into resistance.
Methods
We used linear and nonlinear functions to convert three types of habitat suitability estimates (from expert opinion, resource selection functions, and step selection functions) into resistances for elk (Cervus canadensis) and desert bighorn sheep (Ovis canadensis nelsoni). We evaluated the resulting resistance maps on an independent set of observed long-distance, prospecting movements.
Results
A negative exponential function best described the relationship between resistance values and habitat suitability for desert bighorn sheep indicating long-distance movers readily travel through moderately-suitable areas and avoid only the least suitable habitat. For desert bighorn sheep, all three suitability estimates performed better than chance, and resource and step selection functions outperformed expert opinion. For elk, all three suitability estimates performed the same as chance.
Conclusions
When designing corridors to facilitate long-distance movements of mobile animals, we recommend transforming habitat suitability into resistance with a negative exponential function. Use of an exponential transformation means that larger fractions of the landscape offer low resistance, allowing greater flexibility in where a corridor is located.
This is a preview of subscription content, log in to check access.
Access options
Buy single article
Instant unlimited access to the full article PDF.
US$ 39.95
Price includes VAT for USA
Subscribe to journal
Immediate online access to all issues from 2019. Subscription will auto renew annually.
US$ 99
This is the net price. Taxes to be calculated in checkout.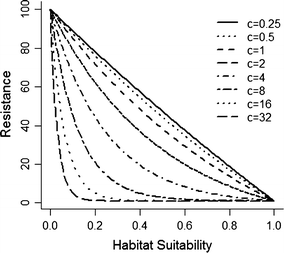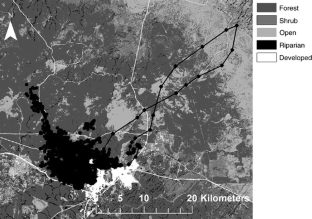 References
Adriaensen F, Chardon JP, deBlust G, Swinnen E, Villalba S, Gulinck H, Matthysen E (2003) The application of 'least-cost' modeling as a functional landscape model. Landsc Urban Plan 64:233–247

Adriaensen F, Githiru M, Mwang'ombe J, Matthysen E, Lens L (2007) Restoration and increase of connectivity among fragmented forest patches in the Taita Hills, Southeast Kenya. Part II technical report, CEPF project 1095347968, University of Gent, Gent

Agresti A (2002) Categorical data analysis, 2nd edn. Wiley, Hoboken

Alderman JA, Krausman PR, Leopold BD (1989) Diel activity of female desert bighorn sheep in western Arizona. J Wildl Manag 53:264–271

Baguette M, Blanchet S, Legrand D, Stevens VM, Turlure C (2013) Individual dispersal, landscape connectivity and ecological networks. Biol Rev 88:310–326

Bates D, Maechler M, Bolker B, Walker S (2014) Lme4: linear mixed-effects models using Eigen and S4 (R package version 11-7). http://www.CRANR-projectorg/package=lme4. Accessed 4 Mar 2016

Beck JL, Smith KT, Flinders JT, Clyde CL (2013) Seasonal habitat selection by elk in north central Utah. West N Am Nat 73:442–456

Beier P, Garding E, Majka D (2008b) Arizona Missing Linkages: Bradshaw Mountains to Agua Fria linkage design. Report to Arizona Game and Fish Department, School of Forestry, Northern Arizona University

Beier P, Majka DR (2006) Arizona Missing Linkages: US-93: Wickenburg to Santa Maria River linkage design. Report to Arizona Game and Fish Department, School of Forestry, Northern Arizona University

Beier P, Majka DR, Newell SL (2009) Uncertainty analysis of least−cost modeling for designing wildlife linkages. Ecol Appl 19:2067–2077

Beier P, Majka DR, Spencer WD (2008a) Forks in the road: choices in procedures for designing wildland linkages. Conserv Biol 22:836–851

Beier P, Penrod KL, Luke C, Spencer W, Cabañero C (2006) South Coast Missing Linkages: restoring connectivity to wildlands in the largest metropolitan area in the USA. In: Crooks K, Sanjayan M (eds) Connectivity conservation. Cambridge University Press, New York, pp 55–586

Beier P, Spencer WD, Baldwin R, McRae B (2011) Best science practices for regional connectivity mapping. Conserv Biol 25:879–892

Booth GD, Niccolucci MJ, Schuster EG (1994) Identifying proxy sets in multiple linear regression: an aid to better coefficient interpretation. Research paper, US Department of Agriculture, Forest Service

Bowne DR, Peles JD, Barrett GW (1999) Effects of landscape spatial structure on movement patterns of the hispid cotton rat (Sigmodon hispidus). Landscape Ecol 14:53–65

Boyce MS, Mao JS, Merrill EH, Fortin D, Turner MG, Fryxell J, Turchin P (2003) Scale and heterogeneity in habitat selection by elk in Yellowstone National Park. Ecoscience 10:421–431

Bristow K, Crabb M (2008) Evaluation of distribution and trans-highway movement of Desert Bighorn Sheep: Arizona Highway 68, Arizona, USA. Final Report 588 (2005–2008). Arizona Department of Transportation Research Center, Phoenix

Burnham KP, Anderson DR (2002) Model selection and multimodel inference: a practical information-theoretic approach. Springer, New York

Calcagno V, de Mazancourt C (2010) glmulti: an R package for easy automated model selection with (generalized) linear models. J Stat Software 34:1–29

Calenge C (2006) The package adehabitat for the R software: a tool for the analysis of space and habitat use by animals. Ecol Model 197:516–519

Castillo JA, Epps CW, Davis AR, Cushman SA (2014) Landscape effects on gene flow for a climate-sensitive montane species, the American pika. Mol Ecol 23:843–856

Charney ND (2012) Evaluating expert opinion and spatial scale in an amphibian model. Ecol Model 242:37–45

Coe PK, Johnson BK, Wisdom MJ, Cook JG, Vavra M, Nielson RM (2011) Validation of elk resource selection models with spatially independent data. J Wildl Manag 75:159–170

Compton BW, Rhymer JM, McCollough M (2002) Habitat selection by wood turtles (Clemmys insculpta): an application of paired logistic regression. Ecology 83:833–843

Creel S, Winnie J Jr, Maxwell B, Hamlin K, Creel M (2005) Elk alter habitat selection as an antipredator response to wolves. Ecology 86:3387–3397

Cushman SA, Chase M, Griffin C (2010) Mapping landscape resistance to identify corridors and barriers for elephant movement in Southern Africa. In: Cushman SA, Huettmann F (eds) Spatial complexity, informatics, and wildlife conservation. Springer Verlag, Japan, pp 349–367

Cushman SA, Raphael MG, Ruggiero LF, Shirk AS, Wasserman TN, O'Doherty EC (2011) Limiting factors and landscape connectivity: the American marten in the Rocky Mountains. Landscape Ecol 26:1137–1149

Dodd NL, Gagnon JW, Boe S, Ogren K, Schweinsburg RE (2012) Wildlife-vehicle collision mitigation for safer wildlife movement across highways: State Route 260. Final Project Report 603, Arizona Department of Transportation Research Center, Phoenix

Dodd NL, Gagnon JW, Boe S, Schweinsburg RE (2006) Characteristics of elk—vehicle collisions and comparison to GPS-determined highway crossing patterns. In: Proceedings of the 2005 international conference on ecology and transportation, North Carolina State University, Raleigh, pp 461–477, 29 Aug–2 Sept 2005

Dodd NL, Gagnon JW, Sprague S, Boe S, Schweinsburg RE (2012) Wildlife accident reduction study and monitoring: Arizona State Route 64. Final Project Report 626, Arizona Department of Transportation Research Center, Phoenix

Dormann CF, Elith J, Bacher S, Buchmann C, Carl G, Carré G, Marquéz JR, Gruber B, Lafourcade B, Leitão PJ, Münkemüller T (2013) Collinearity: a review of methods to deal with it and a simulation study evaluating their performance. Ecography 36:27–46

Elliot NB, Cushman SA, Macdonald DW, Loveridge AJ (2014) The devil is in the dispersers: predictions of landscape connectivity change with demography. J Appl Ecol 51:1169–1178

ESRI (2011) ArcGIS desktop: release 10. Environmental Systems Research Institute, Redlands

Ferreras P (2001) Landscape structure and asymmetrical inter-patch connectivity in a metapopulation of the endangered Iberian lynx. Biol Conserv 100:125–136

Fortin D, Morales JM, Boyce MS (2005) Elk winter foraging at fine scale in Yellowstone National Park. Oecologia 145:334–342

Gagnon JW, Dodd NL, Sprague S, Loberger C, Boe S, Schweinsburg RE (2011) Evaluation of measures to promote desert bighorn sheep highway permeability: US Highway 93. Final Project Report 677, Arizona Department of Transportation Research Center, Phoenix

Gagnon JW, Dodd NL, Sprague S, Nelson RE, Loberger C, Boe S, Schweinsburg, RE (2013) Elk movements associated with a high-traffic highway: Interstate 17. Final Project Report 647, Arizona Department of Transportation Research Center, Phoenix

Gagnon JW, Sprague S, Dodd NL, Loberger C, Nelson RE, Boe S, Schweinsburg RE (2012) Research report on elk movements associated with Interstate 40. Design concept study and environmental assessment. I-40, NH 040-C(211)S40 CN 183 H7586 01L, Arizona Game and Fish Department

Gastón A, Blázquez-Cabrera S, Garrote G, Mateo-Sánchez MC, Beier P, Simón MA, Saura S (2016) Response to agriculture by a woodland species depends on cover type and behavioural state: insights from resident and dispersing Iberian lynx. J Appl Ecol. doi:10.1111/1365-2664.12629

Green RA, Bear GD (1990) Seasonal cycles and daily activity patterns of Rocky Mountain elk. J Wildl Manag 54:272–279

Haddad NM, Tewksbury JJ (2005) Low-quality habitat corridors as movement conduits for two butterfly species. Ecol Appl 15:250–257

Hilty JA, Lidicker WZ Jr, Merenlender A (2012) Corridor ecology: the science and practice of linking landscapes for biodiversity conservation. Island Press, Washington, D.C.

Hoctor TS, Carr MH, Zwick PD (2000) Identifying a linked reserve system using a regional landscape approach: the Florida Ecological Network. Conserv Biol 14:984–1000

Hoglander CJ (2012) Developed waters for wildlife conservation: collaborative approaches and landscape models for desert bighorn sheep (Ovis canadensis mexicana) conservation. Thesis, Northern Arizona University

Hunter RD, Fisher RN, Crooks KR (2003) Landscape level connectivity in coastal southern California USA as assessed through carnivore habitat suitability. Nat Area J 23:302–314

Jenness J (2013) DEM surface tools. Jenness Enterprises, Flagstaff

Johnson BK, Kern JW, Wisdom MJ, Findholt SL, Kie JG (2000) Resource selection and spatial separation of mule deer and elk during spring. J Wildl Manag 64:685–697

Keeley ATK (2015) Comparing estimates of landscape resistance to animal movement. Dissertation, Northern Arizona University

Kuznetsova A, Brockhoff PB, Christensen RHB (2015) lmerTest: tests in linear mixed effects models (R package version 20-25). http://www.CRANR-projectorg/package=lmerTest. Accessed 4 Mar 2016

LANDFIRE (2008) Existing vegetation type layer. US Department of the Interior, Geological Survey. www.landfire.gov. Accessed 4 Mar 2016

Larkin JL, Maehr DS, Hoctor TS, Orlando MA, Whitney K (2004) Landscape linkages and conservation planning for the black bear in west-central Florida. Anim Conserv 7:23–34

Lewis JS, Rachlow JL, Garton EO, Vierling LA (2007) Effects of habitat on GPS collar performance: using data screening to reduce location error. J Appl Ecol 44:663–671

Manly BFJ, McDonald LL, Thomas DL, McDonald TL, Erickson WP (2002) Resource selection by animals: statistical analysis and design for field studies. Kluwer, Dordrecht

Mao JS, Boyce MS, Smith DW, Singer FJ, Vales DJ, Vore JM, Merrill EH (2005) Habitat selection by elk before and after wolf reintroduction in Yellowstone National Park. J Wildl Manag 69:1691–1707

Mateo-Sánchez MC, Balkenhol N, Cushman S, Pérez T, Domínguez A, Saura S (2015) A comparative framework to infer landscape effects on population genetic structure: are habitat suitability models effective in explaining gene flow? Landscape Ecol 30:1405–1420

McClure-Rainey M (2012) Validating alternative methods of modeling wildlife corridors using relocation data from migrating elk and dispersing wolverines. Dissertation, Montana State University

McKinney T, Smith T (2007) US93 Bighorn Sheep Study: distribution and trans-highway movements of desert bighorn sheep in Northwestern Arizona. Final Report 576, Arizona Game and Fish Department

Petersburg ML, Alldredge AW, de Vergie WJ (2000) Emigration and survival of 2-year-old male elk in northwestern Colorado. Wildl Soc Bull 28:708–716

Poor EE, Loucks C, Jakes A, Urban DL (2012) Comparing habitat suitability and connectivity modeling methods for conserving pronghorn migrations. PLoS ONE 7:e49390

Pullinger MG, Johnson CJ (2010) Maintaining or restoring connectivity of modified landscapes: evaluating the least-cost path model with multiple sources of ecological information. Landscape Ecol 25:1547–1560

R Core Team (2014) R: a language and environment for statistical computing. R Foundation for Statistical Computing, Vienna. http://www.R-project.org/. Accessed 4 Mar 2016

Rettie WJ, McLoughlin PD (1999) Overcoming radio telemetry bias is habitat-selection studies. Can J Zool 77:1175–1184

Ribatet M (2012) Generalized Pareto distribution and peaks over threshold (R package). http://cran.r-project.org/web/packages/POT/index.html. Accessed 15 Apr 2014

Richards-Zawacki CL (2009) Effects of slope and riparian habitat connectivity on gene flow in an endangered Panamanian frog, Atelopus varius. Divers Distrib 15:796–806

Sappington J, Longshore KM, Thompson DB (2007) Quantifying landscape ruggedness for animal habitat analysis: a case study using bighorn sheep in the Mojave Desert. J Wildl Manag 71:1419–1426

Sawyer SC, Epps CW, Brashares JS (2011) Placing linkages among fragmented habitats: do least-cost models reflect how animals use landscapes? J Appl Ecol 48:668–678

Selonen V, Hanski IK (2006) Habitat exploration and use in dispersing juvenile flying squirrels. J Anim Ecol 75:1440–1449

Seoane J, Bustamante J, Díaz-Delgado R (2005) Effect of expert opinion on the predictive ability of environmental models of bird distribution. Conserv Biol 19:512–522

Shirk AJ, Wallin DO, Cushman SA, Rice CG, Warheit KI (2010) Inferring landscape effects on gene flow: a new model selection framework. Mol Ecol 19:3603–3619

Singleton PH, Gaines WL, Lehmkuhl JF (2002) Landscape permeability for large carnivores in Washington: a geographic information system weighted-distance and least-cost corridor assessment. Research Paper PNW-RP-549 US Forest Service Pacific Northwest Research Station, Portland

Spear SF, Balkenhol N, Fortin MJ, McRae BH, Scribner K (2010) Use of resistance surfaces for landscape genetic studies: considerations for parameterization and analysis. Mol Ecol 19:3576–3591

Stamps JA (2001) Habitat selection by dispersers: integrating proximate and ultimate approaches. In: Clobert J, Danchin E, Dhondt AA (eds) Dispersal. Oxford University Press, Oxford, pp 230–242

Stamps JA, Krishnan VV (1999) A learning-based model of territory establishment. Q Rev Biol 74:291–318

Trainor AM, Walters JR, Morris WF, Sexton J, Moody A (2013) Empirical estimation of dispersal resistance surfaces: a case study with red-cockaded woodpeckers. Landscape Ecol 28:755–767

Trakhtenbrot A, Nathan R, Perry G, Richardson DM (2005) The importance of long-distance dispersal in biodiversity conservation. Divers Distrib 11:173–181

Turner JC, Douglas CL, Hallum CR, Krausman PR, Ramey RR (2004) Determination of critical habitat for the endangered Nelson's bighorn sheep in southern California. Wildl Soc Bull 32:427–448

Van Deelen TR, McKinney LB, Joselyn MG, Buhnerkempe JE (1997) Can we restore elk to southern Illinois? The use of existing digital land-cover data to evaluate potential habitat. Wildl Soc Bull 25:886–894

Van Etten J (2014) gdistance: distances and routes on geographical grids (R package version 1.1-5). http://CRAN.R-project.org/package=gdistance. Accessed 4 Mar 2016

Wait S, McNally H (2004) Selection of habitats by wintering elk in a rapidly subdividing area of La Plata County. In: Shaw WW, Harris LK, Vandruff L (eds) Proceedings of the fourth international symposium on urban wildlife conservation, Tucson, 2004

Walker R, Craighead L (1997) Analyzing wildlife movement corridors in Montana using GIS. In: Proceedings of the 1997 international ESRI users conference, Environmental Sciences Research Institute, San Diego, 7–11 July 1997

Wallace MC, Krausman PR (1997) Movements and home-ranges of elk in eastern Arizona. In: deVos JC Jr (ed) Proceedings of the 1997 deer/elk workshop, Rio Rico, 1997

Wasserman TN, Cushman SA, Schwartz MK, Wallin DO (2010) Spatial scaling and multi-model inference in landscape genetics: Martes americana in northern Idaho. Landscape Ecol 25:1601–1612

Wikramanayake E, McKnight M, Dinerstein E, Joshi A, Gurung B, Smith D (2004) Designing a conservation landscape for tigers in human-dominated ecosystems. Conserv Biol 18:839–844

Wood AK (1989) Comparative distribution and habitat use by antelope and mule deer. J Mammal 70:335–340

Zeller KA, McGarigal K, Beier P, Cushman SA, Vickers TW, Boyce WM (2014) Sensitivity of landscape resistance estimates based on point selection functions to scale and behavioral state: pumas as a case study. Landscape Ecol 29:541–557

Zeller KA, McGarigal K, Cushman SA, Beier P, Vickers TW, Boyce WM (2015) Using step and path selection functions for estimating resistance to movement: pumas as a case study. Landscape Ecol. doi:10.1007/s10980-015-0301-6

Zeller KA, McGarigal K, Whiteley AR (2012) Estimating landscape resistance to movement: a review. Landscape Ecol 27:777–797
Acknowledgments
We thank Ester Rubin, AZGFD, for arranging use of data, Christopher Coffey for computer cluster support, Jeff Jenness for ArcGIS support, and Kathy Zeller for advice on the analyses. NAU School of Forestry, McIntire-Stennis Cooperative Forestry Research Program, Arizona Board of Forestry, and the Hafen, Krimminger, Prather, Czak, Berry, and Forestry Faculty scholarships at Northern Arizona University supported A.T.H.K. during this work. Sam Cushman, Carol Chambers, and two anonymous reviewers helped to significantly improve the manuscript. Ungulate data were collected by AZGFD with funding from Wildlife Restoration Act, Special Big Game License Tag Funds raised by the Arizona Desert Bighorn Sheep Society, Arizona Elk Society, Rocky Mountain Elk Foundation, Arizona Antelope Foundation, and Arizona Big Game Super Raffle.
Electronic supplementary material
Below is the link to the electronic supplementary material.
About this article
Cite this article
Keeley, A.T.H., Beier, P. & Gagnon, J.W. Estimating landscape resistance from habitat suitability: effects of data source and nonlinearities. Landscape Ecol 31, 2151–2162 (2016). https://doi.org/10.1007/s10980-016-0387-5
Received:

Accepted:

Published:

Issue Date:
Keywords
Cervus canadensis

Desert bighorn sheep

Elk

Expert opinion

Exploratory movements

Least-cost models

Ovis canadensis

Resource selection function

Step selection function

Wildlife corridors