Habitat fragmentation and biodiversity conservation: key findings and future challenges
Habitat loss and fragmentation has long been considered the primary cause for biodiversity loss and ecosystem degradation worldwide, and is a key research topic in landscape ecology (Wu 2013). Habitat fragmentation often refers to the reduction of continuous tracts of habitat to smaller, spatially distinct remnant patches, and habitat loss typically occurs concurrently with habitat fragmentation (Collinge 2009). Although some habitats are naturally patchy in terms of abiotic and biotic conditions (Wu and Loucks 1995), human actions have profoundly fragmented landscapes across the word (Haddad et al. 2015), altering the quality and connectivity of habitats. Therefore, understanding the causes and consequences of habitat fragmentation is critical to preserving biodiversity and ecosystem functioning.
From May 4th to 10th, 2015, an International Workshop on Habitat Fragmentation and Biodiversity Conservation, held at the Thousand Island Lake, Zhejiang, China, discussed threats to biodiversity in fragmented landscapes and how fragmentation research can identify and help mitigate these threats. To meet these challenges, the Workshop had three goals. The first was to synthesize key findings in fragmentation science. Second was to identify important remaining research questions concerning the relationships between habitat fragmentation, biodiversity, and ecosystem functioning at local, regional, and global scales. Finally, we examined the unique roles of field-based fragmentation experiments in addressing these questions. The Workshop's findings are relevant to the broader ecological community, and we present them here to stimulate research that will advance landscape ecology and conservation biology.
Key findings concerning habitat loss and fragmentation
Remaining questions and challenges
Despite the progress made in formalizing fragmentation science, significant questions remain.
Local community-level dynamics
The role of fragmentation experiments
Field-based fragmentation experiments are critical in expanding our understanding of habitat fragmentation. Ranging in spatial scale from 2 × 10
−7
ha to 100 ha, the most commonly recognized fragmentation experiments cover a broad range of ecological communities (Fig. 
1
; Haddad et al.
2015
). In contrast to observational studies, these projects have careful, a priori, experimental designs with significant levels of replication and known initial conditions, allowing for powerful inferences. Few however approach the scale at which contemporary land management and conservation planning must address fragmentation.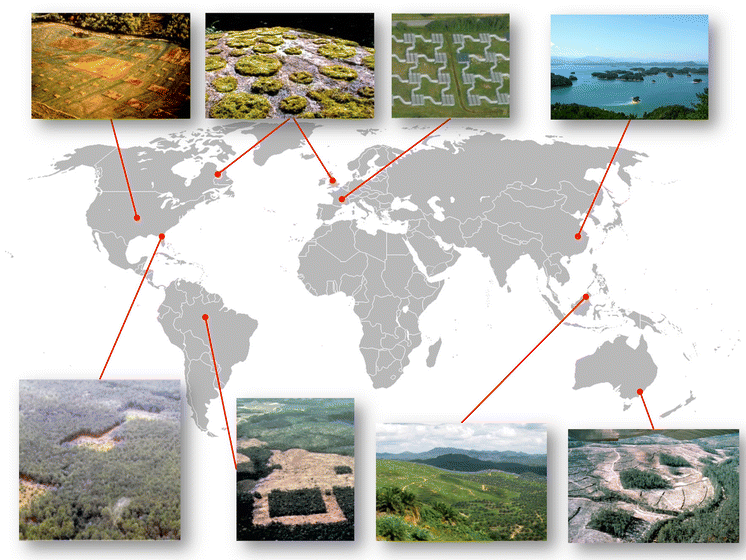 One challenge is to bridge the gap between scales feasible for direct experimental manipulation, and larger scales which are the domain of conservation, restoration, and management. Large-scale infrastructure projects can at times provide inadvertent, unplanned experiments which can be utilized to fill this gap in scales. For example, in Venezuela, Professor John Terborgh creatively utilized the creation of Lago Guri, a large (>4000 km2) man-made hydroelectric lake dotted with hundreds of forested islands, to demonstrate the dramatic importance of trophic cascades in tropical forest (Terborgh et al. 2001). Unfortunately, the draining of the lake destroyed the integrity of the study, and combined with political uncertainties, research there is not ongoing.
Another promising large-scale, unplanned experiment, comparable in some ways to Lago Guri, which can fill the gap between standard fragmentation experiments and large spatial scales is the ongoing project at Thousand Island Lake (TIL). Formed in 1959 TIL is a large, man-made lake in Chun'an County of Zhejiang Province, China. TIL has total water surface of approximately 580 km2 and 1078 land-bridge islands when the maximum water level (108 m.a.s.l.) (Figure 1; Wang et al. 2009). During dam construction, primary forests in the region were selectively or clear-cut with organized logging during the "Great Leap Forward." This resulted in near complete deforestation before the lake's inundation. Airplanes then sowed native pines, possibly affecting soil pH or causing allelopathy that could have lasting effects on regional biotas. This region is now protected as one of the largest national parks in China. The majority of the islands (erstwhile hilltops) have not experienced significant human disturbance since 1962. In concert, these reasonably consistent initial conditions combined with a history of ecological monitoring and the opportunity for very high levels of replication, allow the TIL system to avoid many of the pitfalls that plague other "natural" fragmentation experiments. This history also ensures that TIL will combine aspects of relaxing and assembling ecosystems, in that the original understory community was not directly removed, and the removal of trees would set into motion successional dynamics as recolonization occurs from external seed sources.
Studies at TIL have already provided the building blocks necessary to answer many of the questions proposed above, providing insights into the recovery patterns of avian, mammalian, reptilian, and plant communities in fragmented landscapes. A suite of studies, focusing on both plant and animal communities, have shown that island area plays the dominant role in controlling community recovery on TIL's islands. On the species and gene levels, plant, bird, snake, and small mammal communities have clear relationships with island area, but not island isolation (Wang et al. 2010, 2011, 2012b; Hu et al. 2011; Zhang et al. 2012; Ding et al. 2013; Si et al. 2014, 2015a; Su et al. 2014; Yuan et al. 2015). There are some notable exceptions to the trend of area effects dominating isolation effects (e.g., Wang et al. 2012a; Yu et al. 2012; Peng et al. 2014). That said, when taken as a whole these results suggest that patch area may be a more significant factor in community assembly than patch isolation in this system. Ongoing research is underway to dissect the specific mechanisms by which this process occurs (e.g., Hu et al. 2015; Si et al. 2015b).
The opportunity for comparison between TIL to other large scale fragmentation experiments is promising. Because the communities of TIL are primarily assembling, direct comparisons to other assembling communities such as the Kansas Fragmentation Experiment (e.g., Cook et al. 2005) could provide insights into whether successional processes in fragmented landscapes are consistent across biomes. Used together, systems in which matrix quality remains constant can compare to large-scale experiments in which matrix quality varies, such as the Biological Dynamics of Forest Fragments Project (e.g., Laurance et al. 2011), to address questions concerning edge contrast. Naturally, there are many other opportunities for comparison. We expect the TIL project to play a critical role in fragmentation research over the coming decades, while also proving a platform for international collaborations.
Fragmentation studies in the past have enabled us to understand a wide range of effects of habitat loss and fragmentation on biodiversity and ecological processes, but fundamental questions remain. These questions span spatial, temporal, and organizational scales, and they necessitate new approaches and techniques. With a focus on identifying ecologically relevant drivers, we are confident that answering these questions will provide scientists and practitioners with the scientific basis and tools necessary to promote biodiversity and landscape sustainability.
Notes
Acknowledgments
The workshop was funded by the Zhejiang Association for Science and Technology, the Ecological Society of Zhejiang Province, the Botanical Society of Zhejiang Province, the People's Government of Chun'an County, the Thousand Island Lake National Forest Park of Zhejiang and the National Natural Science Foundation of China (Grant Number 31210103908). National Natural Science Foundation of China (Grant Numbers 31210103908, 31361123001 and 31200413) and the US National Science Foundation (Grant Numbers DEB-1342754 and DEB-1342757) have also supported the projects in the Thousand Island Lake.
Copyright information
© Springer Science+Business Media Dordrecht 2015