Abstract
Land cover and land use changes can have a wide variety of ecological effects, including significant impacts on soils and water quality. In rural areas, even subtle changes in farming practices can affect landscape features and functions, and consequently the environment. Fine-scale analyses have to be performed to better understand the land cover change processes. At the same time, models of land cover change have to be developed in order to anticipate where changes are more likely to occur next. Such predictive information is essential to propose and implement sustainable and efficient environmental policies. Future landscape studies can provide a framework to forecast how land use and land cover changes is likely to react differently to subtle changes. This paper proposes a four step framework to forecast landscape futures at fine scales by coupling scenarios and landscape modelling approaches. This methodology has been tested on two contrasting agricultural landscapes located in the United States and France, to identify possible landscape changes based on forecasting and backcasting agriculture intensification scenarios. Both examples demonstrate that relatively subtle land cover and land use changes can have a large impact on future landscapes. Results highlight how such subtle changes have to be considered in term of quantity, location, and frequency of land use and land cover to appropriately assess environmental impacts on water pollution (France) and soil erosion (US). The results highlight opportunities for improvements in landscape modelling.
This is a preview of subscription content, log in to check access.
Access options
Buy single article
Instant unlimited access to the full article PDF.
US$ 39.95
Price includes VAT for USA
Subscribe to journal
Immediate online access to all issues from 2019. Subscription will auto renew annually.
US$ 99
This is the net price. Taxes to be calculated in checkout.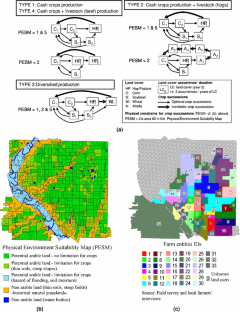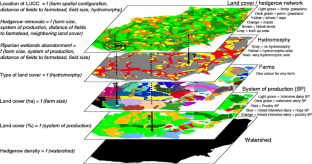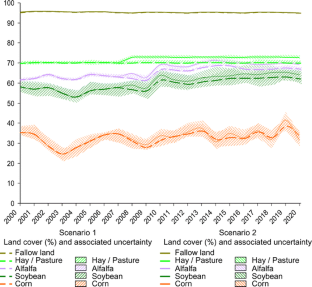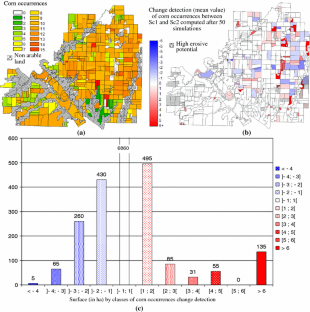 References
Agarwal C, Green GM, Grove JM, Evans TP, Schweik CM (2002) A review and assessment of land-use change models: dynamics of space, time and human choice. USDA Forest Service, Gen. Tech. Rep. NE-297. Available from http://nrs.fs.fed.us/pubs/gtr/gtr_ne297.pdf. Accessed Feb 2009

Alcamo J (2001) Scenarios as tools for international environmental assessments. Experts' corner report Prospects and Scenarios No 5. Copenhagen, European Environment Agency: 31

Bain D, Roubelat F (1994) Profutures—the birth of the strategic prospective and futures studies international network for applied methodology. Futures 26:345–349. doi:10.1016/0016-3287(94)90020-5

Baudry J, Thenail C (2004) Interaction between farming systems, riparian zones, and landscape patterns: a case study in western France. Landsc Urban Plan 67:121–129. doi:10.1016/S0169-2046(03)00033-1

Berg R, Stevens R, Jurgensen B, Williamson G, Wiebesiek A (2002) Tillage and crop rotations for southeast South Dakota. SDSU, Coll. of Agric. & Biol. Sc. —Plant Science Dept. Available from http://plantsci.sdstate.edu/Farm%20Reports/Beresford%202002/SERF0201.pdf. Accessed Feb 2009

Borjeson L, Hojer M, Dreborg KH, Ekvall T, Finnveden G (2006) Scenario types and techniques: towards a user's guide. Futures 38:723–739. doi:10.1016/j.futures.2005.12.002

Bousquet F, Le Page C (2004) Multi-agent simulations and ecosystem management: a review. Ecol Modell 176:313–332. doi:10.1016/j.ecolmodel.2004.01.011

Burgi M, Hersperger AM, Schneeberger N (2004) Driving forces of landscape change—current and new directions. Landscape Ecol 19:857–868. doi:10.1007/s10980-004-0245-8

Butler SJ, Vickery JA, Norris K (2007) Farmland biodiversity and the footprint of agriculture. Science 315:381–384. doi:10.1126/science.1136607

Castella J, Verburg P (2007) Combination of process-oriented and pattern-oriented models of land-use change in a mountain area of Vietnam. Ecol Modell 202:410–420. doi:10.1016/j.ecolmodel.2006.11.011

Castella JC, Kam SP, Quang DD, Verburg P, Hoanh CT (2007) Combining top-down and bottom-up modelling approaches of land use/cover change to support public policies: application to sustainable management of natural resources in northern Vietnam. Land use policy 24:531–545. doi:10.1016/j.landusepol.2005.09.009

de Nijs TCM, de Niet R, Crommentuijn L (2004) Constructing land-use maps of the Netherlands in 2030. J Environ Manage 72:35–42. doi:10.1016/j.jenvman.2004.03.015

Encyclopedia of Earth (2007) Land-use and land-cover change. Washington DC. Available from http://www.eoearth.org/article/Land-use_and_land-cover_change. Accessed Feb 2009

Franklin JF (1993) Preserving biodiversity—species, ecosystems, or landscapes. Ecol Appl 3:202–205. doi:10.2307/1941820

Gaucherel C, Giboire N, Viaud V, Houet T, Baudry J, Burel F (2006) A domain-specific language for patchy landscape modelling: the Brittany agricultural mosaic as a case study. Ecol Modell 194:233–243. doi:10.1016/j.ecolmodel.2005.10.026

Geoghegan J, Pritchard L, Ogneva-Himmelberger Y, Roy Chowdhury R, Sanderson S, Turner BLII (1998) Socializing the pixel and pixelizing the social in land-use/cover change. In: Committee on Human Dimension of Global Environmental Change (ed) Linking remote sensing and social science. National Research Council, Washington DC, pp 51–69

GLP (2005) Global land project science plan and implementation strategy. IGBP Report No. 53/IHDP Report No. 19. IGBP Secretariat, Stockholm. Available from http://www.globallandproject.org/Documents/report_53.pdf. Accessed Feb 2009

Godet M (1986) Introduction to la prospective: seven key ideas and one scenario method. Futures 18:134–157. doi:10.1016/0016-3287(86)90094-7

Godet M, Roubelat F (1996) Creating the future: the use and misuse of scenarios. Long Range Plann 29:164–171. doi:10.1016/0024-6301(96)00004-0

Gordon LJ, Peterson GD, Bennett EM (2008) Agricultural modifications of hydrological flows create ecological surprises. Trends Ecol Evol 23:211–219. doi:10.1016/j.tree.2007.11.011

Greeuw S, van Asselt M, Grosskurth J, Storms C, Rijkens-Klomp N, Rothmans D, Rotmas J (2000) Cloudy crystal balls, an assessment of recent European and global scenario studies and models. Environmental issues series, 17, European Environment Agency, Luxembourg

Hobbs R (1997) Future landscapes and the future of landscape ecology. Landsc Urban Plan 37:1–9. doi:10.1016/S0169-2046(96)00364-7

Houet T, Gaucherel C (2007) Simulation dynamique et spatialement explicite d'un paysage agricole bocager: validation sur un petit bassin versant breton sur la période 1981–1998. Rev Int Geomatique 17:489–516

Houet T, Hubert-Moy L (2006) Modelling and projecting land-use and land-cover changes with a cellular automaton in considering landscape trajectories: an improvement for simulation of plausible future states. EARSeL eProceedings 5:63–76

Houet T, Hubert-Moy L, Tissot C (2008) Modélisation prospective spatialisée à l'échelle locale: approche méthodologique. Rev Int Geomatique 18:345–373

Houghton RA, Hackler JL, Lawrence KT (1999) The US carbon budget: contributions from land-use change. Science 285:574–578. doi:10.1126/science.285.5427.574

IPCC (2000) Special report on emissions scenarios. Cambridge University press, Cambridge, p 27

Kahn H, Wiener A (1967) The year 2000. Macmillan, New York

Kok K, Verburg P, Veldkamp T (2007) Integrated assessment of the land system: the future of land use. Land use policy 24:517–520. doi:10.1016/j.landusepol.2006.04.007

Kristensen SP, Thenail C, Kristensen L (2001) Farmers' involvement in landscape activities: an analysis of the relationship between farm location, farm characteristics and landscape changes in two study areas in Jutland, Denmark. J Environ Manage 61:301–318. doi:10.1006/jema.2000.0409

Lambin E, Geist H (eds) (2006) Land-use and land-cover change: local processes and global impacts. The IGBP series. Springer-Verlag, Berlin

Lambin EF, Baulies X, Bockstael N, Fischer G, Krug T, Leemans R, Moran EF, Rindfuss RR, Sato Y, Skole D, Turner BL, Vogel C (1999) Land-use and land-cover change (LUCC): implementation strategy. IGBP, Stockholm/Bonn

Lambin EF, Turner BL, Geist HJ, Agbola SB, Angelsen A, Bruce JW, Coomes OT, Dirzo R, Fischer G, Folke C, George PS, Homewood K, Imbernon J, Leemans R, Li XB, Moran EF, Mortimore M, Ramakrishnan PS, Richards JF, Skanes H, Steffen W, Stone GD, Svedin U, Veldkamp T, Vogel C, Xu JC (2001) The causes of land-use and land-cover change: moving beyond the myths. Glob Environ Change 11:261–269. doi:10.1016/S0959-3780(01)00007-3

Langlois P, Delahaye D (2002) RuiCells, automate cellulaire pour la simulation du ruissellement de surface. Rev Int Geomatique 12:461–487

Loveland TR, Sohl TL, Stehman SV, Gallant AL, Sayler KL, Napton DE (2002) A strategy for estimating the rates of recent United States land-cover changes. Photogramm Eng Remote Sens 68:1091–1099

Marien M (2002) Futures studies in the 21st Century: a reality-based view. Futures 34:261–281. doi:10.1016/S0016-3287(01)00043-X

Maron M, Fitzsimons JA (2007) Agricultural intensification and loss of matrix habitat over 23 years in the West Wimmera, south-eastern Australia. Biol Conserv 135:587–593. doi:10.1016/j.biocon.2006.10.051

Matson PA, Parton WJ, Power AG, Swift MJ (1997) Agricultural intensification and ecosystem properties. Science 277:504–509. doi:10.1126/science.277.5325.504

Maxwell T, Costanza R (1997) An open geographic modelling environment. Simulation 68:175–185. doi:10.1177/003754979706800304

Medley KE, Okey BW, Barrett GW, Lucas MF, Renwick WH (1995) Landscape change with agricultural intensification in a rural watershed, South-western Ohio, USA. Landscape Ecol 10:161–176. doi:10.1007/BF00133029

Mérot P (1999) The influence of hedgerow systems on the hydrology of agricultural catchments in a temperate climate. Agronomie 19:655–669. doi:10.1051/agro:19990801

Mérot P, Hubert-Moy L, Gascuel-Odoux C, Clément B, Durand P, Baudry J, Thenail C (2006) A method for improving the management of controversial wetland. Environ Manag (NY) 37(2):258–270. doi:10.1007/s00267-004-0391-4

Millenium Ecosystems Assessment (2003) Ecosystems and human. Island Press, Washington

Munier B, Birr-Pedersen K, Schou JS (2004) Combined ecological and economic modelling in agricultural land use scenarios. Ecol Modell 174:5–18. doi:10.1016/j.ecolmodel.2003.12.040

Nassauer JI, Corry RC (2004) Using normative scenarios in landscape ecology. Landscape Ecol 19:343–356. doi:10.1023/B:LAND.0000030666.55372.ae

Omernik J (1987) Ecoregions of the conterminous United-States. Ann Assoc Am Geogr 77:118–125. doi:10.1111/j.1467-8306.1987.tb00149.x

Overmars K, Verburg P, Veldkamp T (2007) Comparison of a deductive and an inductive approach to specify land suitability in a spatially explicit land use model. Land use policy 24:584–599. doi:10.1016/j.landusepol.2005.09.008

Paegelow M, Olmedo MTC (2005) Possibilities and limits of prospective GIS land cover modelling—a compared case study: Garrotxes (France) and Alta Alpujarra Granadina (Spain). Int J Geogr Inf Sci 19:697–722. doi:10.1080/13658810500076443

Parker DC, Manson SM, Janssen MA, Hoffmann MJ, Deadman P (2003) Multi-agent systems for the simulation of land-use and land-cover change: a review. Ann Assoc Am Geogr 93:314–337. doi:10.1111/1467-8306.9302004

Sala OE, Chapin FS, Armesto JJ, Berlow E, Bloomfield J, Dirzo R, Huber-Sanwald E, Huenneke LF, Jackson RB, Kinzig A, Leemans R, Lodge DM, Mooney HA, Oesterheld M, Poff NL, Sykes MT, Walker BH, Walker M, Wall DH (2000) Biodiversity—global biodiversity scenarios for the year 2100. Science 287:1770–1774. doi:10.1126/science.287.5459.1770

Santelmann MV, White D, Freemark K, Nassauer JI, Eilers JM, Vache KB, Danielson BJ, Corry RC, Clark ME, Polasky S, Cruse RM, Sifneos J, Rustigian H, Coiner C, Wu J, Debinski D (2004) Assessing alternative futures for agriculture in Iowa, USA. Landscape Ecol 19:357–374. doi:10.1023/B:LAND.0000030459.43445.19

Schulp CJE, Nabuurs GJ, Verburg P (2008) Future carbon sequestration in Europe—effects of land use change. Agric Ecosyst Environ 127:251–264. doi:10.1016/j.agee.2008.04.010

Seppelt R, Voinov A (2002) Optimization methodology for land use patterns using spatially explicit landscape models. Ecol Modell 151:125–142. doi:10.1016/S0304-3800(01)00455-0

Sheppard SRJ (2005) Landscape visualisation and climate change: the potential for influencing perceptions and behaviour. Environ Sci Policy 8:637–654. doi:10.1016/j.envsci.2005.08.002

Sohl TL, Sayler KL, Drummond MA, Loveland TR (2007) The FORE-SCE model: a practical approach for projecting land cover change using scenario-based modelling. J Land Use Sci 2:103–126. doi:10.1080/17474230701218202

Sullivan P, Hellerstein D, Hansen L, Johansson R, Koenig S, Luboswki R, Mcbride W, Mcgranahan D, Roberts M, Vogel S, Bucholtz S (2004) The conservation reserve program: economic implications for rural America. Agricultural Economic Report No AER-834. Available from http://www.ers.usda.gov/publications/aer834/aer834.pdf. Accessed Feb 2009

Tress B, Tress G (2003) Scenario visualisation for participatory landscape planning: a study from Denmark. Landsc Urban Plan 64:161–178. doi:10.1016/S0169-2046(02)00219-0

USDA (1978) Soil survey of Hanson and Hutchison counties (SD), Soil service conservation, Washington DC

USDA (1979) Soil survey of Yankton county (SD), Soil service conservation, Washington DC

USDA (2002) Census of agriculture, Table 8: Farms, Land in farms, Value of land and building and Land Use: 2002 and 1997, pp 262–279

van Notten PWF, Rotmans J, van Asselt MBA, Rothman DS (2003) An updated scenario typology. Futures 35:423–443. doi:10.1016/S0016-3287(02)00090-3

Veldkamp A, Fresco LO (1997) Exploring land use scenarios, an alternative approach based on actual land use. Agric Syst 55:1–17. doi:10.1016/S0308-521X(95)00079-K

Veldkamp A, Lambin EF (2001) Predicting land-use change. Agric Ecosyst Environ 85:1–6. doi:10.1016/S0167-8809(01)00199-2

Veldkamp A, Kok K, De Koning GHJ, Schoorl JM, Sonneveld MPW, Verburg P (2001) Multi-scale system approaches in agronomic research at the landscape level. Soil Tillage Res 58:129–140. doi:10.1016/S0167-1987(00)00163-X

Verburg PH, Schot P, Dijst MJ, Veldkamp A (2004) Land use change modelling: current practice and research priorities. GeoJournal 61(4):309–324. doi:10.1007/s10708-004-4946-y

Verburg P, Schulp CJE, Witte N, Veldkamp A (2006a) Downscaling of land use change scenarios to assess the dynamics of European landscapes. Agric Ecosyst Environ 114:39–56. doi:10.1016/j.agee.2005.11.024

Verburg P, Veldkamp A, Rounsevell MDA (2006b) Scenario-based studies of future land use in Europe. Agric Ecosyst Environ 114:1–6. doi:10.1016/j.agee.2005.11.023

Verburg P, Eickhout B, van Meijl H (2008) A multi-scale, multi-model approach for analyzing the future dynamics of European land use. Ann Reg Sci 42(1):57–77. doi:10.1007/s00168-007-0136-4

Vitousek PM, Mooney HA, Lubchenco J, Melillo JM (1997) Human domination of Earth's ecosystems. Science 277:494–499. doi:10.1126/science.277.5325.494

Wilson GV, McGregor KC, Boykin D (2008) Residue impacts on runoff and soil erosion for different corn plant populations. Soil Tillage Res 99:300–307. doi:10.1016/j.still.2008.04.001
Acknowledgments
This study was partly founded by the French Ministry of Research through the "Aires Culturelles" grant and by the CAREN (Centre Armoricain de Recherches en ENvironnement). Authors would like to thank all US and French farmers and actors for this co-investigation, J. Douvinet and D. Delahaye for the use of the Ruicells model. We would like to thank reviewers for their very helpful comments and suggestions on earlier draft.
Electronic supplementary material
Below is the link to the electronic supplementary material.
About this article
Cite this article
Houet, T., Loveland, T.R., Hubert-Moy, L. et al. Exploring subtle land use and land cover changes: a framework for future landscape studies. Landscape Ecol 25, 249–266 (2010) doi:10.1007/s10980-009-9362-8
Received:

Accepted:

Published:

Issue Date:
Keywords
Scenarios

Modelling

Forecasting

Backcasting

LULCC

Agriculture

Brittany

Corn-Belt

Prospective