Abstract
In this work, Ag-doped CeO2 samples containing 0.5 mol% Ag+ were successfully synthesized by the polymeric precursor method and then calcined at 400, 500, 600 and 700 °C for 2 h. X-ray diffraction and Raman spectra indicated that the crystals have a fluorite-type structure without the presence of other phases. The size of the Ce0.95Ag0.05O1.9−δ crystals increased from 6.61 to 27.46 nm upon increasing the thermal treatment temperature. The decomposition of the samples was examined by differential thermal analysis to determine the most suitable calcination temperature to apply to the materials and indicate the steps involved in obtaining Ag-doped ceria. Scanning electron microscopy images revealed small crystallite sizes, the presence of oxygen vacancies, structural stability and homogeneity. The Ag-doped ceria have shown effective and efficient antimicrobial activity, inhibiting the growth of Escherichia coli, Staphylococcus aureus and Pseudomonas aeruginosa bacteria. However, pure CeO2 displayed no antibacterial activity. Therefore, the satisfactory antimicrobial activity reported here can be attributed to the partial substitution of cerium ions by silver ions.
This is a preview of subscription content, log in to check access.
Access options
Buy single article
Instant unlimited access to the full article PDF.
US$ 39.95
Price includes VAT for USA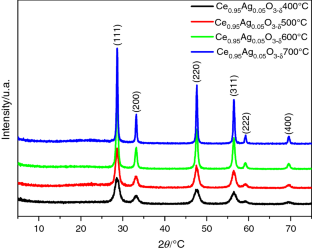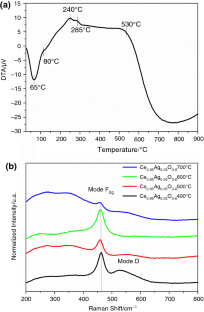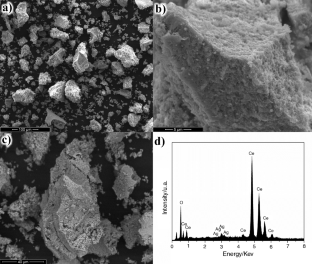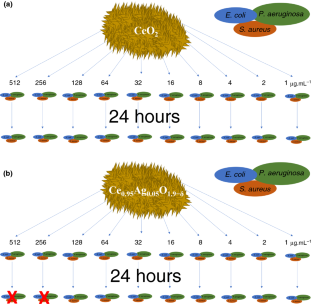 References
1.

Huh AJ, Kwon YJ. "Nanoantibiotics": a new paradigm for treating infectious diseases using nanomaterials in the antibiotics resistant era. J Control Release. 2011;156:128–45.

2.

Lara HH, Garza-Trevino EN, Ixtepan-Turrent L, Singh DK. Silver nanoparticles are broad-spectrum bactericidal and virucidal compounds. J Nanobiotechnol. 2011;9:30.

3.

Sun K, Metzger DW. Influenza and Staphylococcus aureus coinfection: TLR9 at play. Trends Microbiol. 2019;27:383–4.

4.

Vásquez-García A, Oliveira APSC, Mejia-Ballesteros JE, Godoy SHS, Barbieri E, Sousa RLM, Fernandes AM. Escherichia coli detection and identification in shellfish from southeastern Brazil. Aquaculture. 2019;504:158–63.

5.

Weng MK, Brooks RB, Glowicz J, Keckler MS, Christensen BE, Tsai V, Mitchell CS, Wilson LE, Laxton R, Moulton-Meissner H, Fagan R. Outbreak investigation of Pseudomonas aeruginosa infections in a neonatal intensive care unit. Am J Infect Control. 2019. https://doi.org/10.1016/j.ajic.2019.03.009.

6.

Çolak H, Karaköse E, Duman F. High optoelectronic and antimicrobial performances of green synthesized ZnO nanoparticles using Aesculus hippocastanum. Environ Chem Lett. 2017;15:547.

7.

Dasgupta N, Ramalingam C. Silver nanoparticle antimicrobial activity explained by membrane rupture and reactive oxygen generation. Environ Chem Lett. 2016;14:477.

8.

Fraise AP, Maillard J-Y, Sattar SA. Russell, Hugo & Ayliffe's principles and practice of disinfection, preservation & sterilization. 5th ed. Chichester: Wiley; 2013.

9.

Hoffmann S. Silver sulfadiazine: na antibacterial agent for topical use in burns. Scand J Plast Reconstr Surg. 1984;18:119–26.

10.

Montes LF, Muchinik G, Fox CL Jr. Response of varicela zoster vírus and herpes zoster to silver sulfadiazine. Cutis. 1986;38:363–5.

11.

Wu Q, Krol RV. Selective photoreduction of nitric oxide to nitrogen by nanostructured TiO2 photocatalysts: role of oxygen vacancies and iron dopant. J Am Chem Soc. 2012;134:9369–75.

12.

Feng W, Sun LD, Zhang YW, Yan CH. Synthesis and assembly of rare earth nanostructures directed by the principle of coordination chemistry in solution-based process Coord. Chem Rev. 2010;254:1038–53.

13.

Neri G, Bonavitta GA, Rizzo G, Galvagno S, Capone S, Siciliano P. Methanol gas-sensing properties of CeO2–Fe2O3 thin films. Sens Actuators B Chem. 2006;114:687–95.

14.

Godinho M Jr, Gonçalves RF, Leite ER, Raubach CW, Carreno NLV, Probst LFD, Longo E, Fajardo HV. Gadolinium-doped cerium oxide nanorods: novel active catalysts for ethanol reforming. J Mater Sci. 2010;45:593–8.

15.

Silva RF, Oliveira E, Sousa PCF, Neri CR, Serra OA. Diesel/biodiesel soot oxidation with CeO2 and CeO2-ZrO2-modified cordierites: a facile way of accounting for their catalytic ability in fuel combustion processes. Quím Nova. 2010;34:759–63.

16.

Sousa PCF, Gomes LF, Oliveira KT, Neri CR, Serra OA. Amphiphilic cerium(III) b-dietonate as a catalyst for reducing diesel/biodiesel soot emissions. Appl Catal A. 2009;360:210–7.

17.

Hoshino T, Kurata Y, Terasaki Y, Susa K. Mechanism of polishing of SiO2 films by CeO2 particles. J Non-Crystal Solids. 2001;283:129–36.

18.

Lima JF, Serra OA. Cerium phosphate nanoparticles with low photocatalytic activity for UV light absorption application in photoprotection. Dyes Pigment. 2013;97:291–6.

19.

Liu Z, Ding D, Liu M, Ding X, Chen D, Li X, Xia C, Liu M. High-performance, ceria-based solid oxide fuel cells fabricated at low temperatures. J Power Sour. 2013;241:454–9.

20.

Tanwar K, Jaiswal N, Kumar D, Parkash O. Synthesis & characterization of Dy and Ca Co-doped ceria based solid electrolytes for IT-SOFCs. J Alloy Compd. 2016;684:683–90.

21.

Chen X, Wang H, Gao S, Wu Z. Effect of pH value on the microstructure and NO(x) catalytic performance of titanate nanotubes loaded CeO2. J Colloid Interface Sci. 2012;377:131–6.

22.

Munteanu G, Petrova P, Ivanov I, Liotta LF, Kaszkur Z, Tabakova T, Ilieva L. Temperature-programmed reduction of lightly yttrium-doped Au/CeO2 catalysts. J Therm Anal Calorim. 2018;131:145.

23.

Zeng S, Zhang W, Guo S, Su H. Inverse rod-like CeO2 supported on CuO prepared by hydrothermal method for preferential oxidation of carbon monoxide. Catal Commun. 2012;23:62–6.

24.

Stalin PMJ, Arjunan TV, Matheswaran MM, Sadanadan N. Experimental and theoretical investigation on the effects of lower concentration CeO2/water nanofluid in flat-plate solar collector. J Therm Anal Calorim. 2019;135:29.

25.

Godinho M Jr, Ribeiro C, Gonçalves RF, Longo E, Leite ER. High-density nanoparticle ceramic bodies. J Therm Anal Calorim. 2013;111:1351–5.

26.

Gonçalves RF, Castro DA, Santos MRC, Figueiredo AT, Barrado CM, Leite ER, Godinho M Jr. Estudo do crescimento de nanofitas de céria dopada com gadolínio por sistema de aquecimento por micro-ondas. Cerâmica. 2013;59:426–30.

27.

Silva AGM, Dias A, Fajardo HV, Godinho M, Robles-Dutenhefner PA, Rodrigues T. Ce1-xSmxO1.9 − δ nanoparticles obtained by microwave-assisted hydrothermal processing: an afficient application for catalytic oxidation of α-bisabololl. Catal Sci Technol. 2014;4:814–21.

28.

Bechambia O, Chalbib M, Najjara W, Sayadi S. Photocatalytic activity of ZnO doped with Ag on the degradation of endocrine disrupting under UV irradiation and the investigation of its antibacterial activity. Appl Surf Sci. 2015;347:414–20.

29.

Singh B, Dubey AK, Kumar S, Saha N, Basu B, Gupta R. In vitro biocompatibility and antimicrobial activity of wet chemically prepared Ca10 − xAgx (PO4)6(OH)2 (0.0 ≤ x ≤ 0.5) hydroxyapatites. Mater Sci Eng, C. 2011;31:1320–9.

30.

Shima GI, Kima SH, Eoma HW, Kimb KM, Choia SY. Development of a transparent, non-cytotoxic, silver ion-exchanged glass with antimicrobial activity and low ion elution. Enzym Microb Technol. 2015;72:65–71.

31.

Zeng C, Tian B, Zhang J. silver halide/silver iodide@silver composite with excellent visible light photocatalytic activity for methyl orange degradation. J Colloid Interface Sci. 2013;405:17–21.

32.

Maensiri S, Masingboon C, Laokul P, Jareonboon W, Promarak V, Anderson PL, Seraphin S. Egg white synthesis and photoluminescence of platelike clusters of CeO2 nanoparticles. Cryst Growth Des. 2007;7:950–5.

33.

Venkatesh KS, Gopinath K, Palani NS, Arumugam A, Jose SP, Bahadur SA, Ilangovan R. Plant pathogenic fungus F. solani mediated biosynthesis of nanoceria: antibacterial and antibiofilm activity. RSC Adv. 2016;48:42720–9.

34.

Silva AGM, Batalha DC, Rodrigues TS, Candido EG, Luz SC, Freitas IC, Fonseca FC, Oliveira DC, Taylor JG, Córdoba TI, Camargo PHC, Fajardo HV. Sub-15 nm CeO2 nanowires as an efficient non-noble metal catalyst in the room-temperature oxidation of aniline. Catal Sci Technol. 2018;8:1828–39.

35.

Ramasamy V, Vijayakshmi M. Effect of Zn doping on structural, optical and thermal properties of CeO2 nanoparticles. Superlattices Microstruct. 2015;85:510–21.

36.

Lee Y, He G, Akey AJ, Si R, Flytzani-Stephanopoulos M, Herman IP. Raman analysis of mode softening in nanoparticle CeO2 − δ and Au-CeO2 − δ during CO oxidation. J Am Chem Soc. 2011;133:12952–5.

37.

Tana N, Zhang ML, Li J, Li HJ, Li Y, Shen WJ. Morphology-dependent redox andcatalytic properties of CeO2 nanostructures: nanowires, nanorods and nanoparticles. Shen Catal Today. 2009;148:179–83.

38.

Pan CS, Zhang DS, Shi LY, Fang JH. Template-free synthesis, controlled conversion, and CO oxidation properties of CeO2 nanorods, nanotubes, nanowires, and nanocubes. Eur J Inorg Chem. 2008;15:2429–36.

39.

Wang L, Lv H, Li B, Zhao Y, Sun L. Synthesis and antibacterial activity of Ag/CeO2 hybrid architectures. J Sol-Gel Sci Technol. 2018;88:654.

40.

Wang K, Su P, Li H, Wu Y, Zhang D, Feng H, Fan H. Synthesis, characterization and antimicrobial activity of hybrid-structured Ag@CeO2 nanoparticles. Chem Pap. 2019;73:1279.

41.

Zou Q, Ma S, Zhan S. Superior photocatalytic disinfection effect of Ag-3D ordered mesoporous CeO2 under visible light. Appl Catal B Environ. 2018;224:27.

42.

Hassan MS, Khan R, Amna T, Yang J, Le I, Sun M, EL-Newehy MH, Al-Deyab SS, Khil M. The influence of synthesis method on size and toxicity of CeO2 quantum dots: potential in the environmental remediation. Ceram Int. 2016;42:576–82.

43.

Khan MM, Ansari SA, Lee J, Ansari MO, Lee J, Hwan M. Electrochemically active biofilm assisted synthesis of Ag@CeO2 nanocomposites for antimicrobial activity, photocatalysis and photoelectrodes. J Colloid Interface Sci. 2014;431:255–63.

44.

Magdalane CM, Kaviyarasu K, Vijaya JJ, Siddhardha B, Jeyaraj B. Photocatalytic activity of binary metal oxide nanocomposites of CeO2/CdO nanospheres: investigation of optical and antimicrobial activity. J Photochem Photobiol, B. 2016;163:77–86.

45.

Magdalane CM, Kaviyarasu K, Vijaya JJ, Siddhardha B, Jeyaraj B. Facile synthesis of heterostructured cerium oxide/yttrium oxide nanocomposite in UV light induced photocatalytic degradation and catalytic reduction: synergistic effect of antimicrobial studies. J Photochem Photobiol, B. 2017;173:23–34.

46.

Bakkiyaraj R, Balakrishnan M, Bharath G, Ponpandian N. Facile synthesis, structural characterization, photocatalytic and antimicrobial activities of Zr doped CeO2 nanoparticles. J Alloys Compd. 2017;724:555–64.
Acknowledgements
This study was financed in part by the Coordenação de Aperfeiçoamento de Pessoal de Nível Superior—Brasil (CAPES)—Finance Code 001. The authors acknowledge the support of the Brazilian research funding agencies CAPES/PROCAD: Process No. 2013/2998/2014 (Federal Agency for the Support and Improvement of Higher Education/National Program of Academic Cooperation) and CNPq Process Nos. 485518/2013-9 and 307054/2015-2 (National Council for Scientific and Technological Development).
Additional information
Publisher's Note
Springer Nature remains neutral with regard to jurisdictional claims in published maps and institutional affiliations.
About this article
Cite this article
de Matos Rodrigues, M.H., Borges, K.C.M., de Cássia Santos, M.R. et al. Synthesis, characterization and in vitro antimicrobial prospecting of silver-doped ceria. J Therm Anal Calorim 139, 849–854 (2020). https://doi.org/10.1007/s10973-019-08506-z
Received:

Accepted:

Published:

Issue Date:
Keywords
Ceria

Silver

Antimicrobial activity