Solvent polarity resulted in different structures and photocatalytic abilities of Ag/ZnO composites
Original Paper: Sol-gel and hybrid materials for energy, environment and building applications
Abstract
Different silver/zinc oxide (Ag/ZnO) heterostructures were successfully fabricated via a simply solvothermal method by changing the solvents, such as water and methanol. Based on the polarity of the solvent used, the morphology of the ZnO and Ag/ZnO could be controlled to discuss the influence of the structure and activity. Our results of the photocatalytic degradation of dyes under UV and visible light suggested that the activities of the Ag/ZnO was close to their structures and it was revealed that the Ag/ZnO with one dimension structure demonstrated much higher activity than that with a flower shape, which was possibly ascribed to the high aspect ratio, surface defects of the ZnO and synergistic effect of metallic Ag. The present work provided an example for the design of ZnO based functional materials with high performances for water pollutant treatment.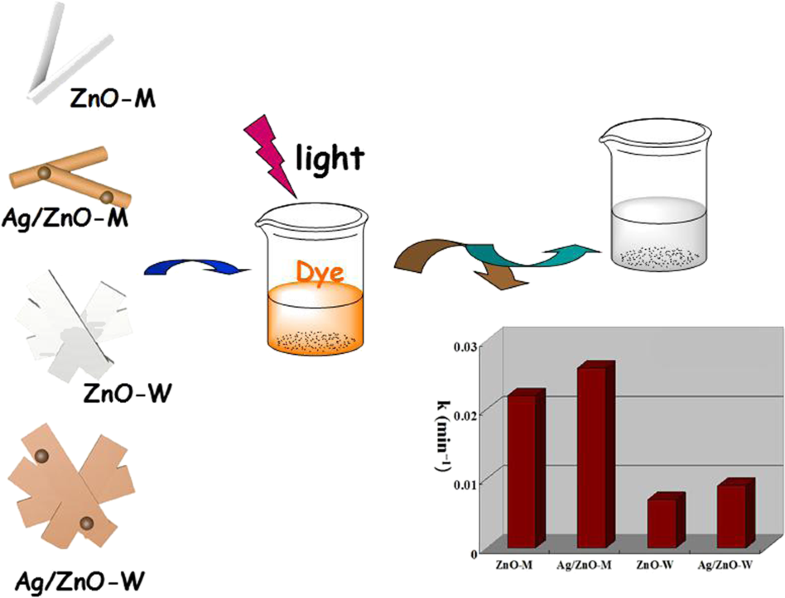 Highlights
ZnO and Ag/ZnO nanorods and microflowers were obtained.

The polarity of solvents profoundly affected the structure and activity of ZnO and Ag/ZnO.

The higher activity of Ag/ZnO obtained in methanol was possibly ascribed to the structural advantage of the ZnO and synergistic effect of metallic Ag.
Keywords
Ag/ZnO heterostructures 
Solvent polarity 
Photodegradation 
Organic dye 
Notes
Acknowledgements
This work was supported by Natural Science Research Project of Anhui Education Department (KJ2019A0718, KJ2019A0719, KJ2019A0720).
Compliance with ethical standards
Conflict of interest
The authors declare that they have no conflict of interest.
Copyright information
© Springer Science+Business Media, LLC, part of Springer Nature 2019