Effect of withdrawal speed on the microstructure, optical, and self-cleaning properties of TiO2 thin films
Original Paper: Functional coatings, thin films and membranes including deposition techniques
Abstract
The transparent superhydrophilic TiO2 films were dip-coated on glass substrates by sol–gel method at different withdrawal speeds. The dependence of the morphological, transmittance, and self-cleaning properties of the films on withdrawal speed were investigated by scanning electron microscope (SEM), atomic force microscope (AFM), ultraviolet–visible (UV–Vis) spectrophotometer, photocatalytic degradation of a methyl blue, and water contact angle. The results indicated that the withdrawal speed had a great impact on the surface morphology, the transmittance, and self-cleaning properties of the TiO2 films. With the withdrawal speed increasing, the grains size, porosity, and RMS values of the films gradually increase, and the absorption edge shifts toward longer wavelength. These increase the radiation absorption and photocatalytic activity. The hydrophilic property enhances with the withdrawal speed increasing, due to the surface roughness and capillary force from pores between grains. All the prepared films are transparent in the visible spectrum (400–800 nm) with an average transmittance of more than 70%. Films with high transmittance (T ~ 90% at 500 nm) and good self-cleaning properties (WCA < 5°) can be obtained at high withdrawal speed.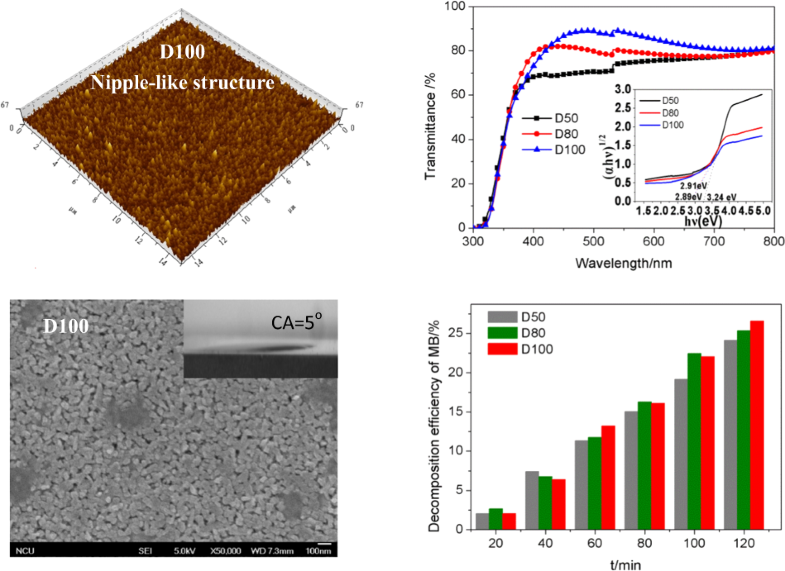 Highlights
A multifunctional TiO2 film with nipple-like structure was prepared by dip-coating method.

Topographical analysis showed that the morphology related closely to the dip-coating speed.

The nanostructure provides the TiO2 film with high photocatalytic activity and superhydrophilicity.

Optical analysis showed that the transmission of TiO2 films depend on the morphology.
Keywords
TiO2 thin films 
Dip coating 
Microstructure 
Superhydrophilicity 
Self-cleaning 
Notes
Acknowledgements
This work was supported by Major projects of key research & development programs in Jiangxi province (No. 20161ACH80010).
Compliance with ethical standards
Conflict of interest
The authors declare that they have no conflict of interest.
Copyright information
© Springer Science+Business Media, LLC, part of Springer Nature 2019