Effect of polypeptide block length on nano-assembly morphology and thermo-sensitivity of methyl poly (ethylene glycol)-poly (L-valine) copolymer aqueous solutions
Original Paper: Fundamentals of sol–gel and hybrid materials processing
Abstract
The delicacy of nature prompted scientists to create functional or responsive biomaterials using existing natural components. Here we reported novel thermo-gelling hydrogels based on methyl poly (ethylene glycol)-poly (L-valine) (mPEG-L-PV) diblock copolymer solutions, which exhibited well-defined sol–gel transition at a temperature range from 10 °C to 40 °C. The β-sheet was the dominant secondary structure for poly(L-PV) block when the molecular weight of the polypeptide ranged from 277 Da to 1138 Da. The formation of mPEG–L-PV clear sol solutions was related to the stable nanostructures that were aggregated clusters of poly(L-PV) β-sheet filaments and stabilized by the hydrophilic PEG segments. The block length of poly(L-PV) significantly affected the secondary structures of polypeptide and the morphology of assembled filaments, which resulted in different thermo-gelling behavior of the copolymer solutions. The occurrence of sol–gel transition with temperature was primarily due to the dehydration effect of PEG block, whereas in the case of the copolymer with a lower molecular weight of poly(L-PV) block, the change of polypeptide secondary structures also contributed to the formation of the gel. This paper provides fundamental information about the strong dependence of polypeptide block length on the nano-assembly morphology as well as thermosensitive behavior of polypeptide-based hydrogels.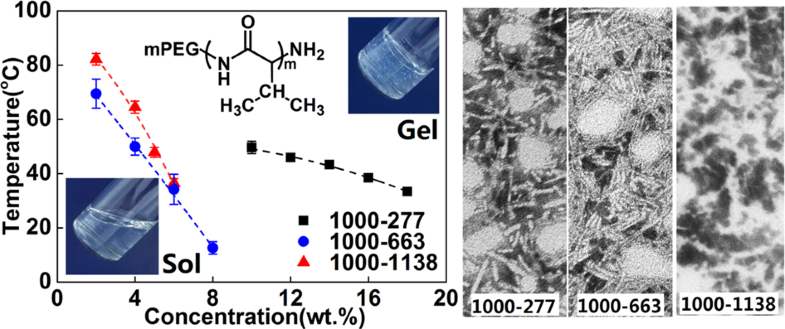 Highlights
Well-defined sol–gel transition of methyl poly (ethylene glycol)-poly (L-valine) (mPEG-L-PV) diblock copolymer aqueous solution was obtained.

An unusual phase diagram showed that the sol–gel transition temperature decreased at first and then increased with the increase of the poly (L-valine) (L-PV) block length.

The effect of L-PV block length on the sol–gel phase transition behaviors was in relation to the secondary structures and the morphologies of assembled nanostructures of the copolymers in aqueous solutions.
Keywords
Poly (L-valine) 
Thermo-sensitivity 
Secondary structure 
β-sheet filaments 
Hydrogel 
Notes
Acknowledgements
National Natural Sciences Fund of China (No. 31670979, No. 51273034), Opening Project of Key Laboratory of Advanced Technologies Materials, Ministry of Education (2016KLATM006), and Science and Technology Program of Sichuan Province (2018GZ0460 and 2019YFS0132) supported this work.
Compliance with ethical standards
Conflict of interest
The authors declare that they have no conflict of interest.
Copyright information
© Springer Science+Business Media, LLC, part of Springer Nature 2019