Impact mechanism of gel's alkali circumstance on the morphologies and electrical properties of Ba0.80Sr0.20TiO3 ceramics
Original Paper: Sol-gel and hybrid materials for dielectric, electronic, magnetic and ferroelectric applications
Abstract
Ba0.8Sr0.2TiO3 (BST) nanopowder was successfully synthesized by Pechini sol-gel method under different temperatures. Not only were BaCO3 impurity phase production and transition temperature from cubic to tetragonal phase respectively set at 440 °C and 800 °C, but also barium (Ba) resided in a 12-coordinate site of crystal lattice was set at 580 °C by the techniques of X-ray diffraction (XRD) and Fourier transform infrared spectroscopy (FT-IR). In addition, gels at pH 3–8 were used to prepare BST ceramics and the ceramics morphology was characterized by scanning electron microscope (SEM). The interrelationship between morphology and electrical properties, which were associated with precipitation phase on the crystal boundary of BST ceramics, was studied in detail. Finally, the optimal electrical properties of the ceramics were comprehensively displayed in this work, i.e., εr = 8113.81, d33 = 78 pC/N, kp = 14.96%, and Qm = 85.08 at pH 5.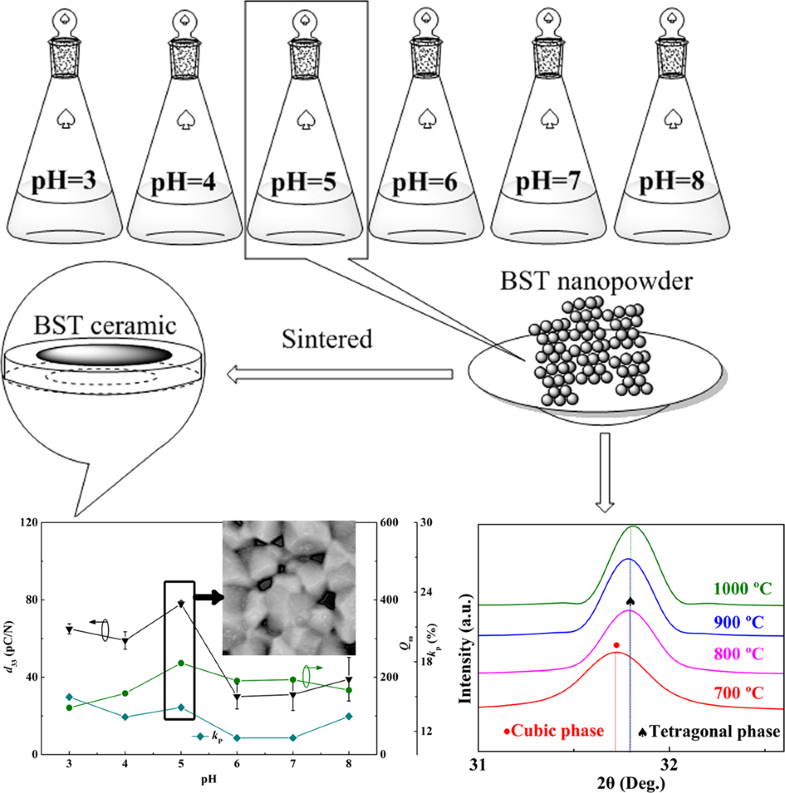 Highlights
1.

Gelation and pyroreaction processes for Ba0.8Sr0.2TiO3 nanopowder were studied.

 

2.

Pyroreaction induced the nanopowder from cubic to tetragonal phase transition.

 

3.

Ceramics were prepared by Pechini sol-gel method with different pH values.

 

4.

Interrelationship of ceramics morphology and electrical properties was shown.

 
Keywords
Ba0.8Sr0.2TiO3 
pH 
Pechini method 
Morphology 
Electrical properties 
Notes
Acknowledgements
We thank the Henan Provincial Department of Science and Technology Research Project (162102310122), the Key Project of Henan Province Colleges and Universities (19A430021), the Scientific Research Foundation of Graduate School of Xinyang Normal University (2018KYJJ17), and Nanhu Scholars Program for Young Scholars of XYNU, for their financial support.
Compliance with ethical standards
Conflict of interest
The authors declare that they have no conflict of interest.
Copyright information
© Springer Science+Business Media, LLC, part of Springer Nature 2019