Synthesis and photocatalytic performance of a novel hollow network Fe3O4/SiO2/meso-TiO2 (FSmT) composite microspheres
Original Paper: Nano-structured materials (particles, fibers, colloids, composites, etc.)
Abstract
A novel hollow network magnetic Fe3O4/SiO2/meso-TiO2 (FSmT) composite microsphere photocatalyst, with network Fe3O4 nanorods as a magnetic layer, a dense SiO2 layer as an electronic barrier, and a mesoporous TiO2 as the active layer, was synthesized by sol–gel and hydrothermal process. The as-synthesized FSmT microspheres possess a high specific surface area (122 m2/g), a large mesoporous size (diameter = 5.47 nm), and pore volume (0.27 cm3/g). Further, the photocatalytic activity of the FSmT microspheres for methyl orange degradation was demonstrated and the degradation rate of methyl orange could reach up to 93.5% after 1 h under UV light. The good photocatalytic activity was attributed to the hollow network and mesoporous composite structures. The FSmT microspheres could be separated conveniently and well redispersed for further reuse because of their excellent magnetic property (Ms = 11.4 emu/g).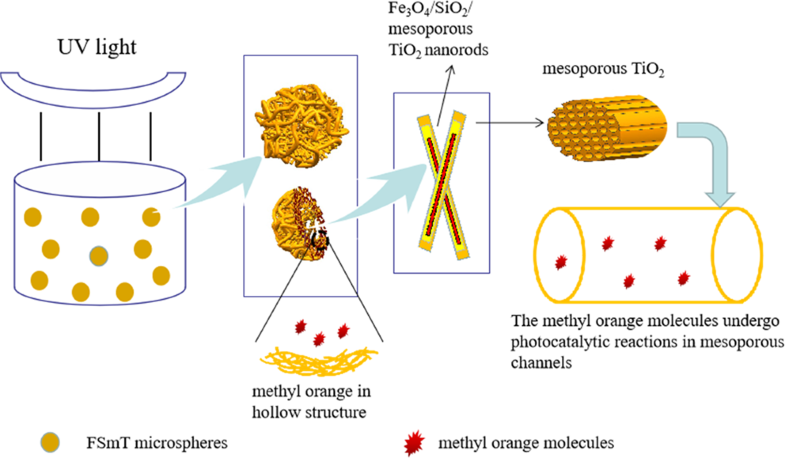 Highlights
The hollow structure of the composite microspheres is a warehouse for methyl orange and the channel of mesoporous TiO2 is as a reactor for photocatalytic reaction.

The photocatalytic reaction with TiO2 began as methyl orange in warehouse entered the mesoporous channel.

As the reaction continues, more and more methyl oranges enter the pore canal and react successively until the end of the reaction.

Mesoporous titanium dioxide provides high specific surface area, and many photocatalytic reaction active sites for the photocatalytic reaction, it improves the photocatalytic efficiency by reducing the combination of the electron and the cavity so the composite microspheres possess high catalytic efficiency.
Keywords
Hollow 
Mesoporous TiO2 
Fe3O4 nanorods 
Photocatalytic performance 
Notes
Acknowledgements
We would like to thank the support of the National Key Research and Development Program of China (grant No. 2017YFC0703204).
Copyright information
© Springer Science+Business Media, LLC, part of Springer Nature 2019