CO2 hydrogenation to methanol over CuO-ZnO-ZrO2 catalyst prepared by polymeric precursor method
Original Paper: Sol-gel and hybrid materials for catalytic, photoelectrochemical and sensor applications
Abstract
A series of CuO-ZnO-ZrO2 catalysts were synthesized by the polymeric precursor method, and characterized by X-ray diffraction (XRD), N2 physisorption, X-ray photoelectron spectroscopy (XPS), scanning electron microscopy (SEM), transmission electron microscopy (TEM), temperature-programmed reduction with H2 (H2-TPR), reactive N2O adsorption, and adsorption of H2 and CO2 followed by temperature-programmed desorption (H2-TPD, CO2-TPD) techniques. The catalytic performances of all samples for methanol synthesis from hydrogenation of CO2 were evaluated under the experimental condition of 240 °C, 3 MPa, and SV = 1800–6000 mL·gcat−1·h−1. The effects of the calcination temperature on physicochemical and catalytic properties of all catalysts were investigated. The results indicate that the catalyst prepared under 400 °C calcination possesses the smallest Cu crystallites, largest metallic Cu surface area, and thus exhibits the highest methanol yield.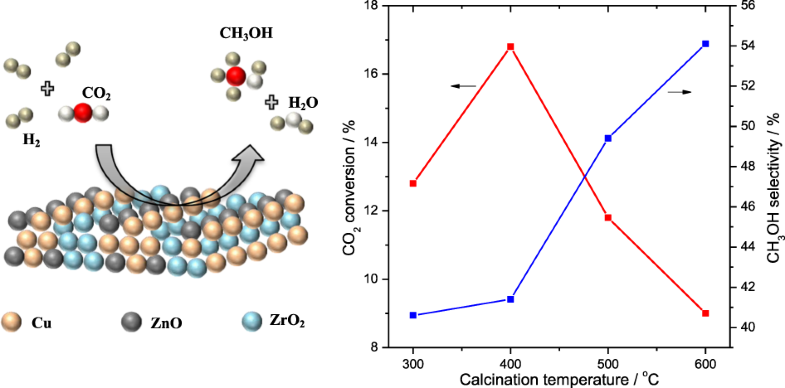 Highlights
CuO-ZnO-ZrO2 catalysts were prepared by polymeric precursor method under different temperatures.

The catalyst prepared under 400 °C possessed the highest dispersion of Cu.

The catalyst prepared under 400 °C exhibited the highest yield of methanol.

The methanol yield was closely related to the metallic Cu surface area (SCu) of catalysts.
Keywords
CuO-ZnO-ZrO2 catalyst 
Polymeric precursor method 
CO2 hydrogenation 
Methanol synthesis 
Notes
Acknowledgements
Financial supports from Shanghai Municipal Education Commission (13YZ117) and Science and Technology Commission of Shanghai Municipality (13ZR1441200) are gratefully acknowledged.
Compliance with ethical standards
Conflict of interest
The authors declare that they have no conflict of interest.
Copyright information
© Springer Science+Business Media, LLC, part of Springer Nature 2019