Sol–gel synthesis of gelatin–zirconium(IV) tungstophosphate nanocomposite ion exchanger and application for the estimation of Cd(II) ions
Original Paper: Sol–gel and hybrid materials for catalytic, photoelectrochemical and sensor applications
Abstract
Gelatin–Zr(IV) tungstophosphate (GT/ZTP) nanocomposite ion exchanger was synthesised using simple sol–gel method at pH 0–1. GT/ZTP nanocomposite shows greater value of IEC (0.80 meq/g) as compared to Zr(IV) tungstophosphate (0.32 meq/g). TEM results confirmed the nano size of composite material. Distribution coefficient studies illustrates that the GT/ZTP have higher distribution coefficient values for Cd(II) instead of others. Binary separations of metal ion pairs including Cd(II)–Al(III), Cd(II)–Ni(II), Pb(II)–Mg(II), Mg(II)–Zn(II), Pb(II)–Cu(II), Co(II)–Cu(II), Al(III)–Co(II) and Ni(II)–Zn(II) were attempted using GT/ZTP naocomposite column. The photocatalytic studies showed that 84.61% MV was degraded within 4 h of solar illumination. The kinetics of photocatalytic degradation for methyl violet (MV) was studied by pseudo-first-order kinetic model with higher R2 = 0.998. GT/ZTP nanocomposite was exploited for the erection of ion selective membrane electrode to detect Cd(II) in the water system. The electrode possessed wide concentration range, pH range and quick response time.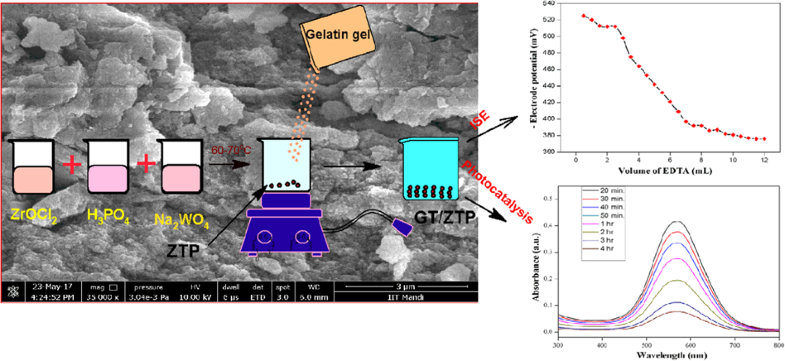 Highlights
A heterogeneous ion-selective membrane electrode was fabricated to detect Cd(II) using GT/ZTP nanocomposite.

GT/ZTP nanocomposite was highly selective for Cd2+ ions.

Some binary separations of different metal ions were accomplished onto GT/ZTP column.

GT/ZTP was used as photocatalyst for the degradation of MV under solar illumination.
Keywords
Nanocomposite 
Gelatin 
Heavy metals 
Methyl violet 
Electrode 
Zirconium tungstophosphate 
Notes
Compliance with ethical standards
Conflict of interest
The authors declare that they have no conflict of interest.
Copyright information
© Springer Science+Business Media, LLC, part of Springer Nature 2019