Characterization and electrochemical behavior of Ti/TiO2–RuO2–IrO2–SnO2 anodes prepared by sol–gel process
Original Paper: Sol-gel and hybrid materials for catalytic, photoelectrochemical and sensor applications
Abstract
The present study focused on the morphology and electrochemical properties of Ti/TiO2–RuO2–IrO2–SnO2 anodes prepared by sol–gel process, using field emission scanning electron microscopy (FESEM), atomic force microscopy (AFM), energy dispersive X-ray spectroscopy (EDX), X-ray diffraction (XRD), potentiostatic polarization, cyclic voltammetry, electrochemical impedance spectroscopy (EIS), and accelerated corrosion test (ACT). The findings showed that the morphology of all the coatings is a cracked-mud morphology after heat treatment, including cracks with different widths between 100 nm and 1 μm. The results of phase analysis of the anode surfaces indicated a better coverage of substrate by Ti/TiO2–RuO2–IrO2–SnO2 anode with a molar ratio of 60:25:5:10 as compared to two other anodes with molar ratios of 60:25:10:5 and 60:20:5:15. It was also found that Ti/TiO2–RuO2–IrO2–SnO2 anode with a molar ratio of 60:25:5:10 exhibits a longer lifetime (543 min) and better electrocatalytic property, as it tends to enhance the chlorine gas evolution so that the reaction occurs at a lower potential with a lower slope. EDX analysis of this anode surface showed a less reduction in the content of active elements (Ru, Ir, and Sn) after ACT than anodes 1 and 3, to about 59%, 82%, and 75% of the original, respectively.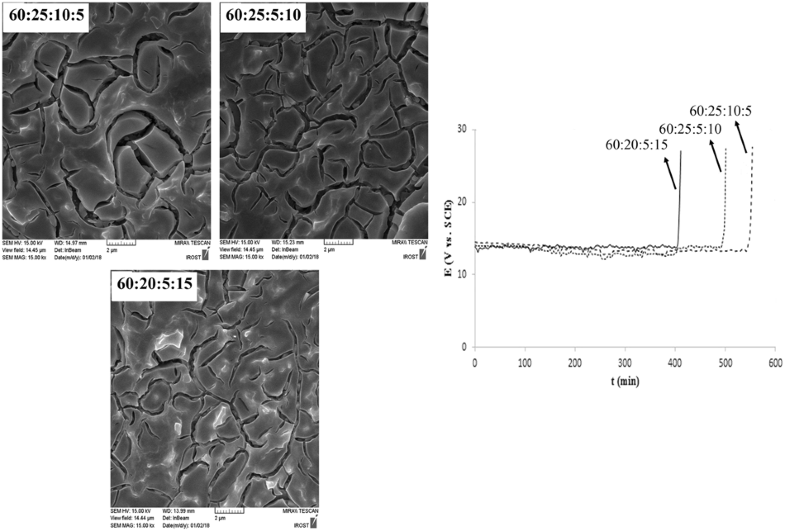 Highlights
TiO2–RuO2–IrO2–SnO2 coatings were prepared on Ti substrate by sol–gel process.

Results revealed heat treatment temperature independent of the coating composition.

The morphology of all coatings exhibited a cracked-mud morphology.

TiO2–RuO2–IrO2–SnO2 coating (molar ratio 60:25:5:10) offered enhanced electrocatalytic property.

The activity of anodes decreases due to the oxidation and dissolution of their active components.
Keywords
Mixed metal oxide anodes 
Electrocatalysts 
Sol–gel 
Chlorine evolution reaction 
Oxygen evolution reaction 
Electrochemical properties 
Notes
Compliance with ethical standards
Conflict of interest
The authors declare that they have no conflict of interest.
Informed consent
Informed consent was obtained from all individual participants included in the study.
Copyright information
© Springer Science+Business Media, LLC, part of Springer Nature 2018