Microfluidic fabrication of robust konjac glucomannan-based microfiber scaffolds with high antioxidant performance
Brief Communication: Sol–gel and hybrid materials for biological and health (medical) applications
Abstract
The exploration of high-performance biological scaffolds with antioxidant properties and microstructures is of great scientific and technological interest. Here, we develop a facile and green strategy to construct robust konjac glucomannan/polyvinylpyrrolidone (KGM/PVP) microfiber scaffolds via microfluidic spinning technology. Epigallocatechin-3-gallate (EGCG) as a representative natural antioxidant was then loaded into the microfiber scaffolds. Then characterizations were done by scanning electron microscopy, Fourier transform-infrared spectra, IR images, X-ray diffraction, and thermogravimetric analysis, along with antioxidant characterization. The as-prepared microfiber scaffolds (the average width of the microfibers is 1 ± 0.1 μm) are of high order, transparency, thermostability, and excellent antioxidant activity (43% DPPH radical scavenging activity and 0.61 reducing force), conferring highly potential applications in wound dressing and contact lenses.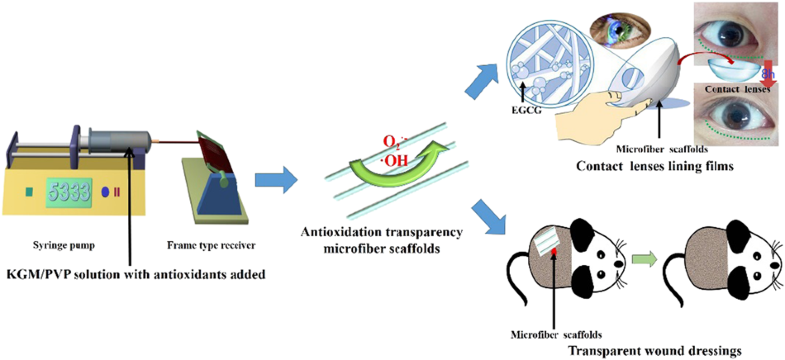 Highlights
An ideal system was constructed to produce high antioxidant activity KGM materials with microscale at normal temperature.

A novel platform was constructed to produce microfiber scaffolds with antioxidant properties via microfluidic spinning strategy.

The microfiber scaffolds were highly ordered and transparent, which has great potential in largely producing all kinds of advanced functional materials represented by transparent wound dressing and contact lenses lining films.

This finding opens a facile pathway to the construction of robust biological scaffolds by using KGM as the precursors.
Keywords
Konjac glucomannan 
Microfiber scaffolds 
Antioxidant activity 
Contact lenses 
Biomaterials 
Composite materials 
Notes
Acknowledgements
This work was supported by the National Natural Science Foundation of China (31772045, 31471704). The authors thank Janus New-Materials Co., Ltd. for assistance with microfluidic spinning technique. The authors thank Prof. Su Chen, Ph.D. Qing Li for valuable discussion on preparation of the experiment.
Compliance with ethical standards
Conflict of interest
The authors declare that they have no conflict of interest.
Copyright information
© Springer Science+Business Media, LLC, part of Springer Nature 2018