Mechanical behaviour of aerogels and composite aerogels submitted to specific penetration tests
Original Paper: Nano- and macroporous materials (aerogels, xerogels, cryogels, etc.)
Abstract
Silica aerogels are potentially ideal candidates to capture fast moving particles in their ultra-porous compliant structure and aerogel capture cells have been deployed in low earth orbit on a number of occasions. It is consequently interesting to better characterize the mechanical properties of these ultra-porous materials under very large deformation and collapse. Some special flat punch indentation experiments are used in this study to test these properties. The large flat punch penetration induces the creation of a track in the sample with a series of pilled Hertzian cone cracks and samples can resist without breakage for penetration depth of several millimeters. The influences of the aerogel density and of the penetration rate are checked in both standard and fibers reinforced aerogels. The lower the density, the more compliant the aerogel is to large penetration.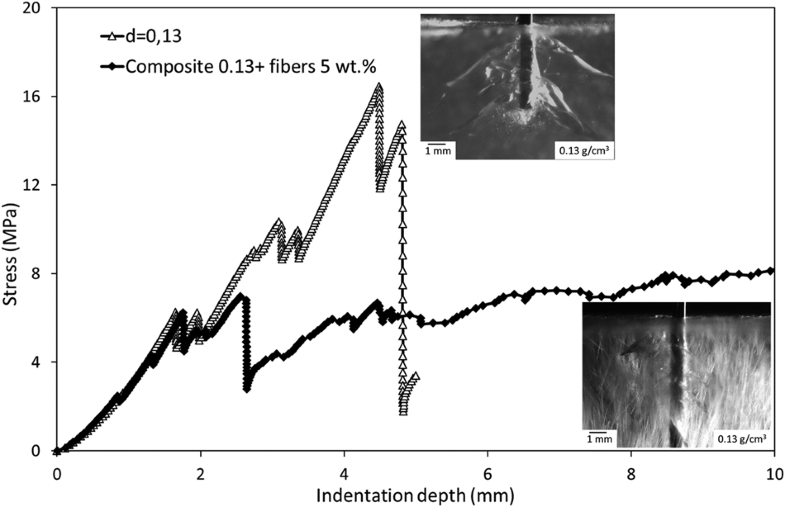 Highlights
Flat punch can penetrate ultra-porous silica standard and fibers reinforced aerogels up to several millimeters without total breakage of the material

Hertzian cone cracks develop along the penetration track of the flat punch

The lower the density of the standard or composite aerogel, the more compliant the material to flat punch penetration

Fibers reinforcement allows larger penetration of the flat punch without total breakage compared to similar density standard aerogels
Keywords
Silica aerogels 
Composite aerogels 
Indentation 
Flat punch 
Large depth penetration 
Notes
Compliance with ethical standards
Conflict of interest
The authors declare that they have no conflict of interest.
Copyright information
© Springer Science+Business Media, LLC, part of Springer Nature 2018