Sol–gel process and complex fluids: sculpting porous matter at various lengths scales towards the Si(HIPE), Si(PHIPE), and SBA-15-Si(HIPE) series
ORIGINAL PAPER: NANO- AND MACROPOROUS MATERIALS (AEROGELS, XEROGELS, CRYOGELS, ETC.)
Abstract
Taking inspiration from diatom hierarchically organized porosity, synthetic porous monoliths have been synthesized through rational designs while combining sol–gel chemistry, emulsions, Pickering-based emulsions, and lyotropic mesophases. We have described the synthesis of the Si(HIPE) series employing traditional emulsions to tune the macroscopic void diameters and cationic surfactant molecules to both stabilize the oil/water interface at the macroscopic length scale and create vermicular poorly organized porosity at the mesoscopic length scale. In a second part, while substituting surfactant molecules with modified silica nanoparticles acting as emulsion-stabilizers, we depict the possibility of tuning independently the macroscopic cell diameters and the cell junctions via Pickering emulsions employed as templates, leading to the Si(PHIPE) series presenting both monodiperse macroscopic void and cell junction diameters. Finally taking the synergetic effect of nonionic surfactants and a kosmotrope salt effect we show that it is possible generating self-standing Si(HIPE) bearing high organized mesoporosity while addressing the SBA-15-Si(HIPE) series.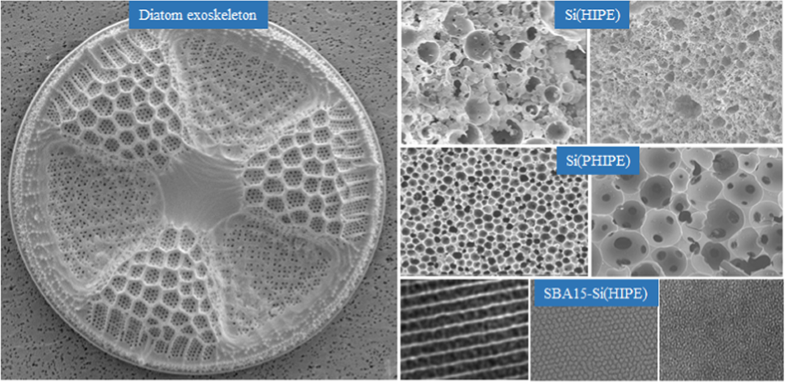 Highlights
Lyotropic mesophases, direct emulsions and sol–gel chemistry can be integrated toward the generation of self-standing foams where the macroscopic voids can be tuned while varying the starting emulsion volume fraction, addressing thereby the Si(HIPE) series.

Pickering-based emulsions can be employed to shape macrocellular foams bearing high monodisperse character of both macroscopic cells and cell junction diameters, each feature being tunable independently, generating thus the Si(PHIPE) series.

P123 nonionic surfactant, (NH4)2SO4 salt and direct emulsion are combined to generate self-standing monolith foams bearing a very high organization of the voids at the mesoscopic length, leading to the SBA-15-Si(HIPE) series.

Kosmotrope-Chaotrope balance is introduced in sol–gel chemistry as a tool to enhance silica polycondensation, beyond and additionally to the well-known salt screening and ionic strength effects.
Keywords
Sol-gel process 
Emulsions 
Pickering emulsions 
Lyotropic mesophases 
Porous matter 
Integrative chemistry 
Notes
Acknowledgements
The work was financed by the ANR project n°ANR-15-CE07-0023: « Intensified & Sustainable Enzymatic Acylation Processes on Innovative Macroporous/Mesoporous Materials ».
Compliance with ethical standards
Conflict of interest
The authors declare that they have no conflict of interest.
Copyright information
© Springer Science+Business Media, LLC, part of Springer Nature 2018