Largely enhanced mechanical and dielectric properties of paper-based composites via in situ modification of polyimide fibers with SiO2 nanoparticles
Original Paper: Nano-structured materials (particles, fibers, colloids, composites, etc.)
Abstract
In this study, SiO2 nanoparticles were in situ grown onto the surfaces of polyimide fibers via sol–gel synthesis and the corresponding paper-based composites were fabricated by wet-forming process using the as-obtained fibers as the starting materials. A simultaneous enhancement of the tensile and tearing index as well as the interlayer bonding strength of paper-based composites could be achieved with an increment of 17.7%, 17.2% and 50%, respectively. What is more, the dielectric strength of the resultant composites increased by 127% compared with the pristine paper-based composites. The results indicated that the SiO2 nanoparticles could be used as an excellent interfacial linker between the fibers and polymer matrix, and a smart cushion to release interior and exterior applied forces. Besides, satisfactory results on thermal stability of paper-based composites were attained after coated with SiO2 nanoparticles.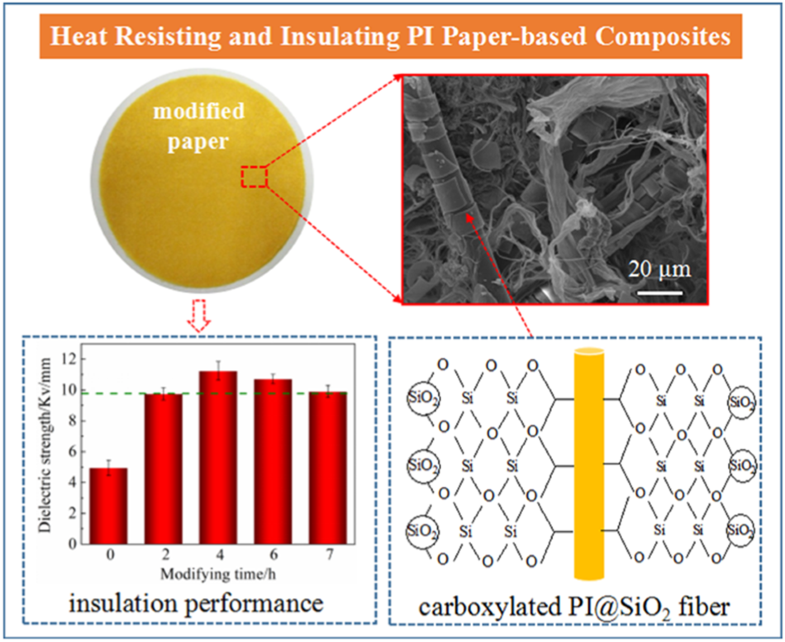 Highlights
A dense and uniform SiO2 nanoparticles layer can be in situ synthesized onto the PI fibers via sol–gel synthesis after activating the surface of PI fibers.

SiO2 nanoparticles could be used as an excellent interfacial linker between the fibers, and the interlayer bonding strength and dielectric strength of modified PI paper-based composites was significantly enhanced with an increment of 50 and 127%, respectively.
Keywords
Polyimide fiber 
Mechanical properties 
Dielectric strength 
Sol–gel synthesis 
SiO2 nanoparticles 
Notes
Acknowledgements
The authors sincerely appreciated the financial support from State Key Laboratory of Pulp and Paper Engineering (201733), Natural Science Research Start-up Fund of Shaanxi University of Science and Technology (2016GBJ-18), Shaanxi Overall Planning Innovative Engineering Project of Science and Technology (2016KTCQ01-87), Key Scientific Research Group of Shaanxi Province (2017KCT-02) and National Key Research and Development Plan (2017YFB0308300).
Compliance with ethical standards
Conflict of interest
The authors declare that they have no conflict of interest.
Copyright information
© Springer Science+Business Media, LLC, part of Springer Nature 2018