Transdermal delivery of polidocanol from sol–gel patch: ex vivo skin permeation studies using iontophoresis for the treatment of varicose veins
Original Paper: Sol-gel and hybrid materials for biological and health (medical) applications
Abstract
A polidocanol (POL) doped sol–gel patch based transdermal iontophoretic drug delivery system (TIDDS) for the treatment of varicose veins is presented in this paper. The sol–gel surface morphology and internal microstructure were characterized using scanning electron microscopy (SEM) and transmission electron microscopy (TEM). A timer based iontophoretic current supply unit was indigenously designed to deliver low current (5 mA) for drug delivery. Two silver electrodes delivered current to the sol–gel patch. It was observed that the drug dispersed in the sol–gel matrix diffused through solvent-filled capillary channels under the influence of the applied current. In vitro release profile of POL was tested on albino rat skin. The rate of delivery through the skin was evaluated by fluorescence spectroscopy measurements. The results indicated that the sol–gel patch under the influence of iontophoretic current allowed controlled release of the POL. Thus the sol–gel patch can be an efficient and an effective non-invasive alternative to deliver POL using iontophoresis to treat the region affected by varicose veins to reduce pain.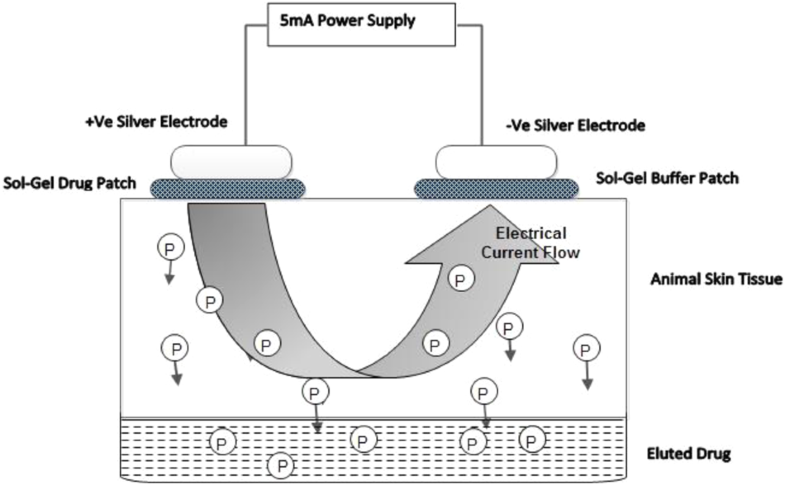 Highlights
A sol-gel processed silica matrix for iontophoresis based drug delivery of Polidocanol (drug widely used for the treatment of varicose veins) is reported.

The novel sol-gel matrix provided a suitable environment to the drug molecule and allowed the sustained release of drug under the influence of current.

A novel sol-gel iontophoresis drug delivery system can be utilized for controlled drug delivery in future to treat varicose veins to reduce pain.

The paper should be of interest to readers in the area of novel materials and drug delivery applications.
Keywords
Varicose veins 
Sol–gel 
Polidocanol 
TIDDS 
Notes
Acknowledgements
Authors acknowledges VIT University Vellore for providing necessary facilities for research and Prof. T.B. Sridharan for carrying out SEM studies of sol–gel.
Compliance with ethical standards
Conflict of interest
The authors declare that they have no conflict of interest.
Ethical approval
Authors hereby certify that animal experiments conducted in this research has been approved by the Institutional Animal Ethical Committee (IAEC) of VIT University (VIT/IAEC/10th/March 14/No.29).
Project title
A novel transdermal drug delivery system based on iontophoresis for the treatment of varicose veins to reduce pain.
Copyright information
© Springer Science+Business Media, LLC, part of Springer Nature 2018