Study of visible light emission under UV excitation in Y2O3:Er3+-Gd3+ and Y2O3:Eu3+-Gd3+ nanocrystals
Original Paper: Sol–gel and hybrid materials for optical, photonic and optoelectronic applications
Abstract
In this work, we study the Y2O3:Er3+-Gd3+ and Y2O3:Eu3+-Gd3+ nanocrystals using statistical tools in order to quantify the effect of dopant concentration, crystallite size, induced strain, and lattice parameters on luminescent parameters such as intensity and color emission. Samples were synthesized using the sol–gel method. In the case of emission properties of Y2O3:Er3+-Gd3+, the most important factor is Erbium concentration, while the energy transfer between Gadolinium-Erbium is statistically insignificant, compared to the dynamics between Erbium–Erbium ions. On the other hand, the Y2O3:Eu3+-Gd3+ emission intensity depends on the dopant concentration: an increase of Gadolinium ions increases the emission intensity, and the quadratic effect of the Eu3+ ions reduce the emission intensity. However, the color coordinate is not so influenced by the dopant concentration; in the case of Y2O3:Er3+-Gd3+ samples, the color coordinate depends only on Er3+ concentration.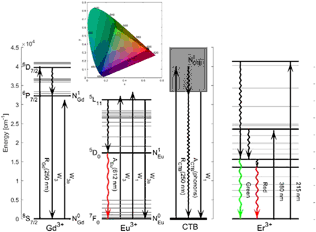 Keywords
ANOVA 
Emission 
Europium 
Gadolinium 
Erbium 
Notes
Compliance with ethical standards
Conflict of interest
The authors declare that they have no conflict of interest.
Copyright information
© Springer Science+Business Media, LLC, part of Springer Nature 2018