Catalytic coating in microstructured devices and their performance in terms of the SO2 oxidation
Original Paper: Sol-gel and hybrid materials for catalytic, photoelectrochemical and sensor applications
Abstract
Microstructured reactors offer several advantages due to their small dimensions and due to their unique heat transfer capabilities. Highly exothermic reactions can be carried out readily in microreactors. In heterogeneous reactions with a catalyst, which is applied as a thin film on the channel walls, the full potential of these microreactors can be utilized. A challenge in the application of the catalyst is whether the microchannel has open ends or whether the microchannel has an opening along the channel axis. The coating is done via the sol–gel route by injecting the liquid precursor into the microchannels or by dropping the liquid precursor onto the microchannels. For the examinations, two types of specimen are coated with Pt/TiO2 gel in two different compositions (2.5 and 10 wt%) in one step. After calcination, the specimen are reduced under flow conditions in 5 vol% H2 in Ar at 773 K for 5 h to obtain Pt(0) from Pt2+. The performance of the catalyst (Pt(0)) is investigated by means of the SO2 oxidation. The results for the oxidation test with the lower concentrated composition show higher conversion values, which can be related to a good dispersion and small particles of the active phase. But differences are found for the tests with the open-ended microchannels, resulting in lower conversion values compared to the microchannels with opening along the channel axis. The influence of the catalyst caused by an insufficient oxidation of the deposited gel, leading to an interaction between support and active component (SMSI) is discussed. The XRD measurements indicate rutile modification as well as large crystallite sizes. Due to this fact, SMSI effect can be excluded and is not responsible for the differences measured in the SO2 conversion. Microprobe analyses determine the distribution of the platinum in the porous titanium dioxide support as uniform. SEM investigations show that the low value in conversion can be related to a non-uniform distribution of the catalyst in the closed microchannels. Considering the drying process in the closed microchannel, an influence of the geometry is obvious. Based on the observation, a model has been developed, which explains qualitatively the distribution of the coating. As a consequence of this model, the coating parameter has to be chosen that no maldistribution occurs.
Graphical Abstract
SEM picture showing the maldistribution of the catalytic coating introduced by a sol–gel process in a microstructured channel system of diffusion welded specimen. Drying may be carried out only via the inlets/outlets, which seems to be responsible for the accumulation of coating. The model explains that the contact line moved with time to the center of the microchannel and the deposition takes place at the moving contact line.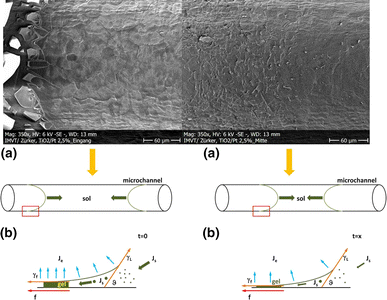 Keywords
Microstructured reactor 
Coated microchannels 
Sol–gel process 
Drying process 
SO2 oxidation 
SMSI 
Notes
Acknowledgments
The financial support from Helmholtz Program SCI (Storage and Cross-linked Infrastructure) is gratefully acknowledged. The authors would like to thank Dr. Marcus Müller (KIT, IAM-KWT) for the XRD measurements.
Copyright information
© Springer Science+Business Media New York 2016