Fabrication of filter paper with tunable wettability and its application in oil–water separation
Abstract
Artificial materials with controllable wettability are of global interests in oil–water related applications. In the present report, a surface with superhydrophilicity/superoleophilicity and underwater superoleophobicity was constructed on filter paper via dip-coating ZnO colloids. However, the wettability of the filter paper was converted to be superhydrophobic and superoleophilic after being modified by octyltrimethoxysilane, and water contact angle on the surface is larger than 150° while oil contact angle is smaller than 5°. The filter paper can be employed to selectively adsorb oil floating on water or separate water–oil mixtures via filtration process because of its superhydrophobicity and superoleophilicity. Additionally, the filter paper has also the capacity to hold water, which is expected to be used as a material for manufacturing labwares.
Graphical Abstract
A filter paper with superhydrophobicity and superoleophilicity was fabricated by dip-coating and subsequent modification. Water contact angle and sliding angle on the filter paper are 157°and 6°, respectively. The filter paper with superhydrophobicity and superoleophilicity could be employed to separate oil–water mixture with high efficiency.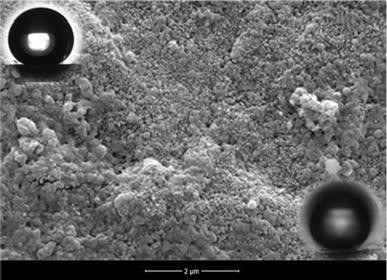 Keywords
Superhydrophobic 
Superoleophilic 
ZnO colloids 
Filter paper 
Oil/water separation 
Notes
Acknowledgments
The authors sincerely acknowledge the financial support to this project from Nature Science Foundation of China (20873101), the General Program of the Key Laboratory of Hexi Corridor Resources Utilization of Gansu Universities (Grant No. ZX1406) and the President Fund of Hexi University (Grant No. XZ201304).
Supplementary material
Supplementary material 1 (AVI 9012 kb)
Copyright information
© Springer Science+Business Media New York 2015