Effects of Fe doping on the optical and magnetic properties of TiO2 films deposited on Si substrates by a sol–gel route
Abstract
Fe-doped TiO2 films were deposited on Si(100) substrates by a sol–gel technique. X-ray diffraction measurements show that all the films contain both anatase and rutile phases, and Fe doping promotes the anatase–rutile transformation of TiO2 films. The optical constants of the films were attained by tackling spectroscopic ellipsometry data. With increasing Fe content, the refractive indices n values at 2 eV photon energy first increases, then decreases, and finally increases again, and the optical band gap of the films sharply reduces from 3.60 to 3.30 eV. These results may be not only related to Fe contents but also to the phase composition changed by Fe doping. In addition, the undoped TiO2 film showed feeble ferromagnetic character. Ferromagnetic behaviors were clearly observed for x = 0.01 Fe-doped TiO2 film. When x > 0.01, the magnetizations of the samples, firstly decrease and then increase with the increment Fe content, which may be due to an anatase-to-rutile junction destroying an F-center bound magnetic polaron.
Graphical Abstract
The
n
values at 2 eV photon energy first increases, then decreases, and finally increases again with the increase of Fe composition, which suggested the complicated polarity mechanism of the present samples. The abnormal changes of refractive indices may be related to not only Fe doping but also the outcome of the anatase/rutile junctions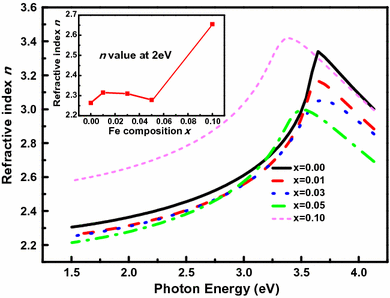 Keywords
TiO2 
Phase transition 
Magnetic property 
Optical property 
Notes
Acknowledgments
The authors are grateful to Jinzhong Zhang, Shijiang Liu and Ping Yu for the technical support. This work was supported by Postdoctoral Science Foundation of Henan Province (2012021), Foundation of He'nan Educational Committee (14B140022), and the National Natural Science Foundation of China (61306019, 51372069, 60990312 and 61076060).
Copyright information
© Springer Science+Business Media New York 2015