Synthesis and characterization of spinel-type CuAl2O4 nanocrystalline by modified sol–gel method
Open Access
Original Paper
Abstract
Nanocrystalline Copper aluminate (CuAl2O4) was prepared by sol–gel technique using aluminum nitrate, copper nitrate, diethylene glycol monoethyl ether and citric acid were used as precursor materials. This method starts from of the precursor complex, and involves formation of homogeneous solid intermediates, reducing atomic diffusion processes during thermal treatment. The formation of pure crystallized CuAl2O4 nanocrystals occurred when the precursor was heat-treated at 600 °C in air for 2 h. The stages of the formation of CuAl2O4, as well as the characterization of the resulting compounds were done using thermo–gravimetric analysis, X-ray diffraction, scanning electron microscopy and Fourier transform infrared spectroscopy. The products were analyzed by transmission electron microscopy and ultraviolet–visible (UV–Vis) spectroscopy to be round, about 17–26 nm in size and E g = 2.10 eV.
Keywords
Powders-chemical preparation 
CuAl2O4 
Nanocrystals 
Sol–gel 
Transition metal oxides 
1

Introduction

Aluminum-based spinels constitute an interesting class of oxide ceramics with important technological applications. The impressive optical (e.g., CoAl2O4 is well known as Thenard's Blue) and chemical (catalytic applications) properties of transition-metal aluminates make them of significant interest as nano-pigment and catalysts [1, 2]. For example spinel AMn2O4 (A = Cu, Zn) [3] has been performed well for photocatalyzing water splitting into H2 and O2. Also, studies of aluminate system have focused on doping with the second activator, such as Nd, Eu and co-doped with Er or Cr [4, 5, 6] that these studies are interesting.

Transition metal aluminates are commonly prepared by a solid state reaction [7], coprecipitation method [8, 9], hydrothermal [10, 11, 12], combustion [13] and sol–gel [14, 15, 16, 17, 18, 19, 20, 21, 22]. The disadvantages of solid-state routes, such as inhomogeneity, lack of stoichiometry control, high temperature and low surface area, are improved when the material is synthesized using a solution-based method. Compared with other techniques, the sol–gel method is a useful and attractive technique for the preparation of aluminate spinels because of its advantage of producing pure and ultrafine powders at low temperatures.

Transition metal-oxide spinels are important in many application fields because of their high thermal resistance and catalytic, electronic and optical properties. They are commonly used in semiconductor and sensor technology as well as in heterogeneous catalysis [23, 24, 25, 26, 27, 28, 29, 30, 31]. A modified sol–gel method for preparing the metal oxides is Pechini method [32]. The Pechini method involves combining a metal precursor with water, citric acid and a polyhydroxyalcohol, such as ethylene glycol.

In the present investigation, CuAl2O4 nanocrystals have been prepared by modified Pechini method. Characterization studies have been done by using thermo-gravimetric analysis (TGA), X-ray diffraction (XRD), scanning electron microscopy (SEM), transmission electron microscopy (TEM), Fourier transform infrared (FTIR) spectroscopy and ultraviolet–visible (UV–Vis) spectroscopy.
2

Experimental
2.1

Synthesis of CuAl2O4 nanocrystals

At first 1.57 mmol Cu(NO

3

)

2

 · 3H

2

O were dissolved in 6 mL diethylene glycol monoethyl ether (DGME) and 23.5 mmol anhydrous citric acid (HOOCCH

2

C(OH)(COOH)CH

2

COOH) was subsequently added to this solution and dissolved at 50 °C for 1 h. After complete dissolution, 3.14 mol Al(NO

3

)

3

 · 9H

2

O in 9 mL diethylene glycol monoethyl ether was added. A green blue solution was obtained and further heated at 80 °C for 1 h to remove excess water. During continued heating at 130 °C for 1 h, the solution became more and more viscous and finally became a xerogel. To complete drying, xerogel was placed at 250 °C for 1 h. Result violet powder is as precursor. In the furnace, we heat-treated the precursor at 400–800 °C in air, in an Al

2

O

3

boat, and then cooled it to room temperature (Fig. 

1

). Two processes were adopted to prepare CuAl

2

O

4

nanocrystals, one process as summarized in Fig. 

1

and another process was similar to Fig. 

1

only the reaction was done without citric acid.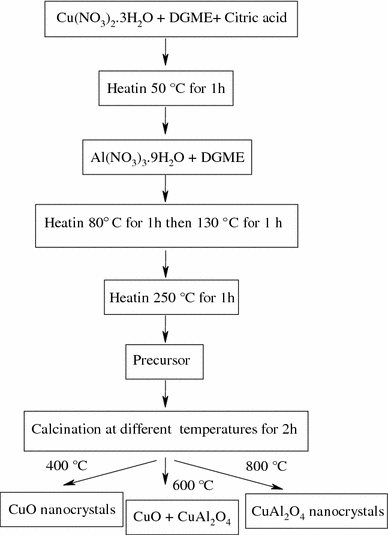 2.2

Characterizations

All the chemicals reagents used in our experiments were of analytical grade and were used as received without further purification. XRD patterns were recorded by a Rigaku D-max C III, X-ray diffractometer using Ni-filtered Cu Kα radiation. Elemental analyses were obtained from Carlo ERBA Model EA 1108 analyzer. Scanning electron microscopy (SEM) images were obtained on Philips XL-30ESEM equipped with an energy dispersive X-ray spectroscopy. Transmission electron microscopy (TEM) micrographs were obtained on a Philips EM208 transmission electron microscope with an accelerating voltage of 100 kV. Fourier transform infrared (FT-IR) spectra were recorded on Shimadzu Varian 4300 spectrophotometer in KBr pellets. Ultraviolet–Visible (UV–Vis) spectroscopies for the spectral dependence of optical absorbance for the nanocrystalline CuAl2O4 powders were taken using spectrophotometer (Model 2101 PC) equipment in absorbance. Thermogravimetric analysis (TGA) were carried out using a thermal gravimetric analysis instrument (Shimadzu TGA-50H) with a flow rate of 20.0 mL min−1 and a heating rate of 10 °C min−1.
3

Results and discussion

Yanyan et al. [34] have synthesized nanocrystalline spinel CuAl2O4 powders by sol–gel method. They could prepare pure spinel CuAl2O4 nanopowders at 800 °C according to XRD pattern. They believed spinel CuAl2O4 is formed at high temperature and at the low temperature only CuO is formed not CuAl2O4. Our XRD patterns are agreement with their results.

The XRD pattern of the nanocrystals formed in the absence of citric acid shows a relatively sharp peak with higher intensity (Fig. 3e). When citric acid was introduced into the system, the organic ligand capped the nanocrystals surface, thereby inhibiting the growth of the particles. The XRD patterns of the nanocrystals modified with citric acid indicate that the intensity of all of the peaks decreased with a peak broadening (Fig. 3d). This suggests that the size of the nanocrystals was decreased with organic ligand capping. The average crystallite size of the unmodified nanocrystals calculated by the XRD data using Scheerer's equation is 28 nm, while the average crystallite size of nanocrystals synthesized with citric acid modification is about 17 nm.

With reference to the results, the citric acid as chelating-fuel agent was added to the solution. In other to other paper [43] have two different roles. (1) Citric acid as a chelating agent binds metallic ions (Al3+ and Co2+), citric or was applied for formation of complexes for the preparation of Cu–Al oxides, and citric acid as a fuel helps to progress the synthesis at relatively low temperatures. However, the role of pH in the chemistry of (Co and Al) gel with different molar ratio of citric acid to cations has being investigated in our laboratory and their results as soon as would be reported.
4

Conclusions

The proposed modified Pechini method is most powerful for the synthesis of mixed oxides. Spinel CuAl2O4 nanocrystals were successfully synthesized with Cu(NO3)2 · 3H2O, Al(NO3)3 · 9H2O and acid citric by modified sol–gel method. The lowest temperature for preparation of the pure CuAl2O4 nanocrystals is about 800 °C. The morphology of as-prepared CuAL2O4 was quasi-spherical and the dimension was measured to be 17–26 nm. The bandgap, E g, was calculated at 2.10 eV by using the stimulated wavelength limit of CuAl2O4.
Notes
Acknowledgments
Authors are grateful to council of University of Kashan for providing financial support to undertake this work.
Open Access
This article is distributed under the terms of the Creative Commons Attribution Noncommercial License which permits any noncommercial use, distribution, and reproduction in any medium, provided the original author(s) and source are credited.