pH-responsive hydrogels based on the self-assembly of short polypeptides for controlled release of peptide and protein drugs
Abstract
In this study, a pH-responsive hydrogel consisting of a 4-arm poly(ethylene glycol)-block-poly(L-glutamic acid) (4a-PEG-PLG) copolymer was developed and used for the controlled release of peptide and protein drugs. It was found that the mechanical properties and degradation processes of the hydrogels could be tuned by changing the polymer concentrations. In vitro drug release results revealed that the release of insulin (or BSA) from hydrogel was highly dependent on the pH, i.e., less than 20% of insulin (or BSA) was released in the artificial gastric fluid (AGF) at 72 h, while close to 100% of insulin (or BSA) was released in the artificial intestinal fluid (AIF). It was because that the deprotonation of carboxyl groups in PLG block caused the disassembly, and even disintegration of the hydrogel in AGF, thereby resulting in accelerated drug release. Circular dichroism spectra showed that the bioactivities of insulin and BSA released from hydrogels were obviously unchanged compared to those of native insulin and BSA, respectively. Mouse fibroblast L929 cells were cultured on the surface of hydrogels and the viabilities of cultured cells were above 90% after incubation for 24 h, indicating that the hydrogels had good cytocompatibilities. Moreover, in vivo degradation evaluation disclosed that the formed hydrogels will completely degrade after 8 days, and the H&E staining study demonstrated the excellent biocompatibility of the as-prepared hydrogels. Therefore, the biocompatible and biodegradable 4a-PEG-PLG hydrogel may serve as a promising platform for pH-responsive drug delivery.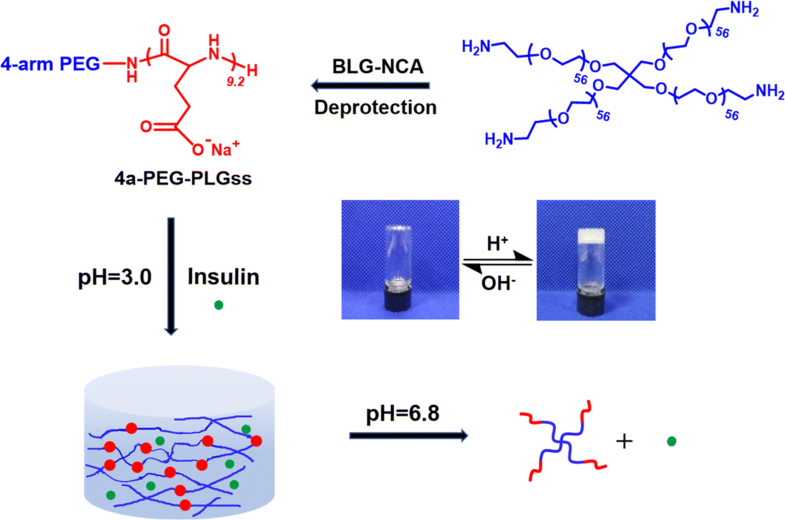 Keywords
Poly(L-glutamic acid) 
Hydrogel 
pH-responsiveness 
Insulin 
Self-assembly 
Notes
Acknowledgements
This work was financially supported by the National Natural Science Foundation of China (51520105004 and 51833010) and the Youth Innovation Promotion Association of CAS (2017266).
Copyright information
© The Polymer Society, Taipei 2019