Nanocomposites of polyethylene and ternary (Mg + Zn/Al) layered double hydroxide modified with an organic UV absorber
Abstract
In this research work, ternary (Mg + Zn:Al; M2+:M3+ = 2:1) layered double hydroxides (LDH) intercalated with nitrate and p-aminobenzoate anions were synthesized through the co­precipitation method at constant alkaline pH. These materials were characterized by several instrumental techniques and used as functional fillers in low-density polyethylene (LDPE), obtaining homogeneous nanocomposites by means of injection molding. In the samples prepared with percentages of 0.5, 2, 4, 6 and 10% by weight in relation to LDPE, maintenance or slight improvement of the mechanical properties was observed for all samples. In the LDPE nanocomposites the UV absorption showed to be higher than neat polyethylene. Weathering experiments performed with the neat LDPE and LDPE nanocomposites containing 5% of maleic anhydride and 5% of LDH intercalated with p­aminobenzoate demonstrated a decrease of oxidation product generated due to ultraviolet radiation absorption because the organic intercalated specie, indicating that the ternary LDH is a potential filler to protect polymers from UV radiation degradation.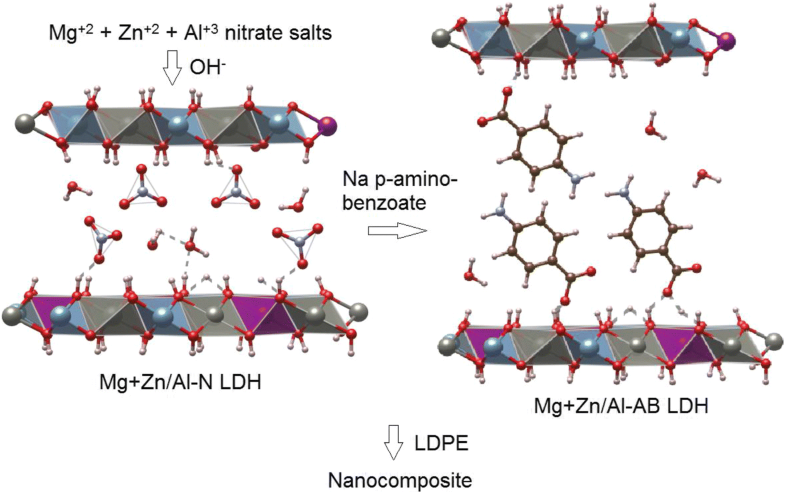 Keywords
Ternary layered hydroxide 
P-aminobenzoate 
Intercalation 
Ultraviolet absorption 
Low-density polyethylene 
Notes
Acknowledgments
This study was financed in part by the Coordenação de Aperfeiçoamento de Pessoal de Nível Superior - Brasil (CAPES) - Finance Code 001, CNPq (Conselho Nacional de Desenvolvimento Cientifico e Tecnológico - Projects 303846/2014-3, 400117/2016-9) and FINEP (Financiadora de estudos e projetos). We also acknowledge Braskem for donating the LDPE, Prof. Marco Tadeu Grassi for the ICP-EOS analysis and Prof. Andreas Leuteritz of the Leibniz-Institut für Polymerforschung, Dresden, Germany, where part of this work was developed. NAGG also thanks CAPES for the PhD scholarships.
Copyright information
© The Polymer Society, Taipei 2019