Post-functionalization of perfluorocyclobutyl aryl ether polymers with a novel perfluorosulfonated side chain precursor
Abstract
To develop a new approach to prepare sulfonated perfluorocylobutyl (PFCB) aryl ether polymers, post-functionalization of PFCB aryl ether polymers with a novel perfluorosulfonated side chain precursor was described in this study. The precursor was firstly designed and synthesized from 4-(2-bromo-1,1,2,2-tetrafluoroethoxy) phenol and hexafluorobenzene via nucleophilic substitution, followed by sulfinatodehalogenation and oxidation. Then a series of novel sulfonated PFCB aryl ether polymers (FS-PFCB-x) was successfully prepared from the precursor by a nucleophilic aromatic substitution reaction. The components of the precursor were investigated by fourier transform infrared spectroscopy, nuclear magnetic resonance (NMR) spectroscopy and high resolution mass spectrometry. The chemical structures of FS-PFCB-x polymers were characterized by NMR spectroscopy. FS-PFCB-xx polymers exhibited good thermal stability with decomposition temperatures up to 200 °C, and good solubility in polar aprotic solvents as dimethyl sulfoxide, N,N-dimethylformamide and N,N-dimethylacetamide.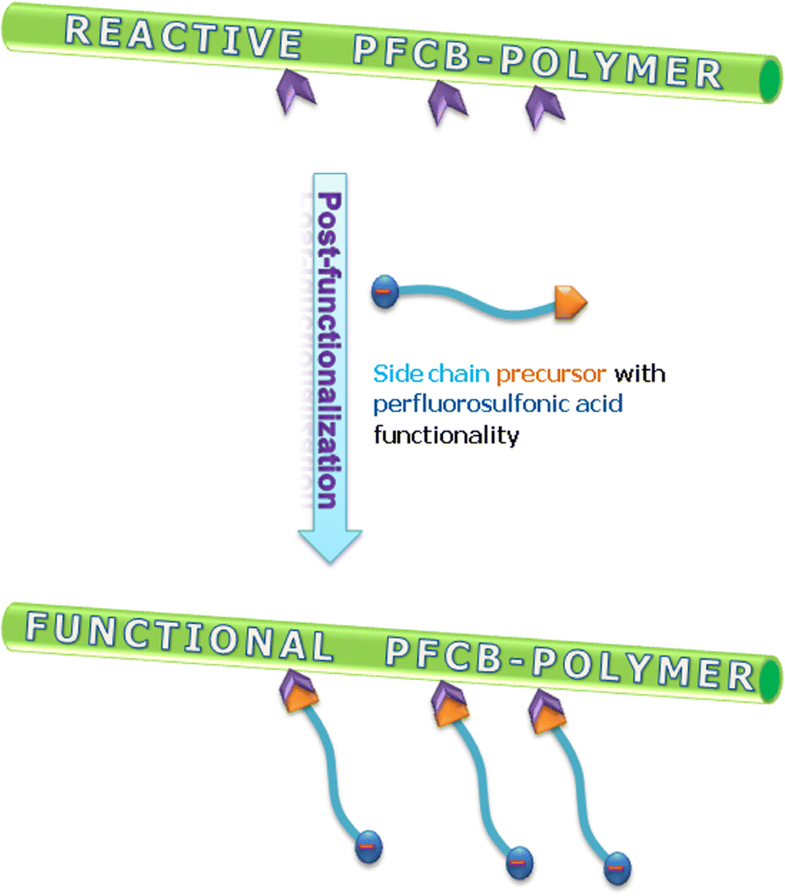 Keywords
Fluorinated polymers 
Perfluorocyclobutyl 
Perfluoroalkylsulfonic acid 
Post-functionalization 
Sulfonated polymers 
Notes
Acknowledgements
We would like to thank the financial support from the National Natural Science Foundation of China (21764002), the Guangxi Natural Science Foundation (2017GXNSFAA198273), and the Scientific Research Foundation of Guangxi University (XTZ140787, XJPZ160713).
Copyright information
© The Polymer Society, Taipei 2019