High temperature PEMs developed from the blends of Polybenzimidazole and poly(azomethine-ether)
Abstract
Proton exchange membrane (PEM) has been developed from the polymer blend of polybenzimidazole (PBI) and poly(azomethine-ether) (PAME). The effects of the blend compositions on the properties such as thermo-mechanical stability, proton conductivity etc. of PEM were studied. The miscibility of the blend membranes was confirmed by characterizing the blend samples using varieties of spectroscopy and thermo dynamical techniques. FT-IR and SS-NMR studies revealed the presence of specific interactions between the two polymers. All blend membranes showed single glass transition temperature (Tg) attributing that the this blend system is a miscible blend. The thermogravimetric studies confirmed that the blend membranes were more stable than the pristine PBI below 300 °C temperatures and less stable above 300 °C. Morphology probed by transmission electron microscopy studies displayed morphological features which consisted of both thread like structure and particle like structures thus confirming the uniform mixing of polymers in the blends. Mechanical stabilities of the blend membranes were quite high compared to the pristine polymers as obtained from the dynamic mechanical analyzer (DMA) studies. The blend membranes showed higher proton conductivity compared to pristine PBI. The proton conductivity increased upon increasing the percentage of PAME in the blend membranes. All these results indicated that the blend membranes are promising candidates for the application in high temperature proton exchange membrane in fuel cell.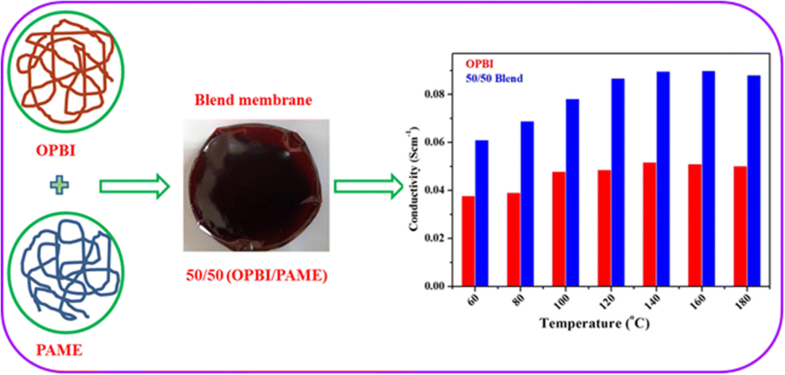 Keywords
Proton exchange membrane 
Polybenzimidazoles 
Poly(azomethine-ether) 
Polymer blend 
Proton conductivity 
Notes
Acknowledgements
We gratefully acknowledge financial support by SERB, Govt. of India (Project No. SB/S1/PC-054/2013). We also thank UGC-CAS and DST-PURSE for helping our reseach with the financial support. S.B.K.R thanks UGC for the junior and senior research fellowship.
Copyright information
© The Polymer Society, Taipei 2019