Synthesis of rGO/TiO2/PEDOT nanocomposites, supercapacitor device performances and equivalent electrical circuit models
Abstract
A new nanocomposite electrode incorporating poly(3,4-ethylenedioxythiophene) (PEDOT) within the nanocomposite film of the reduced graphene oxide / Titanium dioxide (TiO2) was synthesized to be used in supercapacitor devices. We used constant EDOT monomer for in-situ polymerization and different initial monomer concentration ratio of [rGO]o/[TiO2]o = 1/1, ½ and 1/5. The obtained nanocomposites were examined by FTIR-ATR, UV-vis, SEM-EDX, TGA-DTA, BET surface areas and pore distribution, XRD, TEM, AFM, CV, GCD and EIS analyses. The results showed that graphene oxide was successfully reduced to rGO by means of the microwave-assisted method. It was confirmed by the increases in the specific capacitance of (Csp = 652 F/g) at 1 mV/s for the rGO/TiO2/PEDOT nanocomposite at [rGO]o/[TiO2]o = 1/5. This was related to the pore size (~33.50 nm) of the material for rGO/TiO2/PEDOT at [rGO]o/[TiO2]o = 1/5 obtained from BET analysis. The other Csp values were 475.33 F/g for [rGO]o/[TiO2]o = 1/2, 114.09 F/g for rGO/PEDOT and 48.02 F/g for [rGO]o/[TiO2]o = 1/1. Equivalent circuit model of Rct(CdlRct) was analyzed via ZSimpWin and TINA programmes. A facile and inexpensive approach for a ternary nanocomposite synthesis of rGO/TiO2/PEDOT was presented for future supercapacitor applications.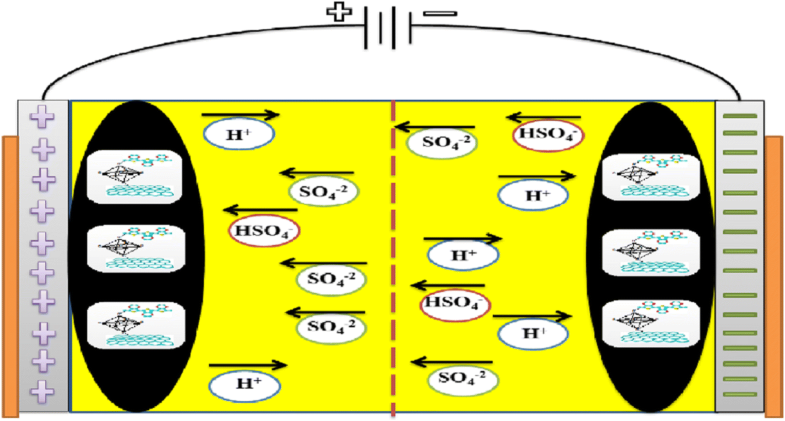 Keywords
rGO/TiO2/PEDOT 
Nanocomposite 
Supercapacitor 
Pore analysis 
Microwave irradiation 
Notes
Acknowledgements
The authors gratefully acknowledge the financial support from TUBITAK, Project number: 117 M042. We wish thank to Assoc.Prof.Dr. Murat Turkyilmaz (Trakya Uni., Chemistry Dep., Inorganic Chem. Div., for his TGA/DTA measurements.
Author contribution
The manuscript was written through the contributions of all authors. All authors have given approval to the final version of the manuscript.
Compliance with ethical standards
Competing interests
The authors declare that they have no competing interests.
Copyright information
© The Polymer Society, Taipei 2019