Effect of bis[2-(methacryloyloxy)ethyl] phosphate as a crosslinker on poly(AAm-co-AMPS)/Na-MMT hydrogel nanocomposite as potential adsorbent for dyes: kinetic, isotherm and thermodynamic study
Abstract
In the present study, synthesis of poly(AAm-co-AMPS)/Na-MMT hydrogel nanocomposite with different amount of bis[2-(methacryloyloxy)ethyl] phosphate as a crosslinker was successfully carried out for the removal of crystal violet (CV), methylene blue (MB) and methyl red (MR) from aqueous solution. Hydrogel nanocomposite was characterized by FT-IR, SEM, EDS, XRD and TGA analysis. Several important parameters were investigated to obtain maximum adsorption capacity. Adsorption behavior of hydrogel nanocomposite was investigated for the adsorption of dyes and it was found to remove about 80% for CV, 89% for MB and 51% for MR in 50 mg/L of dyes solutions at pH 7 and about 86% for CV, 93% for MB and 23% for MR at pH 12. Kinetic studies revealed that the applicability of pseudo-first-order and pseudo-second-order model for the adsorption of CV, MB and MR. The adsorption isotherm was studied in 25, 35, 45 and 55 °C using Langmuir, Freundlich, Temkin and Jovanovic models and the adsorption data were well described by Freundlich isotherm model. Hydrogel nanocomposite showed 155, 176 and 113 mg/g maximum adsorption capacity for CV, MB and MR respectively. Negative values of ΔG0 for all three dyes suggested the feasibility of dyes removal and support for spontaneous adsorption of CV, MB and MR on hydrogel nanocomposite. Desorption of dyes from the dye loaded hydrogel nanocomposite was simply done in ethanol. The results indicate that the prepared poly(AAm-co-AMPS)/Na-MMT hydrogel nanocomposite is an efficient adsorbent with high adsorption capacity for the aforementioned dyes.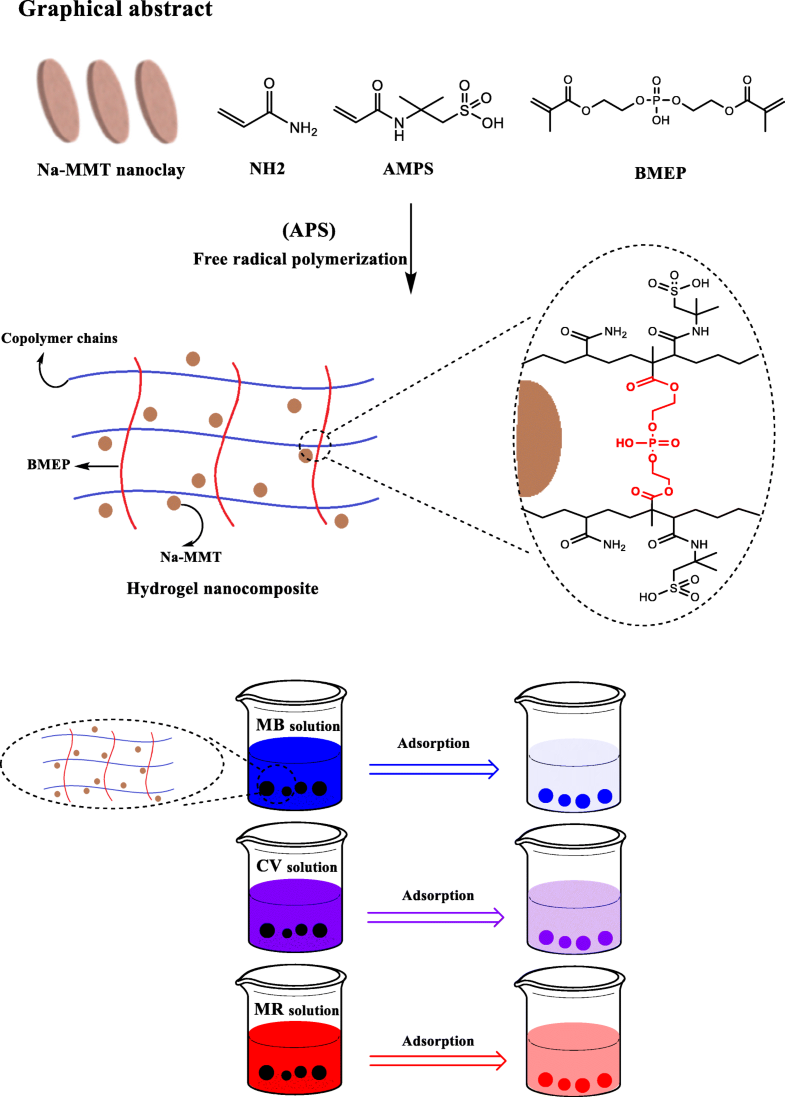 Keywords
Hydrogel nanocomposite 
Dye adsorption 
Methylene blue 
Methyl red 
Kinetic, isotherm 
Notes
Acknowledgements
The authors sincerely appreciate the instrumental supports received from the Islamic Azad University-Karaj branch.
Copyright information
© Springer Nature B.V. 2018