Morphological studies of polyurethane based pressure sensitive adhesives by tapping mode atomic force microscopy
Abstract
The polyurethane pressure sensitive adhesive (PUPSA) films have been prepared on polypropylene sheets with coating bars. The topographical information of the dried films is investigated using phase images by using Atomic Force Microscope (AFM) in tapping mode. The film develops a segmental architecture by using different compositions. Various samples of PUPSA comprising of polypropylene glycol PPG (Mn = 425, 1000, 2000 and 2700 g-mol−1) and hydroxyl terminated polybutadiene HTPB (Mn = 1984 and 2912 g-mol−1) along with three different isocyanates: 1,6 hexane diisocyanate (HDI), isophorone diisocyanate (IPDI) and hexamethylene diisocyanate (H12MDI) have been used for capturing the images through AFM. The samples contained 40 wt.% of solid content containing different nature of macrodiols and diisocyanate. Due to varying composition, dispersion in domain area along with different contour and dimension has been observed in the images. Apparently, there seems no correlation of spherulites and lamellae in different domains. However, the properties imparted by high molecular weight HTPB resulted in non-adhesive stiff material.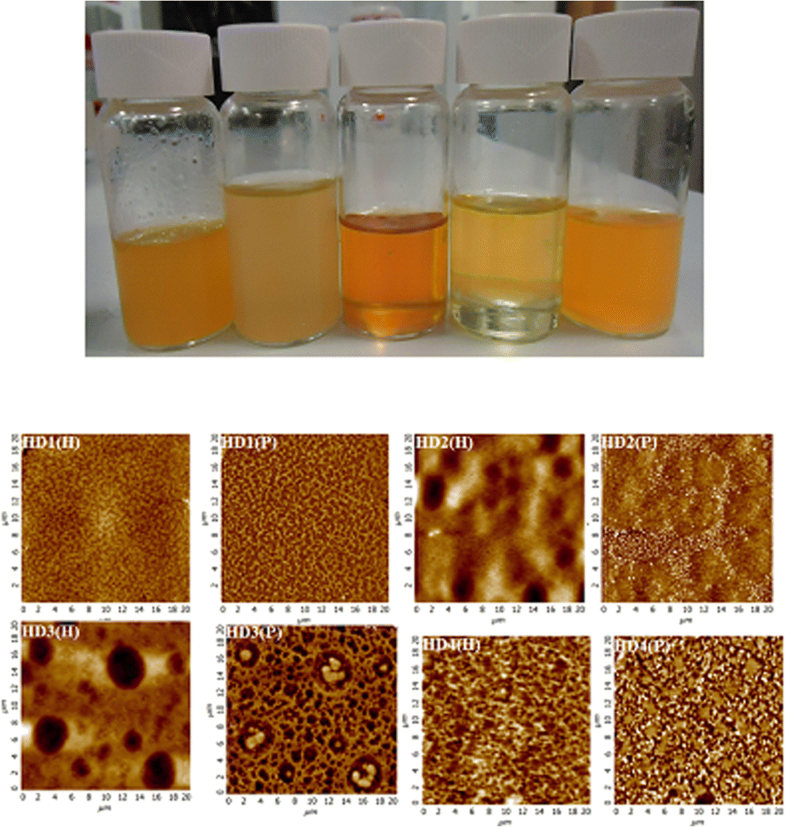 Keywords
Polyurethane 
Pressure sensitive adhesives 
Morphology 
AFM 
Notes
Acknowledgements
The authors are thankful to the Higher Education Commission of Pakistan for providing the funding to complete this work. They also acknowledge the participation of Prof JL. Keddie, technical assistance from Dr. Robert gurney and Mrs. Violeta Doukova at the University of Surrey, UK.
Copyright information
© Springer Nature B.V. 2018