Asynchronous synthesis method of waterborne polyurethane with the differences of structural features and thermal conductivity
Abstract
Waterborne polyurethane (WPU) was successfully synthesized with two ways of one-step method and two-step method, mainly focusing on the effects of asynchronous synthesis method on WPU films' structural features and thermal conductivity. Compared to the one-step synthesis method of WPU (OS-WPU), the two-step synthesis method of WPU (TS-WPU) showed a high thermal conductivity and approximately 1.4-fold higher than OS-WPU. In addition to this, the water- and solvent-resistance properties and crystallinity of TS-WPU also displayed a better performance than that of OS-WPU. Instrumental analyses of FTIR, DSC, DMA, AFM, SEM and XRD indicated that TS-WPU had an evenly phase separation and lots of microcrystal domains, which is owing to the more ordered structures existed in hard and soft segment domains. In short, the long-range order, short-range order and microcrystal domains existed in WPU can facilitate the phonon propagation, and that is corresponding to the increasing of thermal conductivity.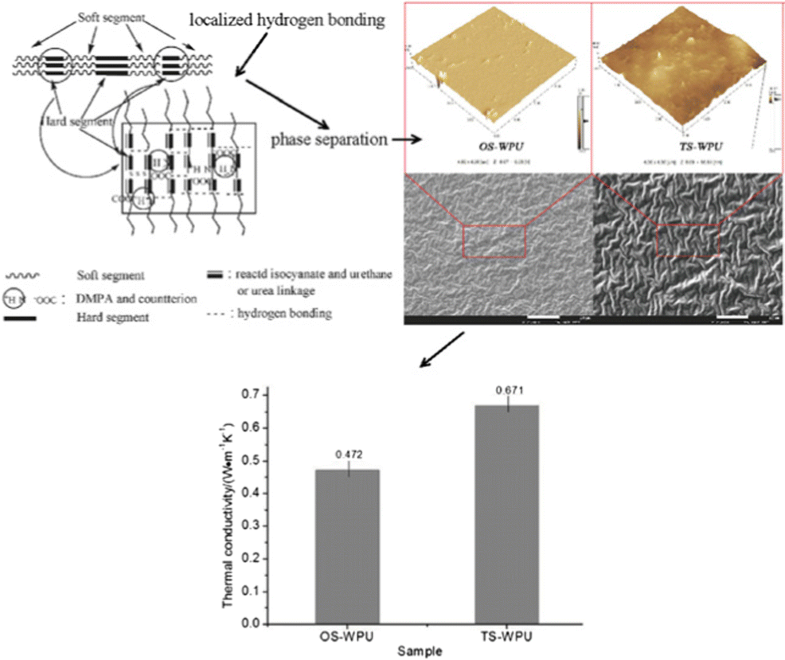 Keywords
Waterborne polyurethane 
Synthetic methods 
Phase separation 
Thermal conductivity 
Structural features 
Notes
Acknowledgements
This work was supported by Administration of Quality Supervision, Inspection and Quarantine (201410110), and thanks for the continuing financial supports of our individual projects on thermal conductivity of functional waterborne polyurethane. Sincerely thanks the key laboratory of leather chemistry and engineering (Sichuan University) provides the equipment for finishing my paper.
Compliance with ethical standards
Conflict of interest
None.
Copyright information
© Springer Nature B.V. 2018