Abstract
"Flipped classroom" teaching methodology is a type of blended learning in which the traditional class setting is inverted. Lecture is shifted outside of class, while the classroom time is employed to solve problems or doing practical works through the discussion/peer collaboration of students and instructors. This relatively new instructional methodology claims that flipping your classroom engages more effectively students with the learning process, achieving better teaching results. Thus, this research aimed to evaluate the effects of the flipped classroom on the students' performance and perception of this new methodology. This study was conducted in a general science course, sophomore of the Primary Education bachelor degree in the Training Teaching School of the University of Extremadura (Spain) during the course 2014/2015. In order to assess the suitability of the proposed methodology, the class was divided in two groups. For the first group, a traditional methodology was followed, and it was used as control. On the other hand, the "flipped classroom" methodology was used in the second group, where the students were given diverse materials, such as video lessons and reading materials, before the class to be revised at home by them. Online questionnaires were as well provided to assess the progress of the students before the class. Finally, the results were compared in terms of students' achievements and a post-task survey was also conducted to know the students' perceptions. A statistically significant difference was found on all assessments with the flipped class students performing higher on average. In addition, most students had a favorable perception about the flipped classroom noting the ability to pause, rewind and review lectures, as well as increased individualized learning and increased teacher availability.
This is a preview of subscription content, log in to check access.
Access options
Buy single article
Instant access to the full article PDF.
US$ 39.95
Price includes VAT for USA
Subscribe to journal
Immediate online access to all issues from 2019. Subscription will auto renew annually.
US$ 99
This is the net price. Taxes to be calculated in checkout.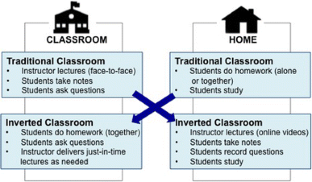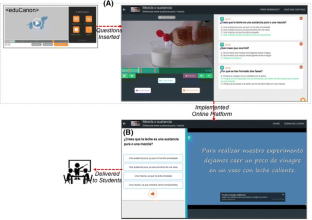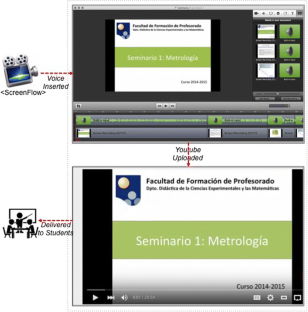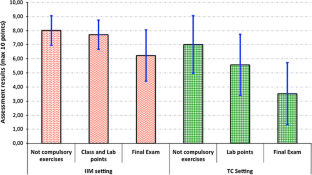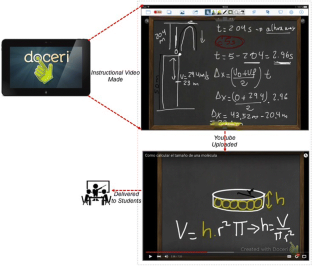 References
Beichner RJ, Saul JM (2003) Introduction to the SCALE-UP (Student-Centered activities for large enrolment undergraduate programs) project. Proceeding of the international school of physics "Enrico Fermi", Varenna, Italy

Bergmann J, Sams A (2014) Flipped learning: maximizing face time. Train Dev 68:28–31

Bishop JL, Verleger M (2013) The flipped classroom: a survey of the research. Paper presented at the 120th ASEE Annual Conference & Exposition, Antlanta, GA

Blair E, Maharaj C, Primus S (2015) Performance and perception in the flipped classroom. Educ Inf Technol. doi:10.1007/s10639-015-9393-5

Chen Y, Wang Y, Chen NS (2014) Is FLIP enough? or should we use the FLIPPED model instead? Comput Educ 79:16–27. doi:10.1016/j.compedu.2014.07.004

Christiansen Michael A (2014) Inverted teaching: applying a new pedagogy to a university organic chemistry class. J Chem Educ 91(11):1845–1850. doi:10.1021/ed400530z

Davies RS, Dean DL, Ball N (2013) Flipping the classroom and instructional technology integration in a college-level information systems spreadsheet course. Educ Tech Res Dev 61(4):563–580

Ferreri SP, O'Connor SK (2013) Redesign of a large lecture course into a small-group learning course. Am J Pharm Educ 77(1):13. doi:10.5688/ajpe77113

Fitzgerald N, Li L (2015) Using presentation software to flip an undergraduate analytical chemistry course. J Chem Educ. doi:10.1021/ed500667c

Gilboy Mary Beth, Heinerichs Scott, Pazzaglia Gina (2015) Enhancing student engagement using the flipped classroom. J Nutr Educ Behav 47(1):109–114. doi:10.1016/j.jneb.2014.08.008

Handelsman J, Ebert-May D, Beichner R, Bruns P, Chang A, DeHaan R, Gentile J, Lauffer S, Steart J, Tilghman SM, Wood WB (2004) Policy forum: scientific teaching. Science 304:521–522

Hill JR, Song L, West RE (2009) Social learning theory and web-based learning environments: a review of research and discussion of implications. Am J Distance Educ 23(2):88–103. doi:10.1080/08923640902857713

Kim MK, Kim SM, Khera O, Getman J (2014) The experience of three flipped classrooms in an urban university: an exploration of design principles. Internet High Educ 22:37–50. doi:10.1016/j.iheduc.2014.04.003

Knight JK, Wood WB (2005) Teaching more by lecturing less. Cell Biol Educ 4:298–310

Love Betty, Hodge Angie, Grandgenett Neal, Swift Andrew W (2013) Student learning and perceptions in a flipped linear algebra course. Int J Math Educ Sci Technol 45(3):317–324. doi:10.1080/0020739X.2013.822582

Mason GS, Rutar TS, Cook KE (2013) Comparing the effectiveness of an inverted classroom to a traditional classroom in an upper-division engineering course. Educ IEEE Trans 56(4):430–435. doi:10.1109/TE.2013.2249066

Mattis KV (2014) Flipped classroom versus traditional textbook instruction: assessing accuracy and mental effort at different levels of mathematical complexity. Technol Knowl Learn. doi:10.1007/s10758-014-9238-0

Moraros J, Islam A, Yu S, Banow R, Schindelka B (2015) Flipping for success: evaluating the effectiveness of a novel teaching approach in a graduate level setting. BMC Med Educ. doi:10.1186/s12909-015-0317-2

O'Flaherty J, Phillips C (2015) The use of flipped classrooms in higher education: a scoping review. Internet High Educ 25:85–95. doi:10.1016/j.iheduc.2015.02.002

Roach T (2014) Student perceptions toward flipped learning: new methods to increase interaction and active learning in economics. Int Rev Econ Educ 17:74–84. doi:10.1016/j.iree.2014.08.003

Sams A, Bergmann J (2013) Flip your students' learning. Technol Rich Learn 70(6):16–20

Silverberg Lee J, Tierney John, Bodek Matthew J (2014) Use of doceri software for iPad in online delivery of chemistry content. J Chem Educ 91(11):1999–2001. doi:10.1021/ed4009057

Sowa L, Thorsen D (2015) An assessment of student learning, perceptions and social capital development in undergraduate, lower-division STEM courses employing a flipped classroom pedagogy. Paper presented at the 122nd ASEE Annual Conference & Exposition, Seattle, WA

Tourón J, Santiago R (2015) Flipped learning model and the development of talent at school. Revista de Educ 368:33–65. doi:10.4438/1988-592X-RE-2015-368-288

Tucker B (2012) The flipped classroom. Online instruction at home frees class for learning. Educ Next 12(1):82–83

Tune JD, Sturek M, Basile DP (2013) Flipped classroom model improves graduate student performance in cardiovascular, respiratory, and renal physiology. Adv Physiol Educ 11(3):57–77

Young JR (2002) "Hybrid'' teaching seeks to end the divide between traditional and online instruction. Chron High Educ 48(28):A33–A34
Acknowledgments
This work was founded by the Ministry of Economy and Competitiveness of Spain (Research Project EDU2012-34140) and European Regional Development Fund (Project GR15009 of Govern of Extremadura).
About this article
Cite this article
González-Gómez, D., Jeong, J.S., Airado Rodríguez, D. et al. Performance and Perception in the Flipped Learning Model: An Initial Approach to Evaluate the Effectiveness of a New Teaching Methodology in a General Science Classroom. J Sci Educ Technol 25, 450–459 (2016). https://doi.org/10.1007/s10956-016-9605-9
Keywords
Inverted methodology

General science teaching

Pre-service teacher students

Teaching methodology