Abstract
The evolution of technologies and the development of new tools with educational purposes are growing up. This work presents the experience of a new tool based on augmented reality (AR) focusing on the anatomy of the lower limb. ARBOOK was constructed and developed based on TC and MRN images, dissections and drawings. For ARBOOK evaluation, a specific questionnaire of three blocks was performed and validated according to the Delphi method. The questionnaire included motivation and attention tasks, autonomous work and three-dimensional interpretation tasks. A total of 211 students from 7 public and private Spanish universities were divided in two groups. Control group received standard teaching sessions supported by books, and video. The ARBOOK group received the same standard sessions but additionally used the ARBOOK tool. At the end of the training, a written test on lower limb anatomy was done by students. Statistically significant better scorings for the ARBOOK group were found on attention–motivation, autonomous work and three-dimensional comprehension tasks. Additionally, significantly better scoring was obtained by the ARBOOK group in the written test. The results strongly suggest that the use of AR is suitable for anatomical purposes. Concretely, the results indicate how this technology is helpful for student motivation, autonomous work or spatial interpretation. The use of this type of technologies must be taken into account even more at the present moment, when new technologies are naturally incorporated to our current lives.
This is a preview of subscription content, log in to check access.
Access options
Buy single article
Instant access to the full article PDF.
US$ 39.95
Price includes VAT for USA
Subscribe to journal
Immediate online access to all issues from 2019. Subscription will auto renew annually.
US$ 99
This is the net price. Taxes to be calculated in checkout.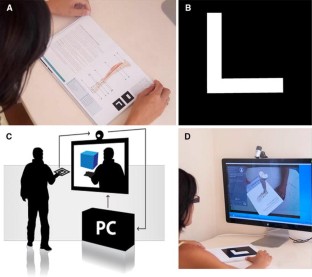 References
Azuma R, Baillot Y, Behringer R et al (2001) Recent advances in augmented reality. Comput Graph Appl IEEE 21:34–47. doi:10.1109/38.963459

Bandura A (1986) Social foundations of thought and action: a social cognitive theory. Prentice-Hall, Englewood Cliffs

Bandura A (2001) Social cognitive theory: an agentive perspective. Annu Rev Psychol 14:1–26. doi:10.1146/annurev.psych.52.1.1

Bryan RR, Glynn SM, Kittleson JM (2011) Motivation, achievement, and advanced placement intent of high school students learning science. Sci Educ 14:1049–1063. doi:10.1002/sce.20462

Cabrilo I, Sarrafzadeh A, Bijlenga P, Landis BN, Schaller K (2014) Augmented reality-assisted skull base surgery. Neurochirurgie. doi:10.1016/j.neuchi.2014.07.001

Campos-Sánchez A, López-Núñez JA, Carriel V, Martín-Piedra MÁ, Sola T, Alaminos M (2014) Motivational component profiles in university students learning histology: a comparative study between genders and different health science curricula. BMC Med Educ 10(14):46. doi:10.1186/1472-6920-14-46

Cottam WW (1999) Adequacy of medical school gross anatomy education as perceived by certain postgraduate residency programs and anatomy course directors. Clin Anat 12:55–65

Dalkey N, Helmer O (1963) An experimental application of the Delphi method to the use of experts. Manag Sci 9:458–467

Eccles JS, Wigfield A (2002) Motivational beliefs, values, and goals. Annu Rev Psychol 14:109–132. doi:10.1146/annurev.psych.53.100901.135153

Garg A, Norman GR, Spero L, Maheshwari P (1999) Do virtual computer models hinder anatomy learning? Acad Med 74:S87–S89

Garg AX, Norman G, Sperotable L (2001) How medical students learn spatial anatomy. Lancet 357:363–364

Garg AX, Norman GR, Eva KW et al (2002) Is there any real virtue of virtual reality? The minor role of multiple orientations in learning anatomy from computers. Acad Med 77:S97–S99

Glynn SM, Brickman P, Armstrong N, Taasoobshirazi G (2011) Science motivation questionnaire II: validation with science majors and nonscience majors. J Res Sci Teach 14:1159–1176. doi:10.1002/tea.20442

Gopal T, Herron SS, Mohn RS et al (2010) Effect of an interactive web-based instruction in the performance of undergraduate anatomy and physiology lab students. Comput Educ 55:500–512

Harman KL, Humphrey GK, Goodale MA (1999) Active manual control of object views facilitates visual recognition. Curr Biol 9:1315–1318

James KH, Humphrey GK, Goodale MA (2001) Manipulating and recognizing virtual objects: where the action is. Can J Exp Psychol Can Psychol Exp 55:111–120

James KH, Humphrey GK, Vilis T et al (2002) "Active" and "passive" learning of three-dimensional object structure within an immersive virtual reality environment. Behav Res Methods Instrum Comput 34:383–390

Keehner M, Khooshabeh P, Hegarty M (2008) Individual differences among users: Implications for the design of 3D medical visualizations. User Centered Des Med Vis pp 1–24

Lamounier E, Bucioli A, Cardoso A et al (2010) On the use of Augmented Reality techniques in learning and interpretation of cardiologic data. Conf Proc Annu Int Conf IEEE Eng Med Biol Soc IEEE Eng Med Biol Soc Conf 2010:610–613. doi:10.1109/IEMBS.2010.5628019

Luciano CJ, Banerjee PP, Bellotte B et al (2011) Learning retention of thoracic pedicle screw placement using a high-resolution augmented reality simulator with haptic feedback. Neurosurgery 69:ons14. doi:10.1227/NEU.0b013e31821954ed

Luursema J-M, Verwey WB, Kommers PA et al (2006) Optimizing conditions for computer-assisted anatomical learning. Interact Comput 18:1123–1138

McLachlan JC, Bligh J, Bradley P, Searle J (2004) Teaching anatomy without cadavers. Med Educ 38:418–424

McNulty JA, Halama J, Espiritu B (2004) Evaluation of computer-aided instruction in the medical gross anatomy curriculum. Clin Anat N Y N 17:73–78

Nicholson DT, Chalk C, Funnell WRJ, Daniel SJ (2006) Can virtual reality improve anatomy education? A randomised controlled study of a computer-generated three-dimensional anatomical ear model. Med Educ 40:1081–1087

Okamoto T, Onda S, Yanaga K, Suzuki N, Hattori A (2014) Clinical application of navigation surgery using augmented reality in the abdominal field. Surg Today (in press)

Sakellariou S, Ward BM, Charissis V et al (2009) Design and Implementation of Augmented Reality Environment for Complex Anatomy Training: Inguinal Canal Case Study. Springer, San Diego, pp 605–614

Soler L, Nicolau S, Pessaux P, Mutter D, Marescaux J (2014) Real-time 3D image reconstruction guidance in liver resection surgery. Hepatobiliary Surg Nutr 3(2):73–81. doi:10.3978/j.issn.2304-3881.2014.02.03

Stirling A, Birt J (2014) An enriched multimedia eBook application to facilitate learning of anatomy. Anat Sci Educ 7:19–27. doi:10.1002/ase.1373

Thomas RG, William John N, Delieu JM (2010) Augmented reality for anatomical education. J Vis Commun Med 33:6–15

Vernon T, Peckham D (2002) The benefits of 3D modelling and animation in medical teaching. J Vis Commun Med 25:142–148
About this article
Cite this article
Ferrer-Torregrosa, J., Torralba, J., Jimenez, M.A. et al. ARBOOK: Development and Assessment of a Tool Based on Augmented Reality for Anatomy. J Sci Educ Technol 24, 119–124 (2015). https://doi.org/10.1007/s10956-014-9526-4
Keywords
Anatomy

Augmented reality

Three-dimensional interpretation

Teaching-supporting material

Virtual imaging