Abstract
There is a growing interest in addressing spirituality in health care with evidence emerging that personal spiritual and religious practices, and support of these, can influence mental health in a positive way. However, there can be distinct challenges to spiritual expression and mental health issues for youth who identify as LGBT+. The goal of this paper was to undertake a systematic review of the available evidence to investigate the relationship between mental health, spirituality and religion as experienced by LGBT+ youth. A comprehensive literature search was conducted using medical and psychological databases that focused on spirituality, mental health and LGBT+ youth. The search yielded a total of ten articles published in English between May 2008 and June 2018. The key findings highlighted issues around discriminatory attitudes, shame related to disclosure, spirituality as a supportive resource, internalised conflict and external factors around sexual orientation concerns. The psychological, social and health implications are presented and discussed.
This is a preview of subscription content, log in to check access.
Access options
Buy single article
Instant access to the full article PDF.
US$ 39.95
Price includes VAT for USA
Subscribe to journal
Immediate online access to all issues from 2019. Subscription will auto renew annually.
US$ 99
This is the net price. Taxes to be calculated in checkout.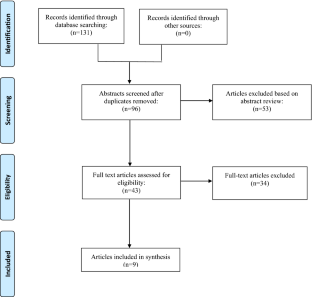 References
Allport, G. W. (1954). The historical background of modern social psychology. Handbook of Social Psychology,1, 3–56.

Barnes, D. M., & Meyer, I. H. (2012). Religious affiliation, internalized homophobia, and mental health in lesbians, gay men, and bisexuals. American Journal of Orthopsychiatry,82(4), 505–515.

Bonelli, R. M., & Koenig, H. G. (2013). Mental disorders, religion and spirituality 1990 to 2010: A systematic evidence-based review. Journal of Religion and Health,52(2), 657–673.

Caldwell, K., Henshaw, L., & Taylor, G. (2011). Developing a framework for critiquing health research: An early evaluation. Nurse Education Today,31(8), 1–7.

Castaldelli-Maia, J. M., & Bhugra, D. (2014). Investigating the interlinkages of alcohol use and misuse, spirituality and culture—Insights from a systematic review. International Review of Psychiatry,26(3), 352–367.

Critical Appraisal Skills Programme. (2018). CASP qualitative research checklist. Oxford: Critical Appraisal Skills Programme. Retrieved January 26, 2018, from https://casp-uk.net/casp-tools-checklists/.

Eick, U., Rubinstein, T., Hertz, S., & Slater, A. (2016). Changing attitudes of high school students in Israel toward homosexuality. Journal of LGBT Youth,13(1–2), 192–206.

Foster, M. L., Arnold, E., Rebchook, G., & Kegeles, S. M. (2011). 'It's my inner strength': Spirituality, religion and HIV in the lives of young African American men who have sex with men. Culture, Health & Sexuality,13(9), 1103–1117.

Gattis, M. N., Woodford, M. R., & Han, Y. (2014). Discrimination and depressive symptoms among sexual minority youth: Is gay-affirming religious affiliation a protective factor? Archives of Sexual Behavior,43(8), 1589–1599.

Gibbs, J. J., & Goldbach, J. (2015). Religious conflict, sexual identity, and suicidal behaviors among LGBT young adults. Archives of Suicide Research,19(4), 472–488.

Gold, S. P., & Stewart, D. L. (2011). Lesbian, gay, and bisexual students coming out at the intersection of spirituality and sexual identity. Journal of LGBT Issues in Counseling,5(3–4), 237–258.

Hamblin, R., & Gross, A. M. (2013). Role of religious attendance and identity conflict in psychological well-being. Journal of Religion and Health,52(3), 817–827.

Hatzenbuehler, M. L., Pachankis, J. E., & Wolff, J. (2012). Religious climate and health risk behaviors in sexual minority youths: A population-based study. American Journal of Public Health,102(4), 657–663.

Herdman, T. H., & Kamitsuru, S. (2014). NANDA International Nursing Diagnoses: Definitions and classification, 2015-2017. Oxford: Wiley Blackwell.

Hill, P. C., & Pargament, K. I. (2003). Advances in the conceptualization and measurement of religion and spirituality. Implications for physical and mental health research. The American Psychologist,58(1), 64.

Jeffries, W. L., IV, Okeke, J. O., Gelaude, D. J., Torrone, E. A., Gasiorowicz, M., Oster, A. M., et al. (2014). An exploration of religion and spirituality among young, HIV-infected gay and bisexual men in the USA. Culture, Health & Sexuality,16(9), 1070–1083.

King, M. (2014). The challenge of research into religion and spirituality. Journal for the Study of Spirituality,4(2), 106–120.

Kite, M. E., & Deaux, D. (1986). Attitudes toward homosexuality: Assessment and behavioral consequences. Basic and Applied Social Psychology,7(2), 137–162.

Koenig, H. G. (2009). Research on religion, spirituality, and mental health: A review. The Canadian Journal of Psychiatry,54(5), 283–291.

Kralovec, K., Fartacek, C., Fartacek, R., & Plöderl, M. (2014). Religion and suicide risk in lesbian, gay and bisexual Austrians. Journal of Religion and Health,53(2), 413–423.

Kubicek, K., McDavitt, B., Carpineto, J., Weiss, G., Iverson, E. F., & Kipke, M. D. (2009). "God made me gay for a reason" young men who have sex with men's resiliency in resolving internalized homophobia from religious sources. Journal of Adolescent Research,24(5), 601–633.

Lauricella, S. K., Phillips, R. E., & Dubow, E. F. (2017). Religious coping with sexual stigma in young adults with same-sex attractions. Journal of Religion and Health,56(4), 1436–1449.

Lease, S. H., Horne, S. G., & Noffsinger-Frazier, N. (2005). Affirming faith experiences and psychological health for caucasian lesbian, gay, and bisexual individuals. Journal of Counseling Psychology,52(3), 378.

Levy, D. L., & Edmiston, A. (2014). Sexual identity, gender identity, and a Christian upbringing: Comparing two studies. Affilia.,29(1), 66–77.

Liboro, R. M., Jr. (2015). Community-level interventions for reconciling conflicting religious and sexual domains in identity incongruity. Journal of Religion and Health,54(4), 1206–1220.

Matthews, C. H., & Salazar, C. F. (2012). An integrative, empowerment model for helping lesbian, gay, and bisexual youth negotiate the coming-out process. Journal of LGBT Issues in Counseling,6(2), 96–117.

McCann, E., & Brown, M. (2018). The inclusion of LGBT+ health issues within undergraduate healthcare education and professional training programmes: A systematic review. Nurse Education Today,64, 204–214.

McCann, E., Keogh, B., Doyle, L., & Coyne, I. (2019). The experiences of youth who identify as trans* in relation to health and social care needs: A scoping review. Youth & Society,51(6), 840–864.

Meyer, I. H. (2003). Prejudice, social stress, and mental health in lesbian, gay, and bisexual populations: Conceptual issues and research evidence. Psychological Bulletin,129(5), 674.

Mohr, J., & Fassinger, R. (2000). Measuring dimensions of lesbian and gay male experience. Measurement and Evaluation in Counseling and Development, 33(2), 66–90.

Moreira-Almeida, A., Sharma, A., van Rensburg, B. J., Verhagen, P. J., & Cook, C. C. (2016). WPA position statement on spirituality and religion in psychiatry. World Psychiatry,15(1), 87–88.

Newcomb, M. E., & Mustanski, B. (2010). Internalized homophobia and internalizing mental health problems: A meta-analytic review. Clinical Psychology Review,30(8), 1019–1029.

Nielson, E. (2017). When a child comes out in the latter-days: An exploratory case study of Mormon parents. Mental Health, Religion & Culture.,20(3), 260–276.

Page, M. J., Lindahl, K. M., & Malik, N. M. (2013). The role of religion and stress in sexual identity and mental health among lesbian, gay, and bisexual youth. Journal of Research on Adolescence,23(4), 665–677.

Park, J., Perez, P. R., & Ramírez-Johnson, J. (2016). The impact of education on views of homosexuality in the senior clergy of Hidalgo County, Texas. Journal of Religion and Health,55(3), 778–786.

Pew Research Center. (2011). Most say homosexuality should be accepted by society. Retrieved May 3, 2018, from http://www.pewresearch.org/2011/05/13.

Quinn, K., Dickson-Gomez, J., & Kelly, J. A. (2016). The role of the Black Church in the lives of young Black men who have sex with men. Culture, Health & Sexuality,18(5), 524–537.

Ream, G. L., & Rodriguez, E. M. (2014). Sexual minorities. In C. M. Barry & M. M. Abo-Zena (Eds.), Emerging adults' religiousness and spirituality: Meaning making in an age of transition (pp. 204–219). Oxford: Oxford University Press.

Ream, G. L., & Savin-Williams, R. C. (2005). Reconciling Christianity and positive non-heterosexual identity in adolescence, with implications for psychological well-being. Journal of Gay & Lesbian Issues in Education,2(3), 19–36.

Rhodes, T. (1994). Outreach, community change and community empowerment: Contradictions for public health and health promotion. In AIDS: Foundations for the future (pp. 48–64). Taylor & Francis.

Rodriguez, E. M. (2009). At the intersection of church and gay: A review of the psychological research on gay and lesbian Christians. Journal of Homosexuality,57(1), 5–38.

Rosario, M., Schrimshaw, E. W., Hunter, J., & Braun, L. (2006). Sexual identity development among lesbian, gay, and bisexual youths: Consistency and change over time. Journal of Sex Research,43(1), 46–58.

Rostosky, S. S., & Riggle, E. D. (2017). Same-sex relationships and minority stress. Current Opinion in Psychology,13, 29–38.

Rushbrooke, E., Murray, C., & Townsend, S. (2014). The experiences of intimate relationships by people with intellectual disabilities: A qualitative study. Journal of Applied Research in Intellectual Disabilities,27(6), 531–541.

Schuck, K. D., & Liddle, B. J. (2001). Religious conflicts experienced by lesbian, gay, and bisexual individuals. Journal of Gay & Lesbian Psychotherapy,5(2), 63–82.

Wilkinson, L., & Pearson, J. (2009). School culture and the well-being of same-sex-attracted youth. Gender & Society,23(4), 542–568.

Yip, A. K. (2008). Researching lesbian, gay, and bisexual Christians and Muslims: Some thematic reflections. Sociological Research Online,13(1), 1–14.
Funding
No funding was received for this project.
Ethics declarations
Conflict of interest
The authors declare that they have no conflict of interest.
Additional information
Publisher's Note
Springer Nature remains neutral with regard to jurisdictional claims in published maps and institutional affiliations.
About this article
Cite this article
McCann, E., Donohue, G. & Timmins, F. An Exploration of the Relationship Between Spirituality, Religion and Mental Health Among Youth Who Identify as LGBT+: A Systematic Literature Review. J Relig Health (2020). https://doi.org/10.1007/s10943-020-00989-7
Keywords
Spirituality

Religion

Faith

Mental health

Sexuality

LGBT+

Youth